'We've Lost Everything,' Family Says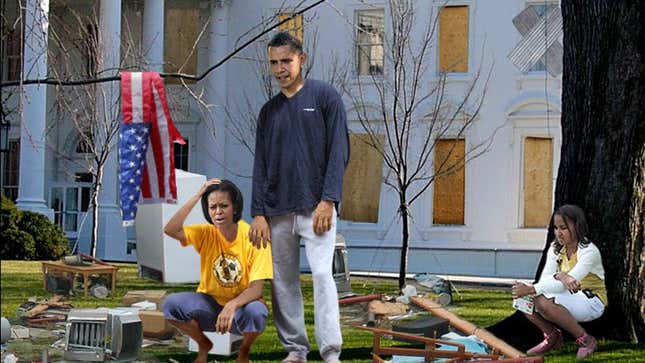 WASHINGTON—Barack Obama stands alone in the ruins of what was once his living room, calling out in vain for a dog that never comes. Less than 36 hours ago, his house stood proudly intact. But the violent tornado that tore through the region late Sunday night upended everything in an instant, scattering his belongings and leaving his family homeless and helpless.
"My God, just look at this," the 48-year-old government employee said as he surveyed the splintered furniture and mangled chandeliers that littered the 18-acre property. "Everything is gone. Our clothes, our family photos, the federal budget for fiscal year 2011—it's all gone."
Added Obama, "This was our dream home."
With no relatives in the area to turn to, the Obamas have been living in the basement of Calvary Methodist Church on M Street and bathing at the nearby YMCA. However, with the church running low on canned goods and funds to support the displaced family, Obama worries he and his loved ones may soon be forced to move into a shelter or live out of their motorcade.
"My youngest daughter keeps asking me when we can go home," said part-time social worker Michelle Obama, 46, who escaped the disaster with nothing more than her enduring spirit and the Narciso Rodriguez cap-sleeve silk dress on her back. "I don't know what to tell her."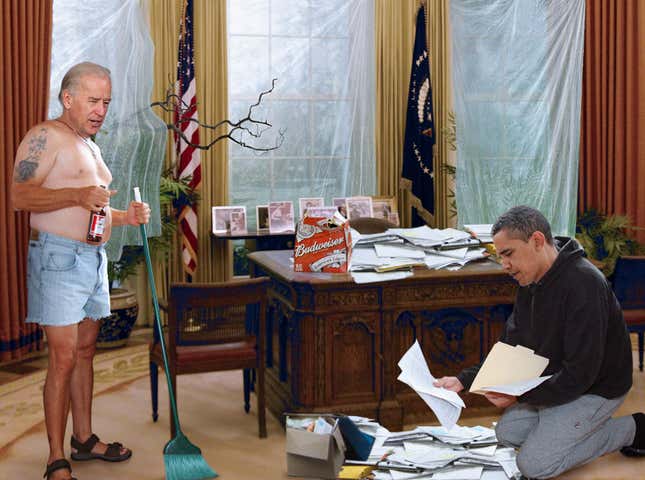 As of press time, several items of sentimental value to the family remained unaccounted for, including Mrs. Obama's wedding gown, both daughters' baby books, David Axelrod, and an antique portrait of George Washington that had been in the home for generations.
For Mr. Obama, who had worked primarily from a home office, the tornado's merciless destruction has been a doubly painful blow.
"My desk was right here," said a drawn Obama, pointing down at a tattered, rubble-strewn carpet bearing the Seal of the President of the United States. "I'd sit here every morning with my cup of coffee and paper, quietly perusing the latest intelligence on credible terrorist plots against the U.S. mainland."
"I'd give anything to have the comfort of that daily routine back," Obama added.
According to the National Weather Service, the category F3 tornado was spawned by a line of severe thunderstorms that struck the District of Columbia around 11 p.m. Sunday. The funnel cloud, with winds gusting up to 165 miles per hour, touched down only briefly, carving a short but devastating swath of destruction along Pennsylvania Avenue that not only leveled the family's house, but also uprooted numerous trees and drove one of Obama's American-flag lapel pins 3 inches into the north face of the Washington Monument.
Although they had only lived in the charming 132-room house for a year and a half, the Obamas had been eyeing the residence for years before finally being able to close on it in November 2008. What Obama had worked ceaselessly to attain, however, was demolished in a matter of moments, with the ravaging storm not even sparing his wife's beloved backyard vegetable garden.
"A really loud roaring noise woke me up, and I just knew it was a twister," said Malia Obama, 12, clad in an ill-fitting 'Hillary 2008' sweatshirt donated by a family friend. "So, just like Dad taught us, we all ran out of our bedrooms, down the Grand Staircase, through the foyer, the East Colonnade, and the Garden Room, down into the East Wing sub-basement, and made it into the bunker just as the roof of the house was lifted off."
While the Obamas acknowledge that regrouping from such a devastating tragedy will be a long and difficult process, they are drawing strength from the overwhelming outpouring of support and generous donations they have received from friends, neighbors, and lobbyists.
"When I heard the bad news, I figured I'd swing over with a few longnecks for Barry and some intimates for Michelle," said Joe Biden, one of Barack Obama's coworkers, referring to the six-pack of Budweiser and assortment of women's underwear and negligee that he hand-delivered to the family Monday evening. "Hope she's a size 10. Sure looks like a 10."