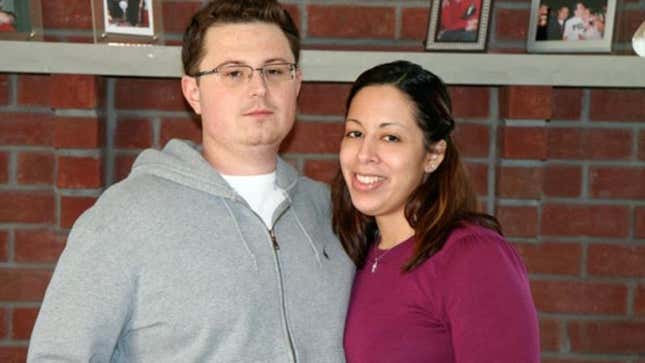 SALEM, OR—Local resident Steven Bertram is "fed up" with girlfriend Alicia Maas' incessant need to do stuff, a visibly frustrated Bertram reported Monday.
Study Finds LSD Highly Effective At Ruining Nephew's Baptism
According to the 31-year-old maintenance technician, Maas, 29, regularly insists that the couple engage in an endless series of activities, things, and events, at various times of the day, despite the fact that Bertram would often prefer not to do such stuff.
"Just yesterday she was going on and on about how much she wanted to see a movie," said Bertram, noting that he had, after repeated requests, taken the demanding Maas to a local cineplex only two months prior. "How many movies does a person need to see in a year? Sometimes I just want to relax."
Though he and Maas have dated for almost two years, Bertram reportedly did not recognize the severity of his girlfriend's near-chronic dependence on getting out of the house and doing stuff until six months ago, when she insisted the two attend a free outdoor concert in their neighborhood. Since that time, Maas has asked an estimated 11 times to be taken to dinner, 17 times to go grocery shopping, and, on 20 separate occasions, has expressed a desire to go on a meandering walk without a fixed destination, purpose, or time limit.
The precise number of incidents, Bertram said, is difficult to determine, as Maas has oftentimes enlisted him in activities without first asking, including initiating seemingly pointless conversations lacking any definitive context or subject matter, as well as making plans with coworkers, family members, friends, old roommates, the people upstairs, and acquaintances Bertram does not know.
In addition, an alarming majority of the activities Maas suggests involve standing up.
"I don't know if I can live like this," Bertram said. "On Saturday I was excited to sit back and watch some TV, and then she reminds me that [Bertram's best friend] Jeremy [Durst] is having his birthday party, and so next thing you know, I've got to get up, throw some pants on, and hang out with people all night."
"For once I'd like to do what I want to do," Bertram continued. "She always wants to go somewhere or look at something."
Bertram said that for several weeks he attempted to deflect Maas' demands or otherwise dissuade her from pursuing activities outside their one-bedroom apartment through a series of complex excuses—including a feigned lower-back injury—but met with little success. Recently, he has tried to compromise by purchasing an XBox 360 and several multiplayer games for the two to use together, as well as upgrading the couple's Netflix account to allow five DVDs at a time.
Maas' obsession, however, has shown no signs of abating, and on Sunday she volunteered herself and Bertram to walk their neighbors' dog when they go on vacation next week.
"That's three more nights ruined," said Bertram as he toggled between the popular website eBaumsworld.com and a game of online poker. "I could literally be doing anything else, but instead, I'll be walking a dog. I don't need to always be doing stuff, and especially not stuff like that."
According to behavioral psychologist Dr. Michael Greer, though Maas' irrational compulsion for doing things is extreme, it is by no means uncommon.
"Alicia is exhibiting all the classic signs of what we call 'active behavior'—an impulse to engage in unnecessary and often prolonged outdoor movement that is most commonly found in females," Greer said. "Though we cannot be certain, these habits seem to stem from an innate desire to not be doing nothing."
Added Greer, "All available research indicates that this type of unstable behavior is most disturbing when it occurs early in the morning, after 10 p.m., on weekends and perfectly good vacation days, or before one has a chance to finish the third goddamned disc of the second season of Lost."
Despite repeated attempts, Maas could not be reached for comment, since she was out at the gym or having coffee with a friend or some shit.