OCCOQUAN, VA—Jane Hemmer's family scrapbook, prominently displayed on her coffee table at all times, gives the impression that her life is not only bearable, but even pleasant, sources not particularly close to the 58-year-old homemaker said Monday.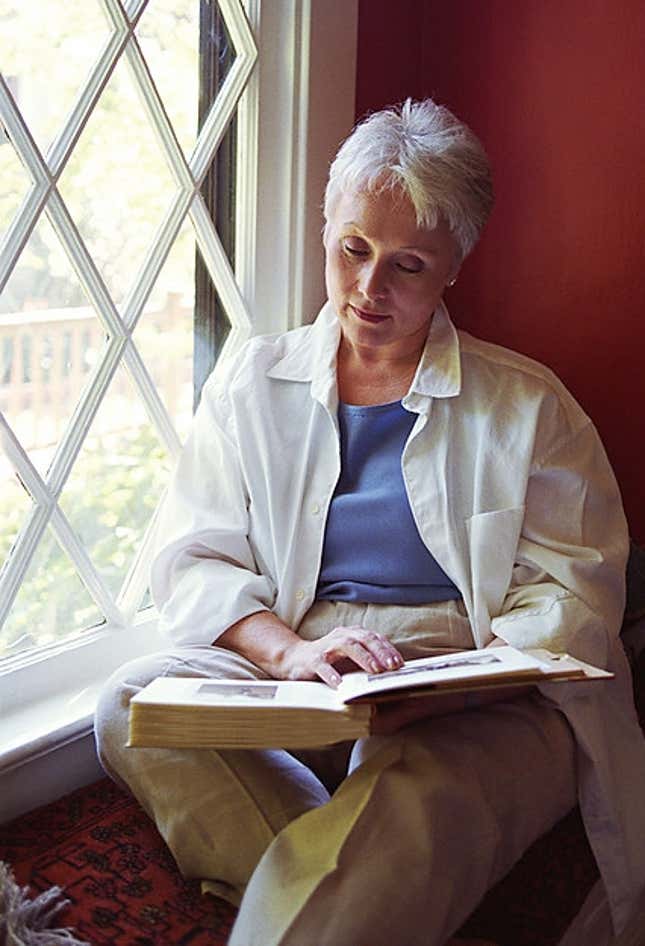 This Week's Most Viral News: September 29, 2023
"My goodness, what a lovely family!" new neighbor Fern Kopein said as she flipped past an 8-year-old family portrait, the last to include both Hemmer's son Alex and her estranged daughter Diane. "You and [husband] Bruce certainly have done a wonderful job raising your children."
The scrapbook, a neatly organized digest of Hemmer's 35 years as a wife and mother, contains photos and keepsakes that project an image of a functional family bound by unconditional love and total fulfillment. By layering carefully chosen photos with brightly colored paper, elaborately patterned borders, and whimsical stickers, Hemmer has successfully concealed a lifetime of anguish, scorn, and contempt.
One page, labeled "Vacation Time" in glitter-penned letters, features snippets of old road maps, stop-sign stickers, and the few happy photos taken during camping trips spent in grim silence and seaside vacations filled with ugly marital spats.
A photo taken in 1998 shows Hemmer with her son at a San Diego marina. Alex appears healthy and robust, and his mother beams under a large straw hat. However, the photo was taken mere hours before Hemmer's husband denied Alex a $10,000 loan to cover gambling debts.
"Look at that breathtaking sunset!" Kopein said. "Alex restores old boats for a living, doesn't he? How interesting!"
Although Alex was fired from the job in July 2001, Hemmer did not correct her neighbor.
When Kopein paused to admire photos from the Hemmers' 30th-anniversary party, Hemmer neglected to acknowledge that Diane was not in any of the photos because she was serving three months in jail for writing bad checks.
"Oooh, pretty tree!" Kopein said, squinting at a 1985 Christmas Polaroid snapshot bordered with snippets of red and green ribbon.
The photo depicts a traditional holiday gathering of a functional family. However, on the evening in question, a teenage Alex got into a shoving match with his father, who knocked over the Christmas tree in the scuffle. The tree upset a nearby candle display, which in turn ignited an heirloom quilt sewn by Hemmer's grandmother.
Photos in the scrapbook convey numerous other half-truths, among them that Hemmer was warmly accepted by her coworkers at a Mutual Dental holiday party, that her own mother is physically affectionate, and that Hemmer's pride in Diane's 1982 spelling-bee victory was not clouded by the discovery of her husband's homosexual dalliances.
A two-page collage of photos and dog-bone stickers suggests that Wispy, the family's terrier-beagle mix, was a beloved member of the family. In fact, his death was the direct result of a misunderstanding over whether Hemmer or her husband was responsible for dropping him off at the kennel before leaving for the two-week cruise pictured on the previous page.
Even Hemmer's late father—a stern, Norwegian-born disciplinarian unanimously disliked by his children—is represented in the scrapbook.
"Who is that little dear man in the rocking chair?" Kopein asked, pointing to the carefully mounted black-and-white portrait. "Such kind eyes he has. There must be so many fond memories in this scrapbook, I'm sure."
The last photo in the scrapbook shows Diane with her husband and their 2-year-old daughter. The studio portrait was particularly difficult to come by, as Diane has not spoken to either of her parents for four years. Hemmer obtained the photos from her daughter's mother-in-law, Candace Minsky, whom she ran into at the grocery store. Rather than reveal the rift between herself and her daughter, Hemmer explained that she'd lost all her photos to a roof leak.
"I felt bad for Jane," Minsky said. "Can you imagine losing precious photos like that? So I sent her some of my extra 4"x6" photos of Diane and the family."
With the scrapbook full, Hemmer said she plans to take advantage of new digital-photography technologies.
"I got a digital camera this fall, and there's a lot of wonderful shots I took at Thanksgiving of Alex and his new girlfriend, Marissa," Hemmer said. "Of course, when I put the photos on the computer, I'll delete the ones I took after Marissa and Bruce got into that little disagreement about abortion."