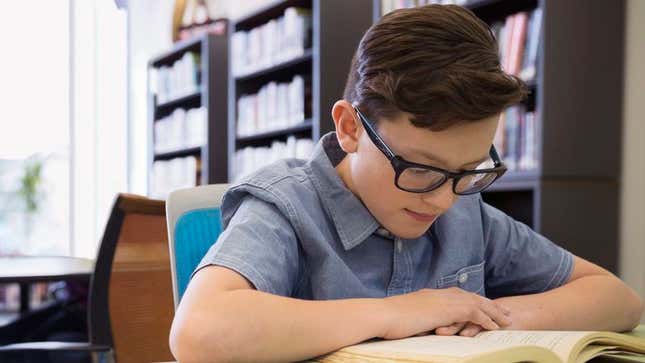 MORGAN HILL, CA—Having blown through nearly half the titles on the 20-book list in less than two weeks, chronically lonely fourth-grader Logan Parata is currently crushing the Santa Clara County Library's summer reading program, sources confirmed Wednesday.
This Week's Most Viral News: September 22, 2023
The bespectacled 9-year-old, who staff members say is a regular fixture at the library despite its greatly reduced seasonal traffic, is reportedly dropped off at the entrance of the building each morning at 9:50—10 minutes before the facility opens—and spends almost the entire remainder of the day alone at his favorite table quietly tearing his way through each of the recommended books for his age level.
According to the librarians, their only regular interactions with the soft-spoken youngster occur when he comes up to the circulation desk to check out more books.
"I swear, that kid's in here seven, maybe eight hours every day, just knocking out books left and right," said librarian Marna Atkins, who added that despite the warm summer weather and the fact that there is a community pool just two blocks away, the reclusive elementary schooler can almost always be found in the library with a Roald Dahl or Rats Of NIMH book in his hands, and several more stacked in a pile next to him. "And he always checks out the maximum number of books when he heads home at night, so you've gotta think he's doing the exact same thing back at his house, too. There's really no other way he could have taken down the entire Judy Blume Fudge series like that in under a week."
"At this rate, he's going to be done with the whole program by the 4th of July," she added. "I think then we'll just give him the fifth-grade reading list and watch him go to town on that, too."
While Parata spends a significant portion of each day in the local library—including all three hours the library is open on Saturdays—sources said he can be easy to overlook, as he tends to sit in a far corner of the reading room away from the windows, making only the faintest rustling and crinkling noises as he flips through pages and handles the books' plastic jackets. Moreover, library staff confirmed that Parata only ever gets up from his chair to scour the shelves for more books or to briefly go sit on the facility's front steps—the lone time he reportedly ventures outdoors during the day—to eat the peanut butter and jelly sandwich his mother packs for him, typically bringing along his book so he can continue reading it while he has lunch.
According to the librarians, their only regular interactions with the soft-spoken youngster occur when Parata comes up to the circulation desk to check out more books or to ask them to place another trophy sticker on his progress sheet next to the latest title he's demolished.
"The computers here are pretty much always available and they have full access to the internet, but he doesn't even give them a second look—he walks right past them every morning, sits down in the same spot, pulls out a book, and starts right in again wherever he left his bookmark," said Atkins, who acknowledged that she could not recall ever seeing Parata step into the comic book and graphic novel section of the library either. "Come to think of it, the only electronic device I ever see him use is the digital card catalog, and that's just to place holds on books he wants to read in the future so no one else can get them first."
"I kind of want to tell him that it's totally unnecessary and that he can just relax," she continued. "Really, The Phantom Tollbooth isn't going anywhere."
Dressed in his usual khaki pants and button-down shirt, the 4-foot, 3-inch Parata—the building's sole occupant under the age of 40—quietly explained to the librarian on duty that he was very much enjoying the summer reading initiative as he placed several Encyclopedia Brown books he had yet to utterly obliterate into his backpack.
"It's fun to [completely mow down] all the books on the list," said Parata of the reading program, which only one other child in the community had even begun to partake in, a 10-year-old girl who had reportedly yet to complete her first book. "I like being in here where it's nice and quiet and I can just get the books right off the shelf and [lay waste to them like a goddamn maniac] all day long."
"See you tomorrow," he added.