WARREN, PA—Although respondents to a Pew poll taken prior to the 2004 presidential election characterized Bush as "the candidate they'd most like to sit down and have a beer with," Chris Reinard lived the hypothetical scenario Sunday afternoon, and characterized it as "really uncomfortable and awkward."
Reinard, a father of four who supported Bush in the 2000 and 2004 elections, said sharing a beer with the president at the Switchyard Tap gave him "an uneasy feeling."
"I thought he'd be great," Reinard said. "But when I actually met him, I felt real put off."
The president arrived at the bar via motorcade close to 3 p.m. After a sweep by Secret Service agents, Reinard was asked, for security reasons, to move from his favorite stool. Shortly after he had reseated himself, Reinard said he "was pleased" to welcome the president to the Switchyard.
"Boy, it sure is a good day for a cool one," Bush reportedly told the assembled patrons, who were watching the Dolphins Patriots game.
G/O Media may get a commission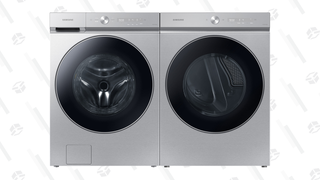 Get $500 back in credit
Last Chance: Samsung Bespoke AI Washer and Dryer Preorder
"When he first walked in, everything seemed fine," bartender Bob Kern said. "He told everyone 'Hi' like he was one of the regulars, then sat next to Chris."
Reinard ordered two Budweisers, but Bush interrupted him, saying he'd prefer an O'Doul's non-alcoholic beer.
"I completely forgot he stopped drinking," Reinard said.
Following the initial gaffe, Bush attempted to smooth things over, asking Reinard to call him "George." Reinard complied, but later said "it felt a little unnatural."
"I guess I was supposed to tell him to call me Chris," Reinard said. "I didn't like him calling me 'Mr. Reinard' the whole time, but I didn't know if it was okay to interrupt him to say 'Call me Chris.' And then also, it felt weird to just say it out of nowhere. Like, 'Call me Chris.'"
Bush asked Reinard if he had any hobbies, and Reinard told the president that he enjoys spending weekends with his children on local lakes in his small aluminum boat.
"Mr. Bush, I mean George, seemed to like that, and I felt that we finally made a connection," Reinard said. "But then he started telling me about this one time he was on a yacht with some Arab prince and they spent four hours landing a sailfish."
"It was a good story, but I just like catching a few bass with my kids is all," Reinard added. "I know he didn't mean to make me feel bad, but still."
Reinard told the president that he has lived most of his life in the Warren area, except for several years he spent in nearby Jamestown, where he attended community college for a year. Bush told Reinard he was born in New Haven, CT, and grew up in Texas before attending Yale University as an undergraduate and earning his MBA from Harvard, all while maintaining membership in many exclusive clubs.
"I asked George how much it costs to be in those social clubs, but he said he didn't remember," Reinard said. "I think he just didn't want to say the amount. He'd change the subject on me a lot, say he did a lot of partying back then, but that was all behind him now, since he found the Lord, or whatever."
Bush asked Reinard what he did for a living, and Reinard said he runs a small carpentry business.
"He asked me how it was going, what with the economy bouncing back. I said that if things didn't pick up soon, I was going to have to close up shop and work for my uncle in Youngstown," Reinard said. "George was quiet for a while after that. Then he told me about when his second oil company was going under. He suggested using my connections to get some outside investment capital."
"I don't have any connections," Reinard added.
When the conversation reached a dead end, Reinard and Bush were silent once again, their eyes tracking the game.
"We were sitting there watching the game, and some cheerleaders were up there waving their pompoms," Reinard said. "Then George mentioned that he used to be a cheerleader at Yale. I didn't know what to say to that one, so I just drank the rest of my beer real fast."
After nearly a minute of silence, Bush drained the remainder of his O'Doul's and wished Reinard goodbye, saying that he'd stay longer if he could, but had "some business to tend to."
"He shook my hand and smiled, said he had to run," Reinard said. "Something about a conference or a summit. It seemed like he was actually relieved to go."
Reinard and Kern both estimated Bush's stay at the bar as no longer than 15 minutes. This included Kern's attempt to pay for Bush's beer. Bush only smiled and waved at Kern, and a member of his Secret Service escort pulled a $10 bill from his coat pocket and tossed it on the bar.
Reinard likened the encounter with Bush to "being cornered at a company Christmas party by your boss."
"It was like, do you act and drink like normal, or are you on your best behavior?" Reinard said. "Are you up-front with the guy or do you choose your words carefully? What does he want out of you, anyway? Or does he just want to connect with somebody, because it's lonely at the top? You just don't know for sure."
"Overall, it was okay, I suppose," Reinard said. " One thing's for sure, though—I still wouldn't want to have a beer with that stuck-up Kerry."