CLEVELAND— Former Browns long-snapper Wes Hardigree, 38, took advantage of the lovely autumn weather Wednesday afternoon, picking up his 8-year-old son Ben from school and long-snapping the ball around the backyard of their suburban Cleveland home.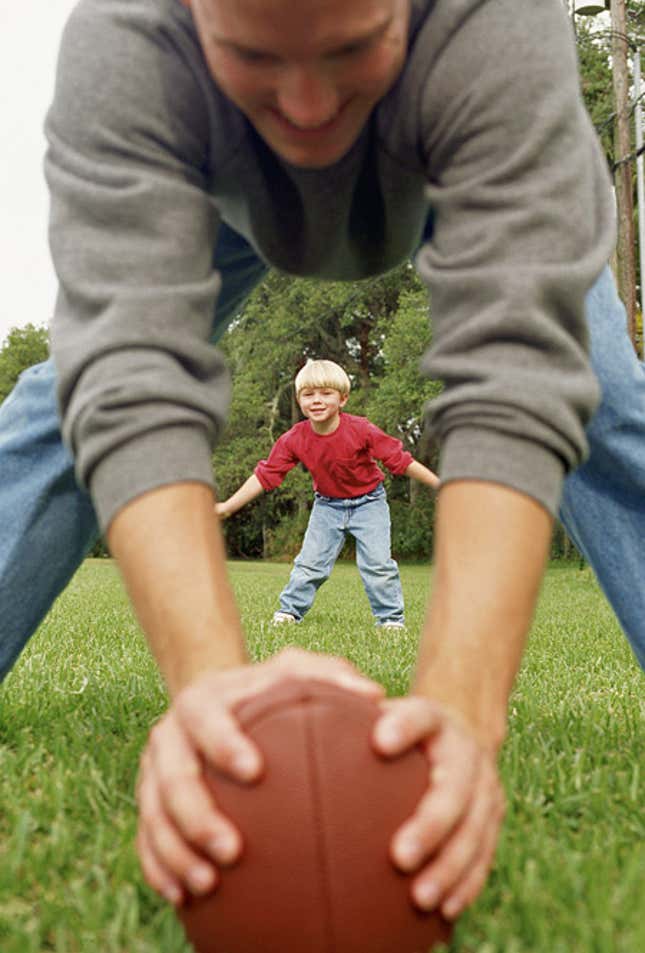 This Week's Most Viral News: September 22, 2023
"It's just a perfect Norman Rockwell scene—fall colors, crisp air, the low late light, the glow of Ben's red cheeks, and me looking at it all upside-down between my legs as I get ready to long-snap the ball 12 yards to my boy," Hardigree said. "And when I can pop the old pigskin right into his little hands, well, that's what life's all about."
"Days like these, I'm not ashamed to say that a tear of happiness sometimes rolls right up my forehead," Hardigree added.
Hardigree also took the time to work with Ben's childish and shaky but slowly improving long-snapping stance, marveling at how quickly his son was learning to long-snap.
"His first snaps weren't what anyone would call 'long' at all, but he's growing so fast. It seems like it was just this summer when his stance didn't even come up to my knee," said Hardigree, who insists that, despite serving as a third-string center for two seasons, he will always be a long-snapper in his heart. "I don't even know when it happened, but the ball doesn't even hit him in the legs anymore. My God, next thing you know he'll be trying out as a long-snapper in high school."
"Hey, whoah, don't force it there, big guy! That one nearly took my head off!" Hardigree said as one of his son's wobbly long-snaps glanced off his shins. "Give the old man a break! You don't even know your own strength!"
Like many fathers, Hardigree admits he sees a lot of himself in his boy, saying the temptation to live vicariously through his son's long-snapping must be overcome.
"He may be my son, but he's still very much his own little guy, and he had to discover for himself that he's a long-snapper through and through," Hardigree said. "When the wife and I went away for our anniversary, Ben stayed with a holder I used to work with. After a week of placing the football vertically on the ground, spinning it so the laces were forward, and then waiting for it to be kicked, he decided that long-snapper was the job for him."
Hardigree said he was "blessed" to have been an NFL long-snapper during eight of what he claims were the Browns' glory long-snapping years of the mid-1990s, when he worked alongside Browns special-teams greats, making dozens of long-snaps to some of the biggest names in Browns punting history.
"Being a long-snapper might not get you on the field a lot, but you'll always have a job, and you get to watch a lot of great football," Hardigree said. "You can't blame me for wanting that for Ben—every dad wants the best for his kid, after all. And from where I'm bending over, being one of the top 32 long-snappers in the world is the best thing there is."
"It's okay," Ben said later. "Dad's great. My face gets all red from being upside down, though. And Dad says when I'm old enough he's going to start running into me right after I snap the ball. And I wish he wouldn't yell at me so much when I ask him if someday he'll teach me how to throw and catch a football."