KENOSHA, WI—Sources report that longtime married couple Duane and Edna Schumacher's weekend stay at Chicago's FantasyLand Suites was a grueling ordeal of unwelcome interruptions to their long-established marital routine.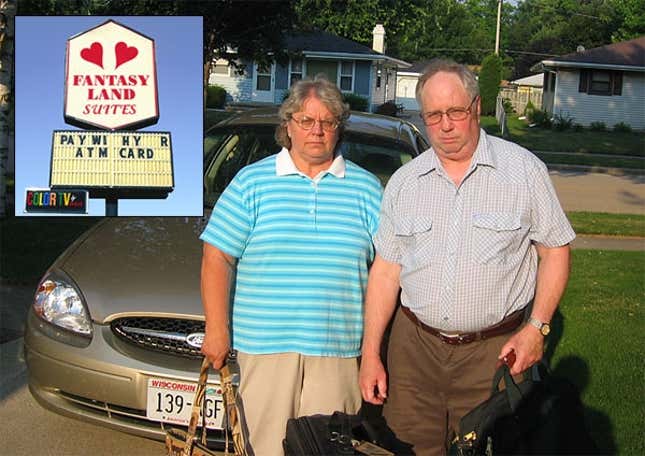 This Week's Most Viral News: September 29, 2023
"Oh, for Jiminy Cricket," Edna, 52, said Monday after returning from the trip, a 30th anniversary gift from her daughters. "Why the girls thought either one of us would find such an experience enjoyable is beyond me."
She added: "I was planning to weed my flower bed and maybe scrub out the back sink, which is just covered in muck, but now the whole weekend's shot."
The Schumachers said the unbearable ordeal began at check-in, when the reservations clerk handed the couple their keys, winked, and said, "Enjoy your stay." From that moment forth, virtually everything that occurred during the weekend induced cringes and winces from the aging pair.
"I love Edna, and I enjoy spending time with her," Duane, 58, said. "But when you're at that place, wherever you go, you know that the staff thinks you're either just coming from, or on your way to, having sex. I don't care for that kind of attention."
Thinking that "once they got settled, they would at least be able to relax," the Schumachers realized upon entering their suite that there was no escape from the crippling awkwardness that awaited them. At the sight of the red plush carpeting, red light bulbs, garish neo-Victorian nudes, and ceiling mirrors above the waterbed, Duane said he began having a severe attack of acid reflux.
The retiree, whose nighttime routine includes a shower at approximately 8 p.m., said that when he saw the heart-shaped hot tub in the center of the room, his first thought was, "How am I going to take a shower in that?"
According to Edna, a complimentary gift basket on the dresser contained flowers, Godiva chocolates, passion-fruit bubble bath, body oil, condoms, and "several battery-operated 'marital aids' that I don't care to describe."
"The chocolates were good," she said. "But they were the only thing we had to eat. Was that the hotel's idea of a proper supper?"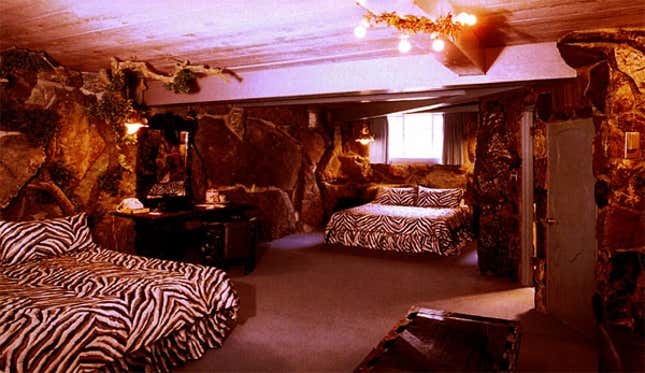 Edna, who privately told her daughter that she has been haunted by the image of her husband's posterior ever since she saw him emerge from the hot tub Friday evening, said, "There was an Inspector Lynley on Channel 13 that I was hoping to catch Friday night."
As the romantic weekend away from home progressed, so did the aging couple's agony.
"I could hardly sleep, which kept Edna awake, too," Duane said. "And that waterbed made Edna so seasick, I had to get up and make a 1 a.m. trip to Walgreens to get Dramamine."
On Saturday morning, the couple said they were informed that FantasyLand Suites does not offer morning newspapers—leading Duane to spend close to an hour angrily bellowing, "What do I have to do to just get a copy of the paper?!"
"It was even worse in the breakfast dining room," Edna said. "There we were, surrounded by young couples who were all over each other, and Duane is barking at me about 'What kind of a hotel doesn't have Total?'"
That night, the Schumachers suffered through a moonlight cruise on Lake Michigan, complete with violin accompaniment. During the cruise, which lasted for several hours, Duane said he had no way to return to shore to access the overnight bag containing his foot medication. Additionally, the couple missed their normal evening newscast.
On Sunday morning, the couple checked out and spent the rest of the day at a local Motel 6.
"We've been married for 30 years. There comes a point in a man and woman's life when you're happy just to get a good night's sleep," Duane said.