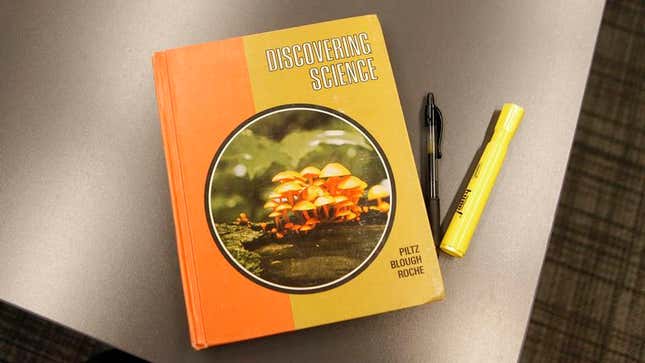 PITTSBURGH—Bringing to a close what former students and administrators are calling an "immensely impressive tenure," longtime science textbook Discovering Science retired this week following 40 years in the public school system.
This Week's Most Viral News: September 29, 2023
The 270-page illustrated text, which began its term at Jefferson Middle School in 1975 after coming to Pittsburgh straight from the Prentice Hall publishing house in New Jersey, departs its position after spending countless hours in the classroom where it taught multiple generations of local seventh- and eighth-graders.
"Discovering Science has touched the lives of thousands of students since its first day at Jefferson Middle School nearly 40 years ago," said the school's principal, Ruth Sheerer, who noted that the textbook had already been at the school for decades by the time she was hired in 2002. "I'm just so used to seeing it here at school every day. It's been there for so many kids over the years, teaching lessons on everything from environmental issues to the laws of motion."
"I'm not exaggerating when I say it really is an institution here at Jefferson," added Sheerer. "It's hard to imagine starting a new school year without it."
According to Sheerer, the textbook has guided hundreds of classes of 12- and 13-year-olds through a broad range of topics, including NASA's Gemini and Apollo programs, the 1971 San Fernando earthquake, and the expected effects of passing the Endangered Species Act.
"Everyone in my family had Discovering Science in middle school, even my parents," said Anna Kolus, 19, who had the book for her eighth-grade science class in 2009. "You can ask almost anyone who went to Jefferson, and they'll know this book."
"I still remember everything it taught us on the solar system's nine planets," Kolus added.
In addition to teaching science courses throughout the academic year, sources said Discovering Science often spent afternoons helping students with homework and test preparation. Administrators confirmed that the book would also typically stay on well past June to teach summer school classes and even taught honors science from 1991 to 2000.
In a testament to its unfailing commitment to education, Sheerer said the textbook continued to teach students about physics, geology, and the enormous promise of microprocessor technology all the way up through its final few months in the classroom.
"Discovering Science has been a beloved part of Jefferson Middle School for so long, and all of us here are going to miss it greatly," Sheerer said. "I don't know if we'll ever be able to replace it."