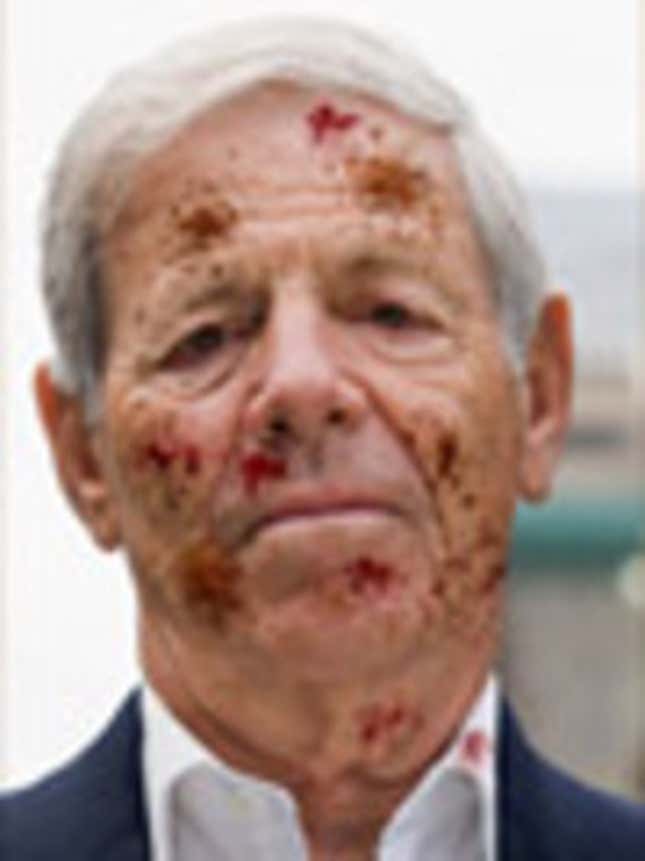 All right, gentlemen, I understand the circumstances are perhaps a bit unusual, but we're already behind schedule and we still have much to cover. Therefore, if everyone has their copy of the Samuelson Report, I suggest we move ahead to the items on page three, where it's been noted… All right, everyone. All right. Let's just get this out of the way.
Yes, I am in fact covered with blood and feces. Quite a lot of it. I can see how it might be distracting for a moment if you were not all professionals who were concentrating their energies on refining our five-part, 18-month Eastern Seaboard strategy. But since you are, in fact, professionals, I'm sure the sight of the blood and the smell of the feces can be addressed and then quickly dismissed.
Right? Good. Moving on.
One thing that concerns me about these figures—ignore that splatter there, thank you—is the distribution of our efforts in smaller areas, which at first glance appear deceptively high. Tell me, Daniels, are these high-growth areas that will show dividends later, or are you staring at all the blood and feces again? You are, aren't you? My God. Almost none of the blood is mine, all right? Beyond that, it's completely irrelevant. Now, gentlemen, if you would, page three.
Excuse me? For the love of—fine, open a window. Open them all for all I care! Provided you then sit down and explain why we're practically ignoring the nascent technological corridor that's springing up across the Raleigh-Durham area.
Now stop gagging and act like someone who cares about the future of this company.
Thank you, Clarendon. While I'm aware that these territories are seen as granular in their dispersal of funds, our financial architecture allows us to approach them in aggregate as a single market of considerable size. Oops, a bit more blood there, sorry. Therefore, if we have an eye toward sustained, incremental growth then… then we ensure a presence in that market of…
For the love of Christ. All right! Starting above my eye and working our way down: horse feces, dog feces, cat feces, a sort of feces I cannot identify, dog again, pigeon guano, my feces, and from the knees down, a melange of them all. Yes, I am, under all this blood, absolutely covered in feces! I thought it had already been well established, but apparently not. I am covered in feces, this report omits vital data on due diligence, and Danielson is not doing his job! Which of these facts, do you think, is most germane to this meeting?
Now, then. On page eleven, if I'm not mistaken, this abstract of… this abstract of our combined sales projections… Oh lord, please excuse me, I— Oh—
Oh, God.
Ahem. I sincerely apologize for that, gentlemen. It was rude of me, especially given my previous remarks, to interrupt the meeting so unexpectedly by vomiting all that semen across the conference table. Judging by the looks on your faces, you are all a bit unmanned, but please, let's take a moment to gather ourselves and move on to page 11.
No, Danielson, the rope burns on my neck are not the issue. If you can figure out how to monetize the rope burns, by all means, speak up; but if your only new idea is that I should wipe the horse feces from the bloody lacerations on my neck, then you may as well sit down because I could have thought of that myself! In much the same way, I might add, as I could have thought up a better Midwestern sales structure while covered in the blood and feces of various people and animals, which I believe I am in fact about to do.
Ah. Forgive me, gentlemen. I seem to have spilt some of the clots from my suit pocket on to our speakerphone here. Mr. Oshima? Are you and the Tokyo office still on the line? Very good. I apologize for the outburst, but you see, I seem to be covered in blood and feces and some of our junior executives… Ha, yes. You understand, I'm sure.
Now, where were we?