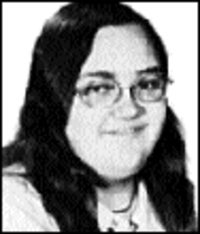 People sometimes ask me how I got my start writing newspaper columns. Well, if I owe my career to anyone, it's to the late, great Erma Bombeck. When she passed away last year, I just bawled, because she was such an inspiration to me! She was the first one of us gals to write about regular, real, domestic things, instead of the same old boring politics and world affairs the men think are just sooo important! I still have a column stuck to my fridge that she wrote in 1975 about the rising price of dishwashing liquid. It's yellowing and mostly stuck together with tape, but its timeless message still rings true today. R.I.P., Erma!
Anyway, back to how I got my start. One day, about four years ago, I wrote a bunch of my thoughts down, ran off some copies at Kinko's and sent them to newspapers across the country.
Now, of course, I didn't know the first thing about writing for newspapers. But neither did Erma when she started out! So you can imagine my joy when I got two letters of acceptance, one from The Onion, and the other from this monthly coupon flyer in Oklahoma City. The coupon flyer went out of business before it could publish any of my columns, but The Onion kept its word, and, on October 11, 1993, "That Cathy Cartoon Is Right On The Money!" rolled off the presses. The rest, as they say, is history!
For the past three and a half years, my column has been strictly a labor of love. I write it in my neatest penmanship on this pretty scented lavender stationery I buy at Carlton Cards. If I'm in a particularly good mood, I dot my "i"s and "j"s with little hearts instead of the usual circles. Then I mail it off to my editor in these adorable pink envelopes.
The other day, though, I got a really nasty call from my editor. He's normally pretty gruff on the phone, but this time, he chewed me out especially bad. "Teasdale, I'm fed up with this love-letter crap! This is a newspaper, not a seventh-grade English class!" he shouted. "And we have deadlines here, if you haven't noticed. From now on, you'll do your columns on computer and e-mail them to me, or I'll can your fat ass and run Joan's Quilting Bee in your place!" He slammed down the phone so hard it made my ears smart!
I was really hurt. I always thought he appreciated my columns being written by hand. After all, it lends a nice personal touch! The world of journalism can be so cold and impersonal, so I figured it's nice to let people know that you really care about what you do. (If I knew he was going to be such a jerk about it, I would have saved that kitten sticker I put on the envelope for my electricity bill!)
I was stunned for a moment, but deep down, I knew this was going to happen sooner or later. Yep, folks, Jean Teasdale must finally enter the Computer Age, like it or not. Only problem is, I don't know the first thing about computers! The only real experience I've ever had with them is when I used to scan prices for customers at the service counter at Pamida. I also use them at my current data-entry job at the insurance company, but all I do is enter numbers.
I admit, some of that computer stuff does look fun, especially the Internet. I'm a people person, and I love to meet other people, especially those who share my interests. (Any Young And The Restless or Precious Moments fans out there?) Of course, when I asked hubby Rick about buying a computer, he immediately accused me of just wanting to look at the on-line pornography! Of course, that's not true at all. Pornography is very, very obscene, and I think it's just terrible that kids can look at it. (Besides, it's not me who keeps a secret stash of old Playboy magazines in a tackle box in the garage!)
I don't think I can afford a computer right now anyway. That collection agency still keeps calling every evening, and I'm this close to having my wages garnished. (Take it from your old pal Jean—the Franklin Mint's Shirley Temple Chess Set, utterly darling as it is, is more trouble than it's worth!)
But don't fret, loyal readers! This does not spell the end of Jean Teasdale, because I have this whole conundrum resolved. My 12-year-old nephew Nathan, who's a computer whiz, has agreed to help me type and e-mail my column using his own computer.
But before he'll do so, he says I have to rent him an R-rated movie and buy him a beer. Now, wait a second, folks, don't be sending me those angry letters just yet! I'm just going to rent him Silkwood and give him an O'Doul's. He won't know the difference! Oh, and I also have to buy him the first issue of this comic book called Spawn. I have no idea what Spawn is (geez, whatever happened to Wonder Woman!), but the way I see it, a few bucks for a comic book is a small price to pay to keep my column in print.