PHOENIX—9-year-old leukemia patient Tyler Blashock was initially ecstatic to learn Monday that the Make-A-Wish Foundation was sending Macho Man Randy Savage to meet him at the Phoenix Children's Hospital. But after spending half a day with Savage, Blashock said he wished the 44-year-old wrestler would "just go."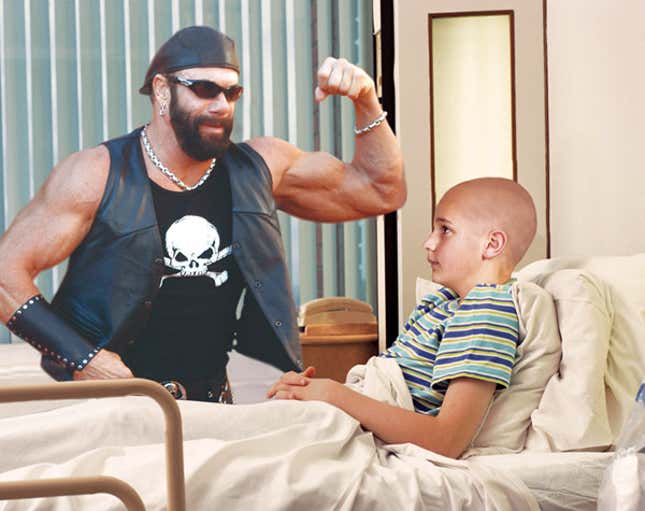 Study Finds LSD Highly Effective At Ruining Nephew's Baptism
Tyler, who was diagnosed six months ago with acute lymphocytic leukemia and has undergone chemotherapy through painful cerebrospinal injection, said the two-time WWF World Heavyweight Champion was physically and mentally demanding.
"I really only wanted him to give me an autograph and tell me what it was like to fight the Ultimate Warrior," Tyler said. "Not read me bedtime stories and try to feed me."
"Crying hurts," Tyler added.
Tyler's father Frank said he and wife Helen were "thrilled" that their son would finally have a positive experience, "especially after his hair started falling out."
"But in Tyler's weakened state, it's all been too much," Frank said. "Far too intense."
According to Helen Blashock, Macho Man, who arrived wearing dark sunglasses and matching leather hat and vest, burst into Tyler's hospital room and shouted, "Hey there little dude, I'm here to make you feel gooooood!"
"You could just see the confusion in Tyler's eyes—he didn't understand why this was happening to him," Mrs. Blashock said. "He's been so brave."
Savage, who told Tyler his sickness reminded him of the time he wrestled Ricky "The Dragon" Steamboat and "crushed that pip-squeak's larynx," said that he enjoys helping less-fortunate fans.
"I do what I can to pump the kids up," Savage said. "I'm still on their team even though they can't tag me in for this fight."
Savage also brought old Wrestlemania videos to watch with Tyler.
"My eyes and my bones and everything aches," Tyler said. "I just want to sleep."
Earlier in the afternoon, Savage lifted the boy's arm in the air to show that he had won a mock wrestling match, then ran circles around the room, slapping his own face.
"Tyler's bone marrow is so damaged that there is almost no blood clotting, so the slightest touch will leave substantial bruising," said Tyler's doctor, pediatric oncologist Suri Prendesh. "It's also best that Tyler avoid any more playful Savage Elbows or Scoop Slams."
Though Tyler had been showing signs of improvement, doctors feared Macho Man's "unending" boasts and product plugs were trying the boy's already-weak immune system.
"Tyler's still worn out from his biopsy, and this man will jump right in his face and scream, 'Snap into remission!'" Helen said. "When will my son have some peace?"
"I don't like when he sings his songs," Tyler said, referring to Savage's impromptu performance of songs from his rap album Be A Man. "They make me sad."
The Blashocks said they were initially relieved when Savage sprinted out of the room at 10 p.m., but his absence was short- lived.
"We thought it was the end of the ordeal," Mr. Blashock said. "But sure enough, 15 minutes later, we hear, 'All right, Tyler, let's clothesline this cancer,' and we knew tomorrow was going to be another day that our son wouldn't be able to swallow any food."
Savage also used the occasion to issue a challenge to rival Hulk Hogan.
"Dig it, Hulkster: If you're not afraid, we'll throw down right here for the kid," said Savage, who has never defeated Hogan in a professional match. "Then he'll see once and for all that the Macho Man truly is the greatest wrestler that has ever lived."
"Oooooh yeaaaaaahhhhhh," Savage added.
The overwhelming sensory assault has left the Blashock family wondering how they will ever be able to "beat this thing."
"When Dr. Prendesh politely informed Macho Man that the high fat content in Slim Jims was really too much for Tyler's sensitive digestive system, he threatened to introduce her to a 'world of pain,'" said Mr. Blashock. "I guess all we can do at this point is just wait, and pray, and hope he has to visit some other sick kid tomorrow."