'Why Are We Even Here?' Officials Probe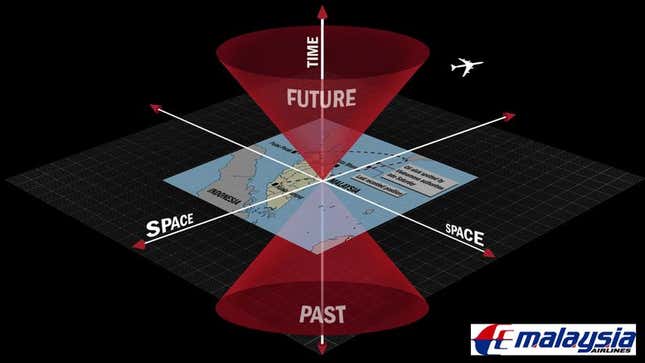 KUALA LUMPUR, MALAYSIA—Following a host of conflicting reports in the wake of the mysterious disappearance of Malaysia Airlines Flight 370 last Saturday, representatives from the Kuala Lumpur–based carrier acknowledged they had widened their investigation into the vanished Boeing 777 aircraft today to encompass not only the possibilities of mechanical failure, pilot error, terrorist activity, or a botched hijacking, but also the overarching scope of space, time, and humankind's place in the universe.
The airline, now in its fifth day of searching for the passenger jet carrying 239 passengers and crew, has come under fire for its perceived mishandling of the investigation, whose confusing and contradictory reports have failed to provide definitive answers on everything from how long the missing plane remained aloft after losing contact with air traffic controllers, to whether the flight made a radical alteration in its heading, to the very dimensions of space-time and the nature of reality, and what exactly it is that brought us into existence and imbued us with this thing we call life.
Additionally, the airline confirmed it had expanded its active search area to include a several-hundred-square-mile zone in the Indian Ocean as well as each of the seven or 22 additional spatial dimensions posited by string theory.
"We continue to do everything in our power and explore every possible lead—both Cartesian and phenomenological—to locate the aircraft as quickly as possible," said Malaysia's civil aviation chief Azharuddin Abdul Rahman, who went on to say that authorities were still actively seeking tips from anyone claiming knowledge related either to the flight, or to the mechanisms by which consciousness arises, or to the question of why anything physical and finite exists instead of nothing at all. "At this stage, we can't rule anything out: not crew interference with the transponders, not a catastrophic electrical failure, not the emergence of a complex topological feature of space-time such as an Einstein-Rosen bridge that could have deposited the flight at any location in the universe or a different time period altogether, nothing."
"Could a parallel universe have immediately swelled up from random cosmological fluctuation according to the multiverse theory and swallowed the flight into its folds, or could ice have built up on an airspeed sensor? Those are both options we are currently considering," Rahman added. "Everything's on the table. That is, insofar as anything exists at all, which we're also looking into."
Rahman assured the press and families of passengers that officials would not rest until they locate the plane, provided that sensory experience can be verified beyond the existence of one's own mind. Malaysian authorities also cautioned that they were dealing with an unprecedented aviation mystery and that it could take months to ascertain the airliner's exact fate as well as, for that matter, the fate of mankind itself, assuming a linear theory of space-time in which the future is unknowable and objects travel in a forward trajectory which, authorities hasten to add, is not necessarily the case.
In addition, airline sources attempted to assuage an uneasy public by noting they had brought in top crash investigators from the Malaysian, Vietnamese, and Chinese governments, as well as U.S. Navy personnel, Boeing technicians, leading quantum physicists, theoretical cosmologists, metaphysicians, epistemologists, and determinist philosophers to help scour all conceivable and as yet inconceivable locations in which the plane might be located.
"The bottom line is that we have a sophisticated aircraft fresh off a safety inspection with no prior incident of malfunction, flying in good weather at a cruising altitude," Rahman continued. "Why didn't the pilot send a distress signal? Why aren't we finding a debris path? What are we to make of the contradictory radar information? Where did the universe begin and can it be said to have a limit or an edge? What is mankind's role in it? Is there a God? If so, what is God's nature?"
"It's too early to answer these questions right now, but I can assure you that Malaysia Airlines will get to the bottom of it," Rahman added. "Our top people are on it right now."