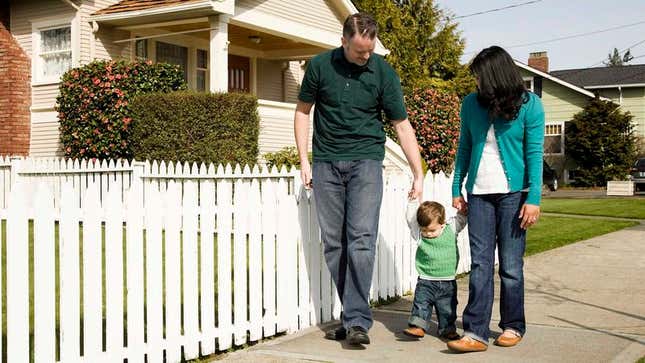 CINCINNATI—Saying it's been his dream for as long as he can remember, local man Richard Jensen, 37, told reporters this week that he wants nothing more than to raise his family in the kind of place where white people greet each other on the street with a smile and a friendly word.
CDC Issues Dire Warning That Nick Cannon Is Feeling Horny
"I've always imagined my kids growing up in a nice little town where white people aren't in too much of a hurry to say hello to other white people," the insurance broker and father of two said of his hopes to someday move to a quiet community whose white residents still take the time to ask how one another's white families are getting along. "Maybe I'm old-fashioned, but I love the idea of stopping to chat with anyone you happen to meet, whether it's your white mailman, your white grocer, or even a white person you've never met before."
"That's my idea of a perfect neighborhood right there," he continued.
As he described at length his desire to buy a home in a small town in which everybody knows their white neighbors' names, Jensen told reporters he aspires to put down roots among the kind of friendly white people who aren't afraid to walk up to each other and introduce themselves. He said he looks forward to living in an area where white children can ride their bikes to school, white parents exchange the latest news at youth hockey games, and each year, the town's whites gather to watch the local production of A Christmas Carol.
According to the Ohio native, he wants his family to enjoy a peaceful life in which white people don't bother locking their front doors and every white man, white woman, and white child goes to sleep at night feeling safe and secure.
"I suppose it's corny, but the older I get, the more I long for that ideal town with ball fields and picket fences and relaxing evening strolls down tree-lined streets past friendly white neighbors," said Jensen, who lamented that during his time living in the city he's never really felt like part of a close-knit white community. "I want to be able to sit on my front porch with a glass of lemonade knowing that I live in a place where white folks look out for each other. That's where I'm most comfortable."
"Sadly, there just aren't a lot of places like that in this country anymore," he added.