PHILADELPHIA—On Sunday, Chris Sorum, 26, rekindled his relationship with Kate Mulberry, the ex-girlfriend Sorum's best friend Danny Weir had spent the previous week mercilessly criticizing.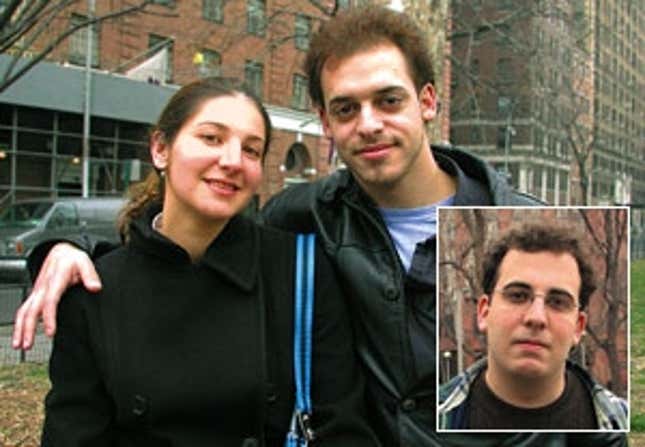 This Week's Most Viral News: September 22, 2023
"He told me it really was finally over between the two of them," Weir said. "So the night after the breakup, I took Chris out drinking and just started going off on what a colossal bitch I'd always thought Kate was. I told him everything I hated about her, stuff I never would've said if they were together. Like how psychotically possessive and controlling she was. And how she used to act like a know-it-all about shit she knew nothing about—like theater, which she thought she was an expert in just because her mom did lighting at some repertory company. Whoops."
Added Weir: "I'm also pretty sure I called her a 'hatchet-faced hellbeast.'"
Trying to help Sorum get over what appeared to be a permanent breakup, Weir spent most of the week putting down Mulberry—and encouraging his friend to do the same.
"He really opened up and told me all the things he didn't like about Kate," Weir said. "And when I badmouthed her, for once he was agreeing with me instead of defending her like he usually does. He was like, 'How could I have been so stupid?' At one point, he even thanked me because he said I really put into perspective how much better off he is without her. Well, I guess I didn't put it into that much perspective, after all."
Though Sorum and Mulberry have broken up seven times during their three-year relationship, Weir had always remained quiet about Mulberry's various faults.
"In the past, I held my tongue because I figured they'd be back together," Weir said. "This time, though, Kate slept with her Pilates instructor, and Chris found out about it. I've never seen him so angry. I thought to myself, 'Yes! I'm finally gonna get to tell him everything I think of that witch.'"
Weir said he now fears that Sorum will tell—or has already told—Mulberry what he said about her.
"Even though Chris was right there complaining with me, I said some pretty foul shit about Kate," Weir said. "If push comes to shove, he'll probably side with her, even though he totally agreed with me when I said she has a way of twisting his head around until he doesn't know what to believe anymore. Christ, I can't believe they're back together."
Further complicating the Sorum-Mulberry reconciliation are the second- and third-hand criticisms Weir relayed to Sorum from other friends.
"I told Chris that the guys have always hated her, especially Pete [Kelleher]," Weir said. "One night last summer, Pete was cracking us all up with this hilarious imitation he does of Kate yanking Chris out of a room. He made me promise I would never tell Chris about the imitation, but I figured I could after the break-up. Well, now Pete is probably seriously pissed at me, too."
Thus far, Weir has suffered no backlash from Sorum, who has not spoken to him since getting back together with Mulberry.
"I'm not sure if Chris hasn't called in the last few days because he's mad at me, or because he and Kate are too busy with their make-up fucking," Weir said. "Hopefully, it's the latter. Who knows, maybe he doesn't even remember what I said about her. Then again, it's pretty hard to forget when somebody calls your girlfriend of the past three years 'the most shallow, moody, bitchy, manipulative, all-around unlikable person I have ever met.'"
Weir said he will not be so quick to offer Sorum his opinion of Mulberry when the couple breaks up again.
"Next time, I'm gonna wait a good two months before saying anything bad about Kate," Weir said. "And even then, I'm gonna keep my insults nice and vague so I can retract them if need to. Make that when I need to."