LANCASTER, PA—Surmounting treacherous icy pavement and a windchill factor dipping as low as 19 degrees Fahrenheit, local resident Louis Bergstrom survived a real-life battle with the elements Friday when he successfully completed a harrowing four-and-a-half-minute journey across the desolate, frozen parking lot of an area G & G Grocery Store, the 38-year-old court stenographer told reporters.
According to Bergstrom, with night coming and temperatures dropping rapidly, he was forced to leave his wife, Linda, 37, at the entrance of the supermarket and valiantly set out on his own to retrieve the couple's 2001 Toyota Corolla. Before leaving, Bergstrom solemnly vowed that he would return for his pregnant wife as soon as he possibly could.
This Week's Most Viral News: September 29, 2023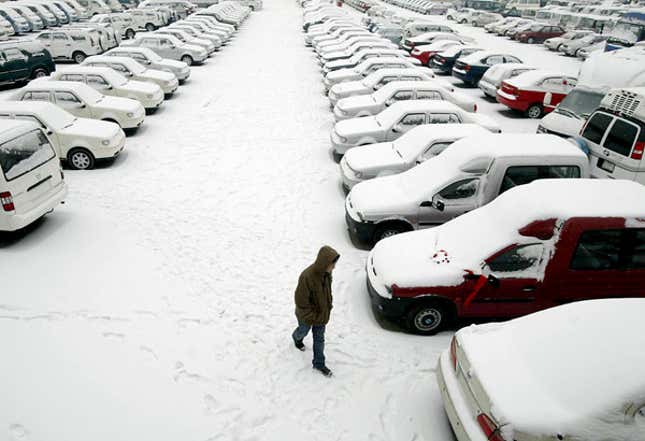 Recuperating at home following his struggle with nature's fury, a visibly shaken Bergstrom recounted the look in his wife's eyes at the moment he set out across the barren rows of the parking lot.
"I could see that she was concerned, but I wasn't about to let Linda go out there," a blanket-wrapped Bergstrom said from the safety of his living room couch between sips of hot chocolate. "She'd left her hat at home."
Shivering from the brutal winds, his heart full of determination, Bergstrom encountered the first setback on his grueling 75-meter trek when a sudden gust of wind blew freezing cold snow off an SUV and down his collar, nearly causing him to lose his footing on the slippery pavement. Due to the restrictive nature of his bulky cold-weather gear, several tense seconds passed before Bergstrom was able to brush the snow out of his jacket and soldier on.
Bergstrom's next hardship came when he was forced to guide the wheels of his shopping cart through the increasingly slushy terrain. He was eventually left with no choice but to abandon the cart and carry nearly seven pounds of his own groceries in hand for the remainder of the journey, slogging past the lifeless, long-abandoned carts of those who had attempted the perilous journey before him.
"I remember thinking, 'If I stay out here much longer, I'm going to freeze to death,'" Bergstrom said. "It was that cold."
Because the strain of his journey at times caused him to doubt whether he would ever find his car, Bergstrom said he was forced to look inward—drawing strength from past experiences in which he successfully overcame similar extreme conditions. No stranger to long waits on hold for customer service or scaling the heights of the attic stairs with nothing but a box of Christmas decorations, Bergstrom recounted one traumatic ordeal in which he was locked out of his own home during a violent rainstorm for a full 12 minutes before his wife heard him knocking.
However, even with all of his experience, nothing could have prepared Bergstrom for what was in store for him next.
"I thought I saw my car, but it was a different Corolla about seven spaces up," remembered Bergstrom, who, upon seeing the similar Toyota, made the near-tragic mistake of removing one of his gloves in order to retrieve his keys and accidentally dropping it beneath the misidentified vehicle.
With visibility limited by blowing snow and the fast-approaching dusk, Bergstrom was forced to leave the glove behind. Summoning all his strength, he quickly reoriented himself, using the brightly lit Blockbuster Video store to the right of the supermarket as a guide, and steadily made his way in the general direction of his car.
After one-and-a-half-tense minutes, the Pennsylvania native made the ingenious tactical decision to set down his shopping bags and blow vigorously into his unprotected fingers, providing him with just enough warmth to retrieve his bags and continue on.
"Those final twenty feet were the hardest," Bergstrom said of the journey. "That last thirty seconds felt like an eternity out there."
Chilled to the core, Bergstrom at last reached safety and collapsed exhausted behind the wheel. His survival instincts kicking in, he swiftly put his key into the ignition, turned the heat up "full blast," hit the defrost button, and waited for the car to warm up. He then set about recouping his energies before undertaking the only remaining task: retrieving his ice scraper from the glove compartment and leaving the car one final time to begin the painstaking and risky process of removing the thick layer of ice from the car windows.
Shaken but wiser after the ordeal, Bergstrom said that he is "just glad to be home again," but that, if nothing else, he has learned a valuable life lesson he will not likely forget.
"I don't think I've ever been so cold in my life," Bergstrom said. "I'm parking much closer next time—even if I have to circle that parking lot several times to find a space."