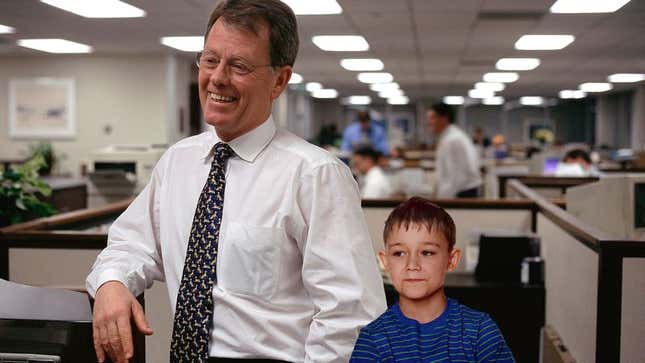 ROGERS, MN—Smiling and offering commentary throughout the visit, local employee Jason Aldrich reportedly brought his 7-year-old son to his office Tuesday, giving the young boy a chance to see where his dad is humiliated and stripped of his manhood on a daily basis.
This Week's Most Viral News: September 22, 2023
According to several eyewitnesses, the 39-year-old sales associate provided his son Tyler with a tour of Newmar Logistics company headquarters, showing him everything from the conference room where his ideas are routinely ignored to the break room where he has occasionally overheard coworkers talking behind his back about how hopelessly ineffectual he is.
"This is where daddy sits every day, right here at this desk," Aldrich said of the cubicle where he is often seen working late as he struggles to complete assignments that have been passed off onto him by colleagues whom he lacks the courage to even try saying no to anymore. "Pretty neat, huh?"
"And you see that right there? That's a picture of you and your sister," added the man who records indicate has been passed over for promotions within his department no less than 11 times during his eight years with the company.
Reports confirmed the office tour, scheduled during Aldrich's lunch break, took his son to numerous parts of the workplace where for the better part of a decade he has been openly disrespected, belittled, and—during one particularly candid performance review—criticized so thoroughly he felt he needed to vomit. By all accounts, Tyler was given a basic overview of what his dad does during the day and shown the various settings in which nearly all of Aldrich's aspirations and vitality have slowly drained away.
The tour was also said to include a brief stop outside the office of "Daddy's boss," a man 10 years Aldrich's junior. It is reportedly the same office where, earlier in the day, Aldrich's intelligence and basic adequacy as a man were challenged during a seven-minute reprimand regarding a minor error on a quarterly sales report.
Sources said the second-grader was introduced to more than a dozen Newmar employees who, given the presence of the young child, briefly made an attempt to mask their complete lack of regard for any sense of self-worth the boy's father still retains.
"Tyler, this is our receptionist, Jill," said Aldrich, introducing his son to a fellow employee who, despite her nominally lower status within the company, has, on a number of occasions, angrily berated Aldrich for his difficulty operating basic office equipment without assistance. "Jill keeps everything running smoothly around here."
"Tyler, what do we say when we meet someone new?" he added, asking his son to display a level of basic dignity toward another person that Aldrich himself is denied by his colleagues on a daily basis.
When reached for comment, the 7-year-old told reporters he had fun at his father's office and would love to go back.