ROANOKE, VA—Local claims adjuster David Seaborne, a devoted husband and father of three, died Tuesday at the age of 37 following a long and painful personal battle with a 512-pound eastern lowland gorilla.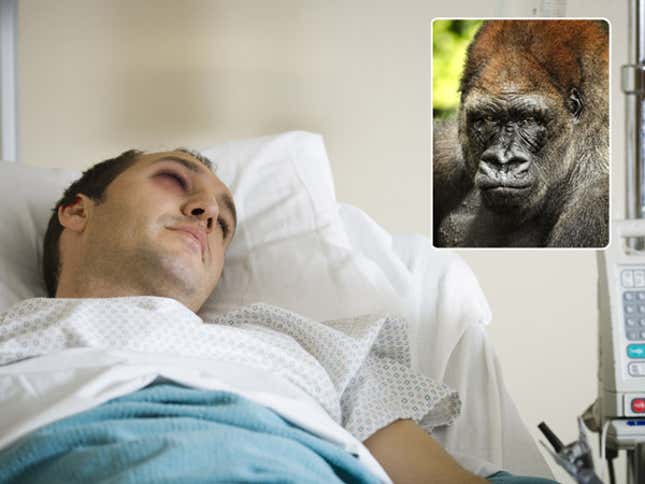 Edgelords Explain Why They Love Elon Musk
According to his wife, Christine—one of the few people who was aware of his courageous struggle—Seaborne chose to fight the muscular, quarter-ton primate in private night after night in hopes of maintaining as normal a life as was possible for his family.
"In some ways, I'm relieved that it's finally over and David can be at peace," said a tearful Mrs. Seaborne, clutching at a recent photograph of her husband, most of his hair missing after being ripped from his scalp by the rampaging jungle beast. "To watch him seclude himself in that basement every night and know that he was about to be in an unimaginable amount of pain—it just became too much to bear."
"He fought that terrible gorilla with every last ounce of strength he had, but in the end, David's body just couldn't handle it anymore," Mrs. Seaborne added. "Every morning, he'd look at me with tired eyes and deep scratches across his face, and he'd say, 'Honey, I'm going to beat this thing.' God, he was brave."
Mrs. Seaborne said she's used most of her husband's life insurance payout to start the David Seaborne Foundation, an organization dedicated to raising awareness of those battling gorillas or other great apes. According to the foundation's website, the growing problem affects one in every 29 million Americans, and one in every 80 Congolese.
Although Seaborne never let on to friends or coworkers that he was desperately fighting for his life with a violent primate, many suspected that something was wrong.
"I noticed that David had lost a lot of weight over the past couple of months, especially when he came in with his arm torn off," fellow claims adjuster Kevin Delano said. "He also left work early a lot for doctor's appointments, or when he was just too weak to make it through the day. Still, with all he was going through, David never complained."
The few people who knew of his hardship said that, even toward the end of his ordeal, when Seaborne was often completely covered in feces, the gorilla never managed to rob him of his dignity.
Dr. Earl Patterson, the physician who treated Seaborne throughout his life-or-death battle, initially gave Seaborne just six months to live. Though the prognosis was grim, Patterson said that, with the help of powerful tranquilizers, Seaborne was able to beat back the gorilla several times, and his situation started to look more promising.
The gorilla, however, eventually stopped responding to the drugs and returned with a vengeance.
"If we had caught this thing earlier, before its growth got completely out of control, David would have had a much better chance of survival," Patterson said. "But after it reached the silverback stage, it was only a matter of time."
"I tried to make David as comfortable as possible, and even gave him a helmet, but at that point the most we could do was pray," Patterson added.
Patterson said that he has strongly urged Seaborne's wife to take preventative measures to protect the couple's three sons, aged 9, 12, and 15, from suffering the same fate as their father.
"Because these things tend to run in the family, Jonathan, Patrick, and David Jr. are in a very high risk group," Patterson said. "Realistically, though, there just isn't a whole lot that can be done. After all, that gorilla is still in their basement."