VANDALIA, IL—According to friends and acquaintances, local resident Paul Sadecki is a walking repository of derogatory nicknames for towns surrounding Vandalia.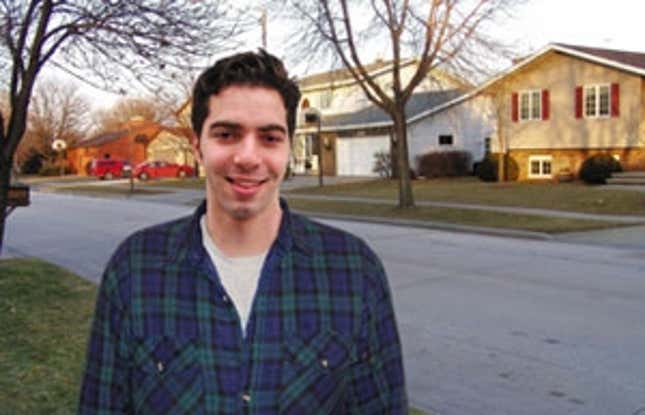 This Week's Most Viral News: September 22, 2023
"St. Elmo? More like St. Smellmo," said Sadecki, 25, a printing-press operator and part-time delivery driver. "They've got a Hormel plant over in St. Elmo, and the whole town reeks of processed meat. You could also call it St. Hellmo, since there's pretty much nothing to do there besides hang out at the A&W."
Born and raised in Vandalia, Sadecki has been disparaging neighboring towns through the modification of their names since high school. Though his peers abandoned the practice soon after graduation, Sadecki continued, and he is now considered Vandalia's undisputed master of the geographic putdown.
"He's constantly taking shots at Brownstown and all these other places," said friend Gregg Henke, 25. "I used to do it with him back in shop class, but for some reason, he's stuck with it."
"I just call them like I see them," Sadecki said. "I'm not afraid to stand up and call a spade a spade—or Litchfield 'Bitchfield.'"
Added Sadecki: "If you ever met a chick from Litchfield, you'd know exactly what I mean."
From Greenville to Mulberry Grove, no municipality is safe from Sadecki's devastating name alterations.
"Just up the road from here is Hagarstown, which I like to call Hagar The Horrible Town. That place is a pit. You could also accurately describe it as Fagarstown, since the guys there are all fags. Back in high school, we used to play them every year in football, and we'd always kick their asses."
Some Sadecki nicknames play off a particular town's geography, such as his "Land O' Lake Trash" moniker for Keyesport, which is located on the western bank of the polluted Carlyle Lake. A majority of the nicknames, however, are produced via a simple pun-based, Wacky Packages-style modification of the town name. Examples include Heaver Creek (Beaver Creek), Show Yer Boner (Shobonier), and Bunghole (Bingham). An estimated 40 percent call into question the heterosexuality of the town's inhabitants.
Despite Sadecki's proficiency at civic slams, some towns' ideal nicknames continue to elude him.
"Van Burensburg seems like it'd be easy, but it's not," Sadecki said. "I used to call it Van Turdburglar, 'cause they got a lot of homos there, too, but that kind of felt like a stretch. You could do Van Halensburg, but that'd be a compliment, like the town really rocks or something. I think there was a president called Van Buren, but I don't know anything about him. So it's tough."
Though many people assume Sadecki's nicknaming habit is motivated by a deep disdain for any town other than Vandalia, those close to him dismiss the notion.
"Paul has friends in all those towns," said friend and former roommate Wayne Kessler, 26. "He just bought a car from this buddy of his up in Brownstown. He loves the car, even though he keeps referring to it as his car from Brownstain, or his 'shitheap from Shittown.' It's not like he truly believes the girls in Litchfield are bitches; last year, he had a girlfriend from Bitchfield. I mean Litchfield. Shit, now he's got me doing it."