Onion News Network To Air Special Report Tomorrow Night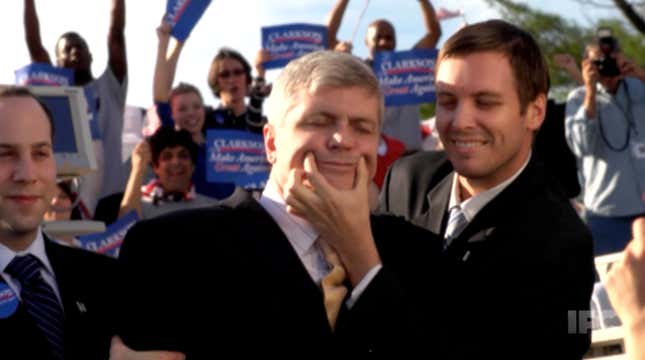 Edgelords Explain Why They Love Elon Musk
New York, NY (October 17, 2011) - In a dramatic turn for the 2012 presidential race, comatose former congressman John Clarkson (http://www.facebook.com/JohnClarkson2012) threw his hat into the ring for the Republican nomination today, and early polls show the immobile, bedridden candidate already ahead of his competition.
Clarkson, who has been in a coma since 2003, has a four-point lead over previous frontrunner Mitt Romney among likely voters according to an Onion News Network poll. Surveys indicate that while Clarkson cannot move or speak, many see him as "more likable" than Romney. "Of all the Republican candidates, [Clarkson] is the one I'd most like to have a beer with, if beer can go in his IV," systems analyst Paul Lancaster of Scranton, PA told Onion News Network reporters.
Clarkson's entry into the race may also put a damper on the growing momentum of Herman Cain's campaign. Polls show 54% of voters see Cain's proposed "9-9-9" tax plan as "making less sense" than Clarkson's plan of lolling his head to the side and breathing shallowly.
The poll also finds a majority of voters see Clarkson as having "better stage presence" than Texas governor Rick Perry. Clarkson, who is typically strapped to a gurney and wheeled onstage by a team of nurses for campaign rallies, was said to "look more engaged" during public appearances than Rick Perry by most of those surveyed. "Clarkson's eyes sometimes appear to follow light or movement," teacher Sara Kramer of Ventura, CA told pollsters. "But when you look at Rick Perry, and you can just tell there is no brain activity at all going on there."
Ron Paul, while still maintaining a base of hard-core supporters, also polls behind Clarkson. "I like Ron Paul's policy ideas," said mechanic Michael Owens of Glassboro, NJ, "But I want to vote for someone who realistically has a better shot at actually winning, like this guy in the coma."
Clarkson is also polling far ahead of candidates Michelle Bachmann, whom most voters ruled out for being "utterly batshit nuts", and Newt Gingrich, whom a majority of voters did not remember was still in the race.
The Onion News Network will carry a full report on Clarkson's 2012 campaign tomorrow at 10/9c on IFC.