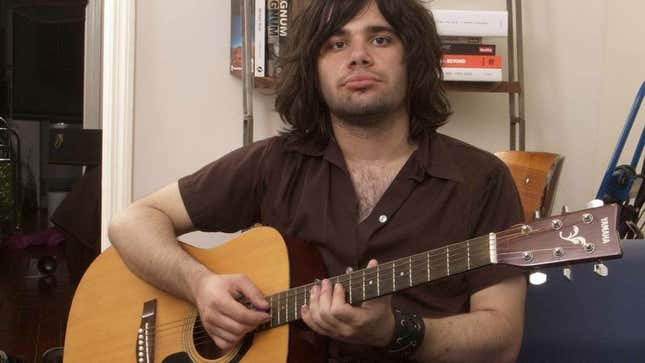 CHICAGO—Following a protracted period of creative stagnation, struggling 27-year-old musician Tom Ruskin announced Friday his plans to retreat to a remote cabin in the Illinois woods with just his acoustic guitar and an old four-track recorder in order to make the biggest piece-of-shit album ever committed to tape.
Americans Describe What It's Like Surviving A Mass Shooting
Ruskin has in recent months reportedly professed a strong, incredibly hackneyed urge to "get back to nature" in the interests of tapping into a more primal and exceptionally crappy well of creativity. Additionally, the part-time coffee shop barista was recently dumped by his girlfriend of two years, a breakup he said has provided the banal inspiration he needs to write an extremely aurally and aesthetically offensive set of songs.
"There are way too many distractions here in the city," Ruskin said as he packed some extra sets of guitar strings that he will employ while recording the worst, most derivative music anyone has ever heard. "I need to go where there's no e-mail or cell phones or television and devote my complete attention to making the most godawful record imaginable."
"I just have to be totally alone with my mundane, asinine thoughts and focus on nothing but getting this unlistenable turd of an album out of my head and into the world," Ruskin added.
Listen: 'Miles Between (Song For Sarah)' by Tom Ruskin
In addition to his guitar and analog recording equipment, Ruskin said he is bringing for lyrical inspiration several books of classic poetry, the thematic content of which he will badly misinterpret and bastardize while writing the words for his unbelievably shitty songs.
Ruskin added that he plans to grow a beard during his sojourn so he will look especially pretentious and annoying when he returns from making his laughably bad album.
"In Chicago, I'm constantly surrounded by talented musicians," Ruskin said. "The last thing I need right now is a bunch of competent songwriters putting in their two cents and truthfully telling me that what I'm doing is just fucking awful. How can I reach my self- indulgent musical nadir if I'm getting a bunch of sober, reasonable advice from people who know what they're talking about?"
As his inspiration for sequestering himself in the wilderness, Ruskin cited several musical luminaries—such as Justin Vernon of the critically acclaimed indie rock band Bon Iver—who have at times gone to similar lengths in order to work on their music without distraction.
Ruskin, however, was quick to dispel any notion that this implied he would actually be producing something of lasting or even passing creative value.
"It'll be just like Bruce Springsteen locking himself in his bedroom and recording Nebraska," said Ruskin, referring to the New Jersey–born rock legend's sparse, deeply haunting album of 1982. "Except instead of creating a timeless masterpiece that perfectly encapsulates the struggles and dashed dreams of blue-collar Americans, I'll be haphazardly slapping together a piece of total shit that proves I don't know the first thing about good music, much less about truth and the human condition."
"And I know this cello player I can call to do some overdubs when I get back," continued Ruskin, later adding that he has already made the ill-advised decision to layer his own voice dozens of times on every track so that the album will reach its full potential as an incoherent, pompous mess that no one will be able to listen to for more than 30 seconds. "God, this thing is going to be just the absolute worst."
According to sources, the cabin where Ruskin will be staying is less than a mile from the cabin of Gerard Mortimer, 36, who is currently hard at work writing the shittiest novel anyone will ever read.