WELLTON, AZ—Henry Leighty, a 32-year-old Arizona native and insurance claims adjuster, reportedly had such a huge crush on his girlfriend, Stacy Tompkins, 29, that he just had to marry her in a small ceremony Sunday which he totally dreams about every night when he goes to bed.
Insiders close to Leighty suggested that he probably wanted to marry her for, like, ever.
CDC Issues Dire Warning That Nick Cannon Is Feeling Horny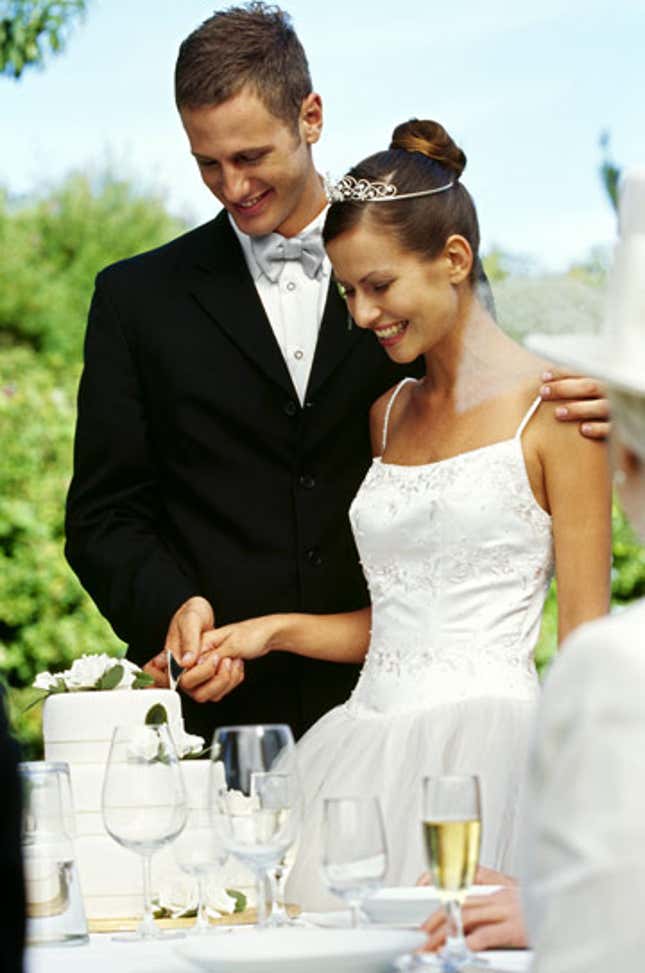 "Stacy and I are so happy," said Leighty, who mailed dozens of embossed invitations with little birds and flowers on them months before the wedding to ensure no one would miss his extra-special afternoon of girl-kissing. "For our honeymoon, we're going to spend some time [Frenching] in Saint Lucia."
Leighty's parents, David and Kathy, attended the ceremony, as did Leighty's two sisters, brother, and super-special someone, Tompkins, whom he adores so much he had to get a priest to make them husband and wife forever and ever—just like he always wanted. To honor the event, Leighty wore a tailored Armani tuxedo, hired a local string quartet to perform the traditional wedding march, and actually held his girlfriend's hand at least twice. Gross.
According to Leighty, the couple began planning the wedding shortly after their engagement last June, when the lover boy finally admitted what everyone already knew: that he couldn't wait to spend the rest of his life with a girl.
"We had been dating for five years, and it seemed like the perfect time," Leighty said, while everybody puked. "She's a really great person."
After professing a bunch of sappy vows he probably actually meant, Leighty open-mouth kissed his bride in front of friends and family and nobody even tried to stop him.
Immediately following the ceremony, the wedding party moved to the nearby Wellton Country Club, where the new Mr. and Mrs. Leighty—blech—joined their guests in a celebration of the couple's disgusting feelings for each other with food, dancing, and making-out. Witnesses say Leighty also hired a wedding photographer to take pictures that would last for all eternity so the groom could go home later and practice kissing with them.
Best man Derek Heidel said he "couldn't be happier" for the couple, whom he first met during his undergraduate studies at the University of Arizona and apparently likes so much he should probably just marry both of them in some stupid three-way lovefest.
"The ceremony was beautiful," said Heidel, who is either blind or retarded if he didn't notice all the sick touching going on. "I felt so honored to be standing next to Henry at this important time in his life. I know they'll have a long and happy marriage together."
Leighty, who witnesses claim they saw writing "Mr. and Mrs. Leighty" all over their joint checking account forms, said he "can't imagine" his life without Stacy. "She's got such a wonderful sense of humor," he said over and over as if anyone cared.
Leighty went on to say something like, "Ooh, this is my wife whom I love. I love her so much I want to marry her again because I love her so much, I do, I really do." He totally said that, reporters at the event swear to God.
Though the couple had initially planned to get married sometime this summer, the date was moved up to November because of Tompkin's mother's failing health. Despite some initial concerns that the couple would not be able to reschedule the event due to their hectic schedule of sitting in a tree and k-i-s-s-i-n-g, the two were able to successfully transition through the next phases of their courtship—love and marriage.
In analyzing relationships similar to the newly wedded couple's, experts predict that, within four to six months, Leighty and Tompkins are most likely going to do it, probably resulting in a baby in a baby carriage.
How gay.