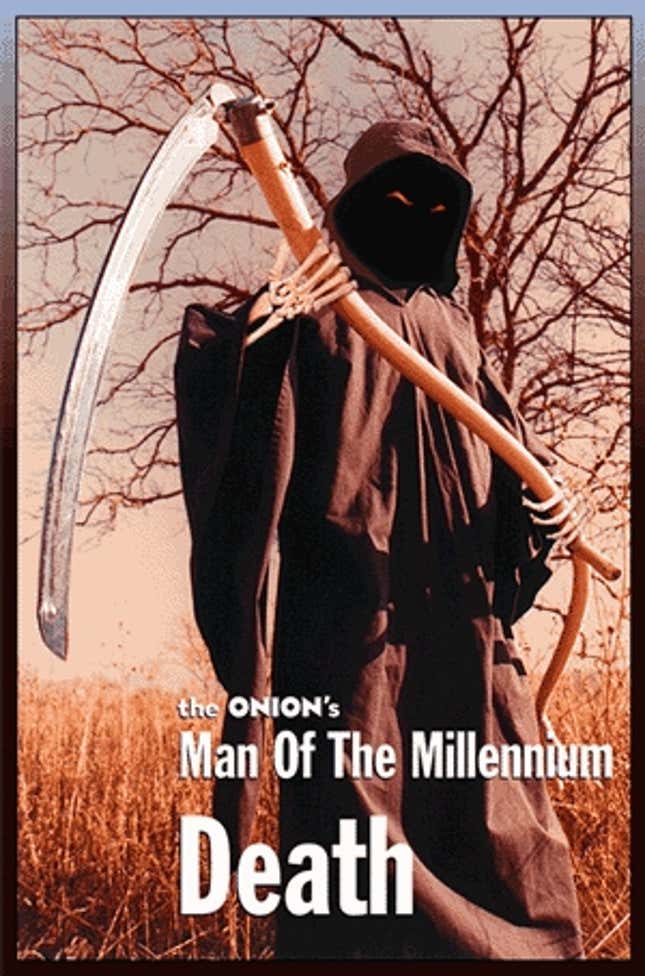 As humanity moves into the dawn of a new and uncertain future, we look back upon our collective past. In the annals of history, many have achieved greatness, yet one individual towers above all others as the most significant single force of the last thousand years. Whether in war or peace, feast or famine, prosperity or economic ruin, the Man Of The Millennium has touched all our lives. No one has had a greater, more permanent impact on our shared human condition.
More than anyone else the passing age has truly belonged to the black-cloaked figure who has been everpresent in our species' most horrific and agonized nightmares, the shrieking, unstoppable wraith known as Death Himself.
Death: master of humanity and ultimate reaper of us all.
While other fads and fancies came and went this millennium, Death was always with us. Over the course of the past 10 centuries, his merciless grip on our fragile mortal shells remained constant, and his impact on our world only grew. While such would-be Men Of The Millennium as Genghis Khan, Napoleon and Hitler all rose only to ultimately fall, Death's fortunes never ebbed. He is everywhere and in every thing. And, in the end, it is his name who is on everyone's lips. He is the true mover and shaker, the ultimate trend. Whatever advances are made in health and medicine, he will never be in danger of going out of style.
When the Saxons battled the Normans at Hastings in 1066, he was there, triumphantly laughing amidst the blood and gore. When nearly half the population of Europe fell to the bubonic plague in 1350, he was responsible. When the vaunted Spanish Armada sank beneath the unforgiving waves in 1588, it was his bony hand that reached up to pull the screaming sailors to their briny, sea-bottom graves. From the Battle of Agincourt to the mustard-gas attacks along the trenches of World War I, he pulled the strings. And when the secrets of the atom were unleashed upon Hiroshima, it was he who permanently etched the shadows of the ruined city's schoolchildren on its blasted walls.
Death is ruler of all that is, conquering all and beholden to none. Never has there lived a single stalk of grass, beast of land, air or sea, or baby at its mother's tender breast that has escaped him. He is the single driving constant that motivates our actions and shapes our fears and dreams before spurring us on into eternal oblivion. We writhe helplessly in his cold embrace, all of us—loved and hated, rich and poor, small and great alike. No one is too mighty for him to topple, and nothing is too insignificant to go unnoticed by his unceasing and relentless gaze. Behold Death: destroyer of kings, conqueror of the mighty, despoiler of all that is.
G/O Media may get a commission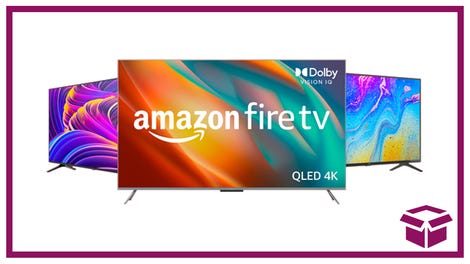 Ooh. stunning.
New Amazon Fire TVs
Behold his awesome power and cry out in shame and terror!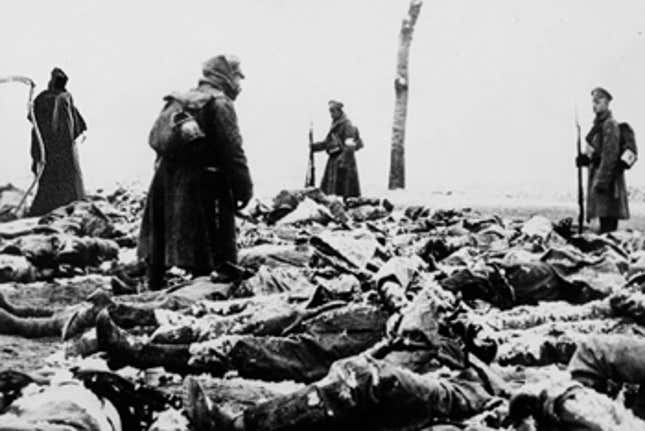 Each year, The Onion chooses one influential person to honor above all others. Past winners have included such individuals of consequence as John Ritter, The Denorex Guy and The Man. This tradition of excellence has continued uninterrupted for thousands of years, with the sole exception of 1998, the only year when no candidate could be found who met The Onion's lofty standards. Yet this year, the honor was even more important, for it marked not just the selection of a man of the year, but of the entire millennium. It may seem that no one could possibly be worthy of such a title.
Yet there is such a figure: Death, who, time and time again, proved his incomparable significance, not only for this past millennium, but for all millennia. And he will continue to do so until the end of time itself. Thus, The Onion's choice for Man Of The Millennium was clear. His name is known to every soul:
Death!
The cold, black, silent, eternal nothingness of nonexistence!
The inevitable, inescapable, unyielding embrace of the tomb!
The final, insistent beckoning arms of the grave!
Death!
Who can say they have not unleashed a shriek of unholy terror in the dead of night at the very contemplation of his omnipresent shroud? Who dares pretend they are immune to the ultimate fate that awaits each of us? What fool defies him? All shall succumb! All shall perish in the cold, uncaring, skeletal arms of He Who Shall Not Be Denied! Everywhere on the planet, in every moment of this sad and fleeting life, can be heard the relentless pounding of his scythe upon the ground as he walks, echoing from mountain to seabed, sounding: "DOOM! DOOM! DOOM!"
What use is there in trying to resist him? What use is there in pretending to refuse his unending omnipotence? He has reigned supreme over all creation, bowing to none, however powerful, however proud, for the last thousand years and forevermore!
Everyone who has ever lived since the dawn of time—wealthy or downtrodden, foolish or wise, innocent or guilty—they all are equal now in his terrible faceless sight!
DEATH!