ATLANTA—Several eyewitnesses confirmed Tuesday that a man seen smoking a high-tech e-cigarette device must, in all likelihood, be some sort of futuristic bounty hunter in the midst of a covert time-stream-altering mission of critical importance.
Sources told reporters that the man, who inhaled deeply on the mechanized smoking apparatus, causing the tip to glow a bright cobalt hue, probably traveled back in time to track down a deadly fugitive hiding in the early 21st century or something.
Reports further indicated that the person, who in all likelihood is a futuristic soldier of fortune with off-world military training, stared off into the distance, scanning the building across the street with what must be enhanced optical implants to locate an elusive outlaw's bio-signature, then exhaled what appeared to be an odorless vapor.
"Judging by his cool, calm demeanor and the fact that he was inhaling what looked like e-fumes from some kind of shiny black mecha-cigarette, I'm just going to assume this guy has journeyed here from hundreds of years in the future to apprehend a dangerous digi-convict of some kind," said data management analyst Paul Rankin, adding that the man's skeletal system was almost certainly reinforced by an indestructible alloy as yet unknown to today's engineers. "Imagine his knowledge of future events. He could probably share information about so many astounding secrets if we dared ask."
"His name is probably something like Nitror or Chronox," added Rankin of the man.
G/O Media may get a commission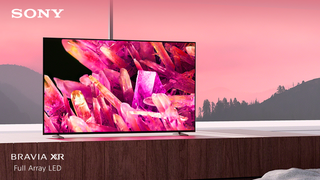 $400 off
Sony 55 Inch 4K Ultra HD TV X90K Series
Patrons at Brady's Bar and Grill on Courtland Street say they first spotted the presumed futuristic mercenary in a corner booth smoking the cutting-edge nicotine delivery system. Sources then surmised that the criminal hunter from the distant future had likely been deployed to the bar to capture a defector from Quadrant 4.
Another group of customers, however, told reporters that they believed the gruff man taking drags from the e-cigarette may also have conceivably traversed the space-time continuum to pursue a rogue scientist who stole blueprints for a synthetic organism, a commander of a resistance movement, or the terrorist responsible for the cataclysmic 2748 terrorist attacks that obliterated Neo Jersey and rendered the Midwestern Seaboard uninhabitable for 2 million years.
Further sources speculated, with growing alarm, that the man's very presence in the bar might somehow cause an irreversible temporal paradox of some kind.
"Look at him, he's obviously stalking his mark right now—and I bet that beer he's drinking has no effect on him because his internal organs are all bionic and thus alcohol-resistant," said local resident Jeff Wallace, adding that the stranger using the high-tech tobacco apparatus must certainly possess mental and physical capabilities far exceeding those of current humans. "I feel like at any minute that guy might jump from his seat, charge across the bar, and waste a future war criminal with some sort of pulse rifle, particle cannon, or X294-phaser blaster."
Sources who had earlier glimpsed the cryptic figure drawing on the electronic vaping device while striding down the sidewalk agreed that the presumed techno-fugitive hunter was probably equipped with enough firepower to obliterate a humanoid's torso in seconds or reduce a foe into an ash heap in a single blinding flash.
Other reports have confirmed that the e-cigarette smoker must have secured some semblance of 21st-century clothes in order to blend in with his surroundings and not draw too much attention to himself or to his highly dangerous mission.
"Obviously this man is a cold-hearted killer with the ability to seamlessly traverse space-time, that much is clear," accountant Todd Saunders said of the man inhaling nicotine fumes with what reportedly must be 25th- or 26th-century technology, at least. "But what's hidden behind those badass mirrored shades? Highly advanced ocular cybernetics? Or maybe sad gray eyes that have seen humanity enslaved by a mega-corporation of unspeakable cruelty?"
At press time, eyewitnesses confirmed that the futuristic bounty hunter had paid for his drink with 21st-century American money credits that he had no doubt been supplied with by his futuristic employers at the Karpek Institute and marched out onto the street with grim determination just as a wormhole undoubtedly opened.