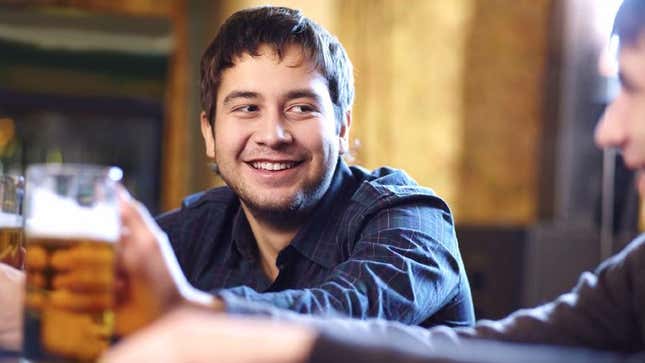 NEW BRUNSWICK, NJ—Friends and coworkers of local man Alan Tessler confirmed Wednesday that whenever they feel discouraged or depressed, they need only think of their 36-year-old acquaintance to put everything back into perspective, a fact to which Tessler, by all accounts, remains completely oblivious.
Jimmy Carter Becomes World's Heaviest Man At 850 Pounds
According to sources, Tessler is unaware that each of his friends bring him to mind when facing personal obstacles, relationship troubles, or a general sense of dissatisfaction with their lives, using the unmarried office equipment sales associate as a valuable reminder that they should be grateful for what they have.
"If I have a rough day at work, or my wife and I get into a fight, I can always take a step back and be thankful that I'm not in Alan's shoes," longtime friend Daniel Carranza said of Tessler, who reportedly lives by himself, eats the same Chinese takeout meal most nights, and spends his weekends watching reality television competitions, and who furthermore has no idea whatsoever that his living situation is often used for therapeutic purposes by his closest companions. "It really helps put my problems in context. All I have to do is invite him out to lunch and listen to him talk about his bad back or this new real estate investment idea he read about online, and I realize that I'm actually in pretty good shape."
"Just thinking about Alan helps me remember how truly lucky I am," Carranza continued.
As verified by multiple sources, with his dead-end career, lack of personal interests, and the frequency with which he still borrows his parents' car, Tessler has for numerous years unknowingly enhanced the self-esteem of almost everyone who knows him. Indeed, Tessler's acquaintances claimed that frustrations and anxieties concerning their own financial woes, health issues, and other difficulties invariably melt away simply by picturing Tessler sitting alone in his unadorned one-bedroom apartment or going grocery shopping on a Friday evening.
Specifically, Tessler—who fails to notice the knowing looks passed among his group of friends whenever he relays to them his latest setbacks—reportedly serves as a source of inspiration for dozens of acquaintances, all of whom favorably contrast their own struggles against his every time they receive one of his Facebook invitations to play Mafia Wars.
Several of Tessler's family members also claim they have benefited from comparing themselves to the aimless man, with relatives saying that stilted exchanges with the knee-brace-wearing perpetual bachelor during holiday get-togethers leave them feeling more secure in the knowledge that, all things considered, their lives could be far worse.
In addition, many individuals who know Tessler only tangentially confided to reporters that spending just a few minutes in the oblivious man's company allows them to gain a greater appreciation for their own circumstances.
"I've had days where I feel just about ready to give up, but all it takes to get out of my funk is for Alan to show up here at the coffee shop, order his usual double-caramel latte, and spend an hour by himself in the corner looking at OKCupid profiles, and I feel a lot better about myself," said local barista Carolyn Shelby, 25, who explained that taking a few seconds to consider Tessler's day-to-day existence has helped her surmount dozens of periods of despondency and self-doubt. "I've got a boyfriend who loves me, goals that motivate me to improve my place in the world, and my whole life ahead of me. If I put all that next to what Alan is going through, I'm always reminded that I've actually got it pretty good."
When reached for comment, Tessler told reporters that while he's endured his share of difficulties in recent years, he appreciates having so many people in his social circle who take an active interest in his life.
"My friends are really amazing; they make a big effort to keep in touch," said the man who has no idea that his personal faults and failings arise in conversation during any social gathering where he is not present. "I usually get a call or email from one of them at least once a week, and they're always really interested to hear me talk about my new fish tank or my fantasy baseball league. I can talk about whatever's going on in my life with them, which is great."
"It's nice to have so many people who really care about me," he added.