INDIANAPOLIS–Despite assuming that he had lost every last possible ounce of hope long ago, area office-supply coordinator Bob Dempsey, 31, was surprised to discover Monday that he did, in fact, possess one tiny additional shred of hope, which he subsequently lost.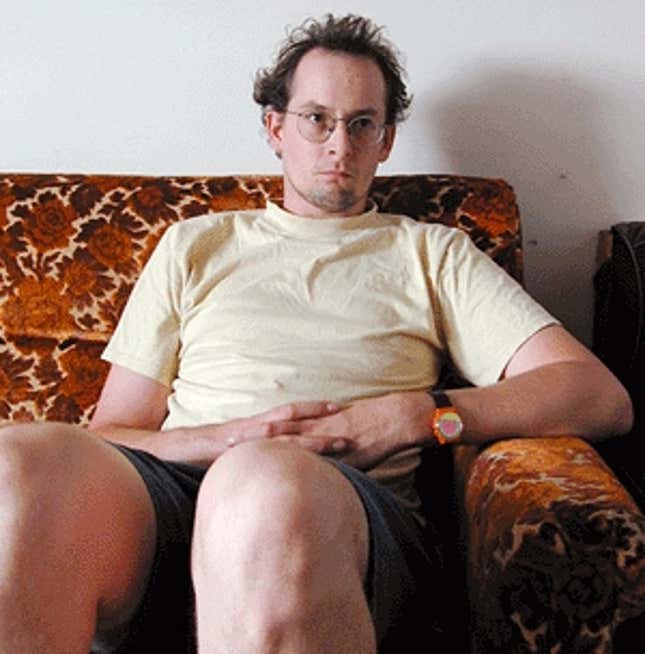 Edgelords Explain Why They Love Elon Musk
"Contrary to the belief of coworkers, neighbors, distant relatives, and Mr. Dempsey himself, this so-called 'hopeless' man actually still had one infinitesimally small shred of hope, which he became aware of in the process of losing said last shred of hope," said noted therapist Dr. Eli Wasserbaum. "Oddly, it was only during that fleeting moment in which he was losing this additional micro-hope that he was able to realize that the hope had ever existed at all."
"Unravelling this singular psychological event makes for a tremendous challenge for the trained therapist," said Wasserbaum, who is attempting to reconstruct the basics of the incident, believed to be the least epiphanic moment of self-discovery in the annals of modern medicine. "In fact, some might even say a challenge so daunting as to be hopeless."
Dempsey's discovery and subsequent loss of the hope is believed to have begun at approximately 8 a.m. Monday, when he noticed a letter in his mailbox–which he checks every two to three weeks, usually finding nothing–from a German address unfamiliar to him. Unable to open the letter at the time because he was on his way to work, he left it behind to read later.
At some point during his workday, which consists primarily of sitting at a desk, staring into space, and occasionally placing a checkmark in boxes next to such words as "staplers" or "paperclips," he realized that the name on the return address was that of an old college friend who had moved to Germany years before and told Dempsey that "maybe you'll hear from me again sometime."
"Apparently, though he had long since forgotten about the friend, there remained in Dempsey some residual, subconscious awareness that there was a tiny chance, however microscopically small, that he would one day hear from this person again," Wasserbaum said. "He must have realized this at some point during the day and experienced a slight sensation of excitement, looking forward to going home and reading the letter."
Upon returning to his squalid one-room flat that evening, however, Dempsey discovered that the letter was actually a notice from German authorities informing him that the friend had died in a fire and asking assistance in locating his relatives. The only reason Dempsey was sent the letter, sources said, was that his name was the only legible words from a charred college yearbook unearthed in the ash and rubble of the tragic blaze.
Prior to Monday, Dempsey had not experienced any loss of hope in more than three years. According to Wasserbaum, a majority of Dempsey's hope-losses hit him in successive ramrod batterings between the ages of 18 and 24. By the time he had reached his late 20s, Dempsey had lost enough of his remaining hope to be considered officially hopeless. Nevertheless, he forged ahead with his few tiny remaining shreds of hope–too insignificant to be considered hope to the average person–until a final devastating blow depleted his hope reserves in February 1997.
"There have just been so many times he's lost hope over the years," Wasserbaum said. "There was the night of his senior prom, when his date and then-best friend drunkenly made out in front of dozens of classmates before openly mocking him in a group sing-along along with the rest of the senior class. This is just one of a lifetime of incidents. There was the time his recently discovered biological mother, for whom he had searched for years, told him, 'I have no son' at her own wedding, the first time they met. And one can safely assume that his rejection as 'unsuitable for conversion' by a pair of Mormon missionaries he attempted to befriend after they randomly knocked on his door must have cost him a significant amount of what precious little hope he had left. But this latest loss is one not even he could have anticipated, as he was unaware that he had any hope remaining at all."
Incredibly, even greater pain may still lie ahead for Dempsey. Experts fear that the German-letter incident may lead to the discovery of other Lilliputian bits of undiscovered hope, all of which are certain to be ultimately lost.
"If this poor, miserable wretch can finally lose every last ounce of hope, then at least his life will be relatively bearable, inasmuch as he will have nothing more to lose," Wasserbaum said. "However, as long as there is even the slightest chance, no matter how astronomical the odds, that he has more undiscovered hope left inside him somewhere, he will always have the inevitable loss of that hope hanging over him like a dank cloud of black soul-sludge, waiting to devour him in a pit of churning agony."
"Of course, maybe this was the last time, after all, and he is completely hopeless for good," said Wasserbaum. "But even that scenario constitutes a form of hope, making his overall prospects of eventually finding a stable, hope-free existence a distant hope at best."