KENOSHA, WI—Despite being just 1/16th Irish, Dennis Kroeger, a 27-year-old marketing manager whose great-great grandmother hailed from County Cork, is fiercely proud of his Irish ancestry.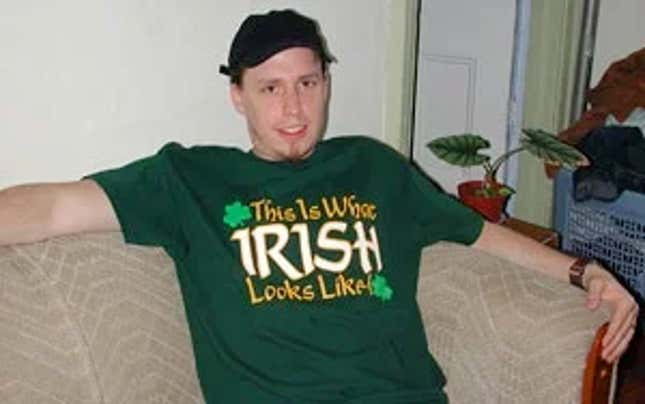 CDC Issues Dire Warning That Nick Cannon Is Feeling Horny
"Dennis sure loves playing up his Irishness," said Lisa Biederman, a friend and coworker of Kroeger's. "When he gets mad, it's his Irish temper. When he drinks, he's got a powerful Irish thirst. When he's being sappy, it's his Irish poet's soul. I'm like, 'Dennis, you're not even Catholic.'"
"Mary Gaughan, my mother's father's mother's mother, was from a tiny village called Ballydesmond," said the brown-eyed, brown-haired Kroeger, who is half German, one-quarter Swedish, one-eighth Dutch, one-sixteenth Belgian, and one-sixteenth Irish. "She married a sailor who was traveling from Rotterdam to America, and they settled in Milwaukee. Ever since, my family's been proud to be Irish."
Kroeger, who cites Man Of Aran as his favorite movie and Seumas MacManus' The Story Of The Irish Race as his favorite book, takes his Irish heritage seriously. He says he is saddened by the number of Irish-Americans who celebrate their culture only once a year, dismissing such less-than-reverent individuals as "green-beer Irish."
"Every St. Patrick's Day, it's the same thing," said Kroeger over a "correct" room-temperature Guinness at Noonan's, a Kenosha bar he praised as authentically Irish. "Everyone puts on green hats and spray-painted carnations and wears 'Kiss Me, I'm Irish' pins and gets drunk and makes fools of themselves. That's not what being Irish is about. That's an exaggerated, stereotyped version of our culture."
"How many of these people know the first thing about their history?" Kroeger asked. "How many of them know anything about the potato famine, much less the Downing Street Declaration?"
Jessica Kroeger, 23, is mystified by her older brother's identification with the Irish people.
"I have no idea where he got this whole Irish fixation from," Jessica said. "I mean, Dad's mostly German and Mom's some kind of European mongrel. He never gave a shit about it in high school, but at some point in college it just suddenly kicked in."
Padraig O'Riordan, a senior fellow at the Hibernian-American League in Boston, was bemused by Kroeger's eagerness to associate himself with the Emerald Isle.
"I suppose if being 1/16th Irish is the most interesting thing about the man, he has the right to flaunt it," O'Riordan said. "But he probably doesn't realize that what he's really telling the world is that he's desperate for an identity. I mean, I'm 100 percent Irish, but I don't run around telling every single person I meet."
"I just don't get what Dennis thinks is so thrilling about being part Irish," Jessica said. "I mean, sure, it's nice, but it doesn't exactly make you exotic. My boyfriend, now, he's 1/8th Cherokee."