BISMARCK, ND—Three months ago, Mark Sennis received the news that everyone dreads: Ben Murphy, a friend and coworker with whom he "occasionally went out to lunch," had been diagnosed with cancer.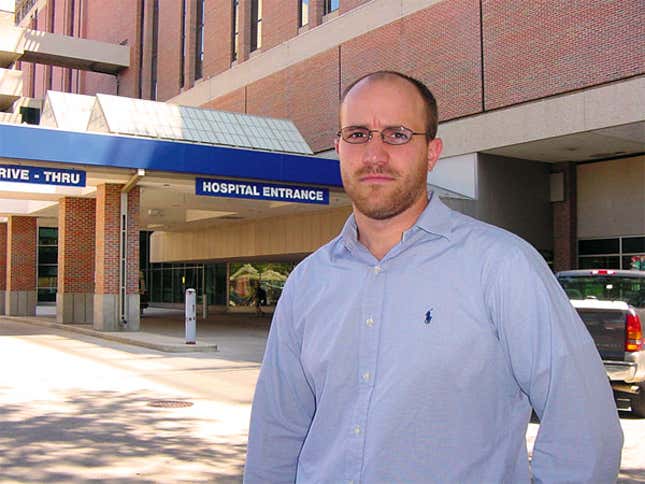 Edgelords Explain Why They Love Elon Musk
"You never think you're going to be the one," Sennis said. "At first, I remember thinking, 'How can this be happening to me? What have I done to deserve to have a friend with cancer?'"
Sennis, who has known Murphy since they started working in the same department at Motorola in 2003, said having a friend with cancer is "a life-altering experience."
"People ask me how I'm doing, and I say, 'I'm scared and I'm angry,'" Sennis said. "Unless you've personally experienced the pain and hardship that comes with having a coworker you're fairly close to get cancer, you wouldn't understand."
Sennis said that, while it initially seemed like "life had come to an end," he "made the decision to keep living."
"One thing I've learned in all this is that life goes on," Sennis said. "Well, maybe not for Ben. But for me. The only thing I can do is take it one day at a time."
Sennis said he doesn't want people feeling sorry for him.
"A lot of my friends start to say 'I have a friend who's just been fired,' or 'I have a friend who tore a tendon,'" Sennis said. "Then, they realize that I have a friend with cancer, and they get quiet, like they think they can't discuss their problems with me anymore. I just want people to treat me like normal."
Sennis said he wishes he'd appreciated the good times he enjoyed with his friends before he got the news.
"You never understand what you have until your friend's cancer takes it away," Sennis said. "Like, I used to complain about having to go to Wednesday Wings with the guys from sales, but last week we had to cancel because Ben was getting a bone-marrow biopsy, so I sat at home alone all night."
"It was a pretty depressing picture," he added.
Sennis said chemotherapy has been particularly hard for him.
"Ever since the chemo started, it's been a whole other story," Sennis said. "I had to spend a good part of my Sunday hanging out in the waiting room last week. I was so exhausted I could barely move."
"Just try finding something decent to eat out there," Sennis added. "I ate a sandwich from the hospital deli, and the bread was, like, Wonderbread, and the turkey tasted terrible, like it was day-old or something."
Sennis said that, ironically, the presence of Murphy's family made the situation more difficult." I'm going through an emotional time," Sennis said. "Ben's entire family was the last thing I needed at the hospital. Do you realize how hard it is to talk to people you don't know at all?"
Sennis added: "The hardest part was talking to Ben's girlfriend. I never liked her, but because of Ben, I had to go through these awkward conversations. 'How many more chemo sessions does Ben have?' 'Is Ben keeping down his food?' It was really hard."
Sennis said his struggle has made him reconsider his relationship with God.
"I wonder why God would do this to me," Sennis said. "It's like God is punishing me for something by giving cancer to a friend of mine."
Due to the adversity he has faced, Sennis said he has had to take special care of himself.
"I don't consider giving up an option," Sennis said. "So, for the past two months, twice a week, I've been treating myself to a massage. It's expensive, but it's the least I can do for myself as I go through this really tough time."
Added Sennis: "I'm not going to let Ben's cancer beat me."