LOS ANGELES—In his ongoing quest to find the finest and most powerful baseball bat ever crafted, Dodgers outfielder Manny Ramirez embarked on an epic voyage Tuesday to search for the legendary underwater kingdom of Batlantis.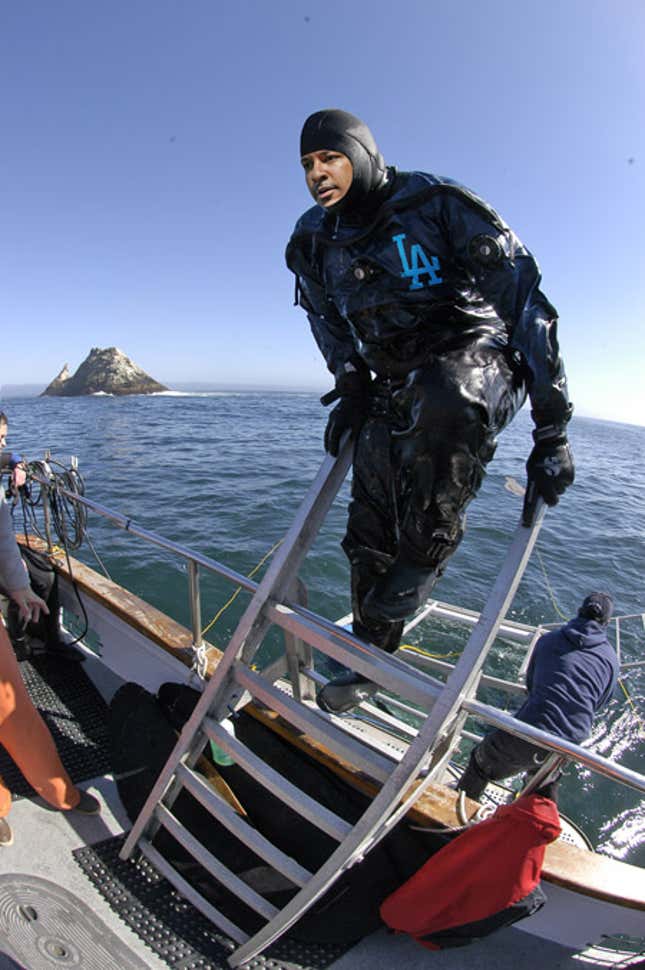 This Week's Most Viral News: September 29, 2023
"I need to get down there under the waves to the bottom of the water to look for Batlantis so I can get the best bat in the world," said Ramirez, addressing reporters from the back of the 30-foot boat he had specially chartered for the journey. "You have to ask the person in charge of Batlantis if you can have the bat. Then they have to give you the bat if they say yes."
"I want that bat, man," Ramirez added.
According to Ramirez, the lost Batlantean civilization is located beneath a massive retractable dome somewhere on the ocean floor, and is only visible to worthy sluggers. Ramirez confirmed that the utopian city was founded by a race of blue-green half-god, half-man, half-MVP creatures in order to develop advanced hitting methods and practice mystical swinging techniques.
The underwater fantasia, Ramirez confirmed, also maintains orchard groves in which they cultivate the hardest wood in the universe.
"Getting to Batlantis will not be easy, because I have to go through the wettest part of the ocean and they keep the bat inside a giant clam that's all locked up," Ramirez said. "But it will be worth it for the bat, man. It make wishes, man. Seriously. You can have as many home runs as you want."
While preparing for the undersea expedition, the Dodgers outfielder purchased a wide variety of equipment including scuba gear, a wet suit, a poncho, an umbrella, 40 pairs of batting gloves, Breathe Right nasal strips, and ziplock bags he planned to use "to hold extra air."
Acknowledging the many dangers that lurk below the sea—especially the poison-toothed eels that guard Batlantis' gates—Ramirez said he was also equipped with a batting helmet and a torpedo.
"I'm bringing my swimming trunks for when the boat swirls around in the giant whirlpool on the way to Batlantis," said Ramirez, adding that he is not packing his baseball mitt because defense is strictly forbidden in Batlantis. "The whirlpool is the key, man. It sucks you in. You find that and you find Batlantis."
"Batlantis is big, man," Ramirez added. "It's underwater."
This will be Ramirez's fourth attempt to locate the elusive realm of Batlantis. Two years ago, a solo expedition was thwarted when Ramirez was unable to find plane tickets to the Bermuda Triangle on Orbitz.com. In 2004, engine failure caused by driving his car into the Pacific Ocean prevented the slugger from discovering the underwater batting kingdom. And Ramirez said he found a portal to Batlantis in 2002 but was unable to squeeze through the grate at the bottom of a swimming pool in his neighbor's backyard.
"The place is so cool I don't know if I'll ever want to leave," said Ramirez, adding that mermaids serve an elixir that increases your muscle mass and on-base percentage, and is untraceable. "They have on-deck circles that are way rounder than ours. And they have gold thrones in the dugout. You pull a lever on the side and your feet go up, man. You get all relaxed."
Ramirez reportedly assembled a Batlantis exploration crew by convincing sluggers David Ortiz, Jim Thome, and Prince Fielder that they could triple their batting averages by missing no more than a month's worth of games. In addition, the slugger regaled the group with fantastic tales of crystalline palaces, breathtaking ballparks, and an extremely large Modell's sporting goods store.
Ramirez also said when they arrived at Batlantis a decadent feast of hot dogs, peanuts, and caramel corn would be held in their honor.
"We are going to do this and we will find Batlantis and take turns sharing the bat," said the 12-time All-Star. "They have a lot of batting cages and the sharks can't get in. They can't chew up your bat or arms or head."