DALLAS—Billionaire Mark Cuban, tired of the opposition he has encountered from NBA management in his role as owner of the Dallas Mavericks and frustrated with opposition from the MLB owners' association in his attempt to buy the Chicago Cubs, liquidated almost all his personal wealth and holdings and purchased the entirety of sports for an undisclosed but undoubtedly large sum on Monday.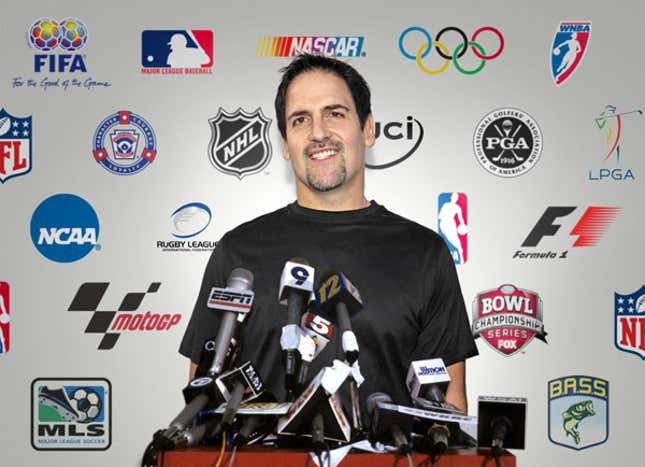 CDC Issues Dire Warning That Nick Cannon Is Feeling Horny
"I'm pleased and excited to announce to fans of—well, of everything, really—that a new era has begun in the game, activity, contest, race, national pastime, world championship tournament, sport, or sports that you love so much," a cheerful Cuban said Tuesday morning in a press conference held to announce his acquisition. "So many of the things that have frustrated me about sports—the officiating, the ivory-tower attitude of the powers-that-be, the fact that I am not in control of every single aspect of them—all of that is about to change."
The exact details of the thousands of exact terms and conditions of Cuban's purchase have yet to be released. However, lawyers confirm that the deal makes Cuban the majority owner of sports, with at least a 51 percent share of sporting leagues and organizations including but by no means limited to Major League Baseball, the National Football League, the National Basketball Association, the National Hockey League, the Professional Golfers' Association, NASCAR, IndyCar, Major League Soccer, the WNBA, the LPGA, the Bassmaster Tour, the NCAA, FIFA, the International Olympic Committee, the Union Cycliste Internationale, Formula 1 Racing, the International Rugby League, and all their affiliate and associate leagues in perpetuity.
"I want to assure fans and athletes around the world that very little will change now that you are all my fans and athletes," Cuban said. "Of course, there will be a review and streamlining of all the rules as soon as possible, so I can settle certain things once and for all, like what is and isn't a foul, and where the Cubs will be playing after they leave Chicago, and what Dwyane Wade will be doing now that he's banned from basketball. Oh, yeah, and the Olympics are canceled. And I need to see [former Texas Longhorns softball player] Cat Osterman in my office tomorrow evening, dressed appropriately for dinner at a fairly good but charmingly low-key steakhouse. Anyway, I realize how important sports are, and want to reassure the world that with the increased cost will come greatly increased enjoyment."
Cuban has also scheduled a meeting of sports to be held on Aug. 15 at the American Airlines Center in Dallas. Attendance is mandatory for all executives, team minority partners (formerly team owners), and officials from all leagues. Attendees have been told to bring detailed records of their recent seasons, and that coffee and sandwiches would be provided as the meeting is expected to last most of the day.
Reaction from sports people was mixed.
"The part of this that bothers me is that Cuban has never before shown any interest in us and then, out of the blue, I get a 225-page memo outlining administrative restructuring, rules changes, delineations on what the league commissioner is and is not empowered to do, off-the-field disciplinary guidelines for players, the works," said Dane County Little League director Robert L. Krewson of Montrose, WI. "I'm not entirely certain I can allow the kids to be taken out for pizza afterwards. It's difficult reading."
"Apparently the stripes have to go," said Cincinnati Bengals Hospitality and Morale Group Director and former Bengals owner Mike Brown. "I guess Mark just doesn't like stripes."
†Cuban acknowledged that there would be some adjustments to make during the transition, but that he would address "minor concerns" just as soon as he finishes the business of firing former NBA Commissioner David Stern, a process that he estimated may take up to four days "in order to do it right."
"Buying sports was the culmination of a childhood dream, but it wasn't cheap," Cuban told the Wall Street Journal yesterday. "I sank almost everything I had into it, brought investors on board, even sold my jet in order to get sports. And while I'm in charge I intend to rid sports of all the hypocrisy and old-boy's-club garbage and tennis and false sentiment that have been dragging it down it for so long. There's no reason I can't do that, have a ball, and then sell it a few years down the road at a profit. Maybe to Yahoo! or someone like that."
While sports' burgeoning popularity has generally been blue-chip profitable in recent years, business analysts are taking a wait-and-see approach regarding Cuban's acquisition.
"In this economy, nothing is certain, especially in the leisure segment," said New York Times financial analyst Gary Broadbridge. "Individually, sports have value, certainly. But considered as a whole, and taking into account issues such as steroid use, cultural oversaturation, an emphasis on pure performance over substance, and the long-term value of sports looks somewhat dim. I'm sure I wouldn't be alone in saying that I'm really not sure sports is worth it."