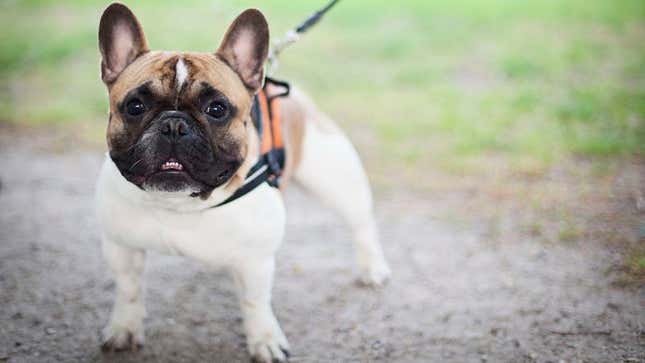 DULUTH, MN—According to neighbors living near local French bulldog Ruggles, the humiliation-loving canine apparently derives intense pleasure from being stark naked, clipped to a movement-constricting leash, and paraded around in public.
This Week's Most Viral News: September 22, 2023
Witnesses say that Ruggles, who is reportedly totally shameless about his demented, anything-goes lifestyle, seemingly takes some sort of twisted glee in wearing a thick harness and walking around on all fours while being fully subdued by his owner, 34-year-old Brian Paulson.
"Just look at that depraved freak," said astonished neighbor Stacey Hampton, watching the nude animal fully hunched over and debasing himself by following Paulson's patronizing commands to "come," "sit," and "stay." "Every afternoon they're at it again, playing this sadistic little game where Brian is the master and Ruggles is his slave or something—in broad daylight no less!"
"And at the park, too, in front of dozens of people," Hampton continued. "But does Ruggles complain? No, he does exactly as he's told. Ruggles wants to be dominated. He likes it."
Many in the community echoed Hampton's remarks, noting that the dog has regularly been seen in compromising situations, including being tied up outside at night, drinking water from a dirty bowl using only his tongue, and shamefully bowing down in a submissive pose whenever Paulson calls him "a very bad boy."
Others verified a particularly warped routine in which Ruggles relieves himself right in the middle of the sidewalk, all while staring intently at his owner's face.
"Every time I see him he's into some new shit—really weird stuff I've never even heard of before," said local business owner Kevin Nichols, who claims to have once watched Ruggles partake in some kind of role-playing fantasy where his owner pretends to shoot him and he pretends to be a lifeless corpse. "Sometimes he'll even pick up pieces of litter from the ground with his teeth and just sits there chewing on it until his master pulls it out of his mouth. Then he gets disciplined. I bet that's his favorite part."
"Sick little weirdo," added Nichols.
Complete strangers who have crossed paths with Ruggles confirmed that the dog is equally willing to demean himself in front of them, with multiple sources saying the deviant was "very eager" to lick their shoes, sniff their pant legs, or pitifully beg to be stroked as part of some sort of self-abasing come-on.
"Look, I get it, everyone has their kinks, but do you really have to work it all out in front of the entire community?" said neighbor Alan Bauman. "If you get your rocks off by acting like a servant and crawling around with a tennis ball in your mouth, then fine. But there are kids out here, man. Jesus."
While most local residents expressed unabashed disgust in Ruggles' continued perversions, some offered sympathy for the dog they say can't help but punish himself day in and day out.
"He obviously can't control his behavior; it's like a compulsive thing," said local mail carrier Michael Nealon. "I mean, this is a dog that, at a very early age, had to wait for permission to urinate, and slept in a small cage surrounded by blankets that had been infused with his owner's scent. Bizarre shit like that. All that's going to affect how you get your jollies as an adult, you know?"
"I mean, if I went through all that, I bet I'd enjoy publicly rolling around on the ground, naked, panting, for all the world to see," Nealon added. "Who could blame me?"
Sources also confirmed they aren't sure what's going on with Ruggles' owner, Brian, who apparently has some sort of fetish for picking up feces in small plastic bags.