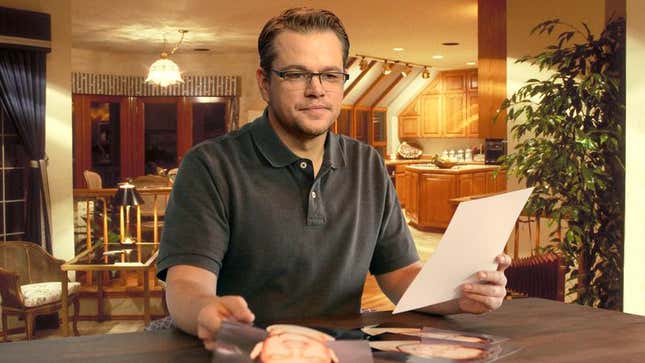 LOS ANGELES—Angrily stating that he had been "completely ripped off," Hollywood actor Matt Damon expressed outrage Wednesday after receiving a set of extremely poor-quality headshots from a man who had charged him $500 and guaranteed professional-looking results.

This Week's Most Viral News: September 22, 2023
Damon, who most recently appeared in the 2014 science-fiction film Interstellar, is said to have found the photographer via a posting in Craigslist's Creative Services section, having reportedly been drawn in by the title of "AMAZING Actor/Actress Headshots" and a promise to "make you look like a celebrity."
"Look at these—they're fucking ridiculous! I'm, like, 30 feet away in this one!" Damon said while indignantly scrutinizing the images he had spread out on his kitchen table, photographs that he had only moments earlier excitedly pulled from a manila envelope sent by the photographer. "What the hell am I supposed to do now? I can't use any of these!"
"He said I looked like a superstar when he was shooting me—do I look like a goddamn superstar in these to you?" he continued.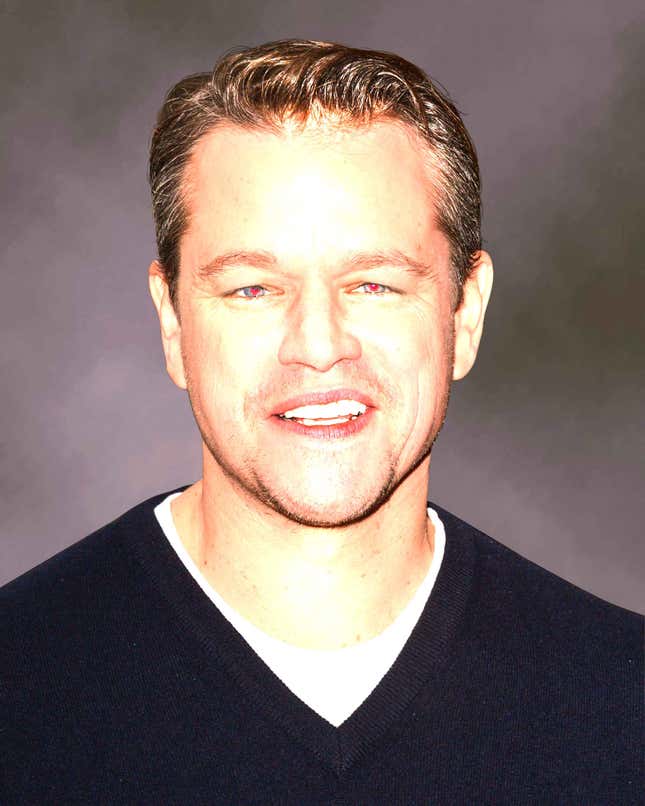 After several moments of loudly sighing, shaking his head in disgust, and cursing the photographer, Damon enumerated a long list of complaints regarding the photographs, which included the observations that many appeared overexposed, others were cropped in such a way that the top part of his head was not in the image, and all of them seemed to be out of focus to varying degrees.
"He didn't have any lamps in there or even a light meter—he just used the flash on the camera," Damon said. "I should have known this asshole was a complete fraud when I showed up at his so-called studio. He was working out of half his garage with what had to be a bedsheet hanging down. Seriously, his whole setup was crammed between his car and a concrete wall. Dammit."
The 44-year-old actor, who is set to star in the upcoming Ridley Scott–directed film The Martian, said he had planned for the headshots to replace the most recent ones he had taken in 2010. In addition to his complaints about the overall appearance and composition of the shots, Damon stated that the photographer, who "basically stole $500 right out of [his] pocket," had ultimately given him a set of substandard photos that casting directors would toss out immediately.
"He promised me several wardrobe changes and a mix of natural light and studio shots," Damon said. "We were going to do some serious ones and some fun, goofy ones; he said in the ad it would be a three-hour shoot, but I was in and out of there in, like, 45 minutes. When I asked him about the outdoor shots that were supposed to come with the Silver Screen Package I'd ordered, he just took me to his front yard."
"Look, my eyes are half-closed in this one!" Damon continued.
According to Damon, the final presentation of the headshots—which he "could not believe" took three weeks to arrive, based on their quality—was unacceptable, with it being evident that the photographer hadn't done any touchup or other standard digital manipulations.
"They aren't even glossy," Damon said. "I guess he used some kind of matte paper, or something? Jesus Christ, can you even imagine if I brought these things around to calls? I'd get laughed out of every audition in town!"
Damon added that he was beginning to suspect the photographer hadn't actually taken the shots of Greg Kinnear and Sandra Bullock that were part of his online portfolio.
Despite his immense dissatisfaction with the photos, the actor said it wouldn't be worth his time or effort to try to get back the $500 or have the photographer provide him with another set of headshots.
"God, there's no point in making this idiot take them again—he's just going to ruin them," Damon said. "But you better believe I'm telling all my friends to avoid him like the plague. I already texted Ben [Affleck] and warned him to stay the hell away from this guy unless he wants to be out 500 bucks."
"Lesson learned, I guess," he added.
Damon said that for all his future headshot needs, he will go to his cousin who "has a really nice digital camera."