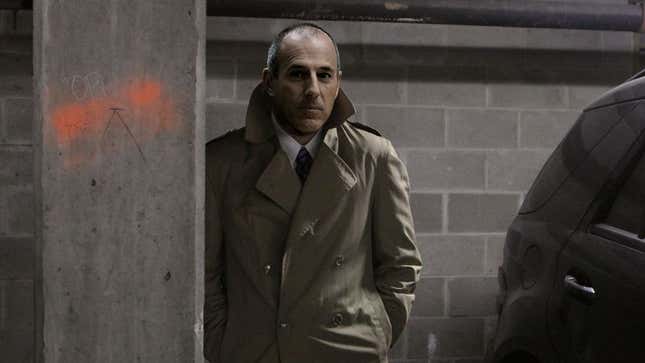 NEW YORK—Nervously checking his watch and glancing around the desolate underground parking garage in anticipation, The Today Show host Matt Lauer was reportedly waiting for an anonymous source with inside knowledge of the latest parenting trends during the early morning hours Thursday.
This Week's Most Viral News: June 2, 2023
Reports indicate that Lauer had planned a secret meeting at 2 a.m. with his unidentified parenting source in the lowest level of a parking facility on East 50th Street, where on several previous occasions he had received classified information on half-birthday parties, breastfeeding selfies, and multilingual nannies.

"She's late," said Lauer, looking around the dimly lit garage for the anonymous informant known only by the pseudonym "Crafty Mom," who had reportedly provided him with vital details about sneaking vegetables into a child's diet by encouraging them to use peppers and tomato slices to make their own smiley-face miniature pizzas. "I need to know if I'm on the right track with bedtime routines."

"I don't have all night," continued Lauer, taking a long drag on his cigarette. "I need to get something out tomorrow about must-have high chairs."

The covert meeting was reportedly arranged with the utmost caution to protect the identity of the highly valued informant, who over the past year has provided leaks that were indispensable for Lauer's coverage of family-friendly staycation ideas and gender-reveal parties for unborn babies. According to reports, Lauer was fully aware that there were powerful people involved in concealing which apps are capable of getting kids interested in science and that any misstep could endanger his source's career.

Crafty Mom reportedly first contacted the longtime Today Show host in 2012, when Lauer received a call from an unlisted phone number and a husky voice on the other end simply uttered the words "safe strollers" before explaining that if the TV personality wanted to learn more, then the two should meet near the South Brooklyn Marine Terminal.

"You think you're the only one trying to figure out how to get kids to love playing outside? I'm sticking my neck out for you. You got that?"
According to reports, the latest clandestine encounter occurred at exactly 2:03 a.m. Thursday when the informant handed Lauer a manila folder which was said to contain the cutest baby-naming trends, plans for managing children's screen time, and tips for capturing an infant's first year with monthly growth photos.

"This birth collage stuff goes way deeper than you know," said Crafty Mom, who is rumored to be the source that directed Lauer to use found objects to spell out a baby's name for a birth announcement. "This is big, Lauer. The American public needs to hear about this."

"You can photograph a clock to show the exact time of birth," added the source, obscuring her face behind a tall collar. "That's all I'll say."

After evading Lauer's specific questions about tub toys and washable markers, the source reportedly informed the morning show host that he had "all the pieces to blow the lid right off getting your kid to take a bath."

Sources confirmed Lauer has leaned heavily on his anonymous informant in recent months, relying on her to confirm his suspicions about organic, gluten-free puff cereal and new potty-training techniques. Lauer reportedly divulged that Crafty Mom "knew attachment parenting was going to be big before anyone had even heard of co-sleeping."

"I hope you know what you're getting yourself into," said the source, who reportedly told Lauer that if even one tip for setting up your own newborn photoshoot fell into the wrong hands, he would need to find a new informant. "You think you're the only one trying to figure out how to get kids to love playing outside? I'm sticking my neck out for you. You got that?"

According to sources, Lauer was last seen being closely tailed by a Dodge Caravan on his way home from the secret rendezvous.