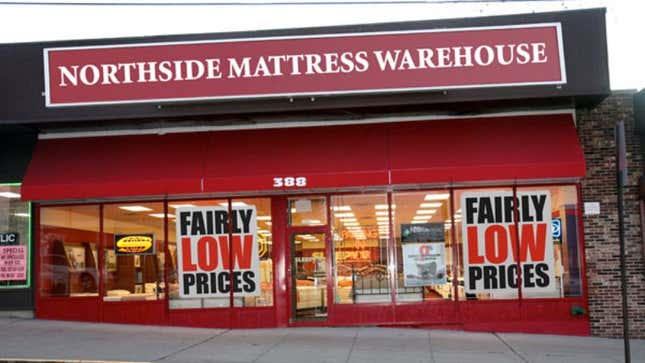 RICHMOND, VA—In a radical departure from its established tradition of total liquidation extravaganzas, Northside Mattress Warehouse on 112 Chamberlayne Rd. will use this coming weekend to test a sales model previously unheard of in the world of mattress retail: the non-blowout discount sale.
This Week's Most Viral News: September 29, 2023
"Our remaining 2007 inventory doesn't necessarily have to go, go, go," said store owner Lenny Conklin, who, in advertisements leading up to the sale, has been described as enthusiastic but not mentally ill. "It can just go, and we're fine with that. And if absolutely everything doesn't go, so be it. These mattresses are by no means priced to fly out the door."
In addition to politely suggesting that customers come on down before the sale's conclusion, Conklin, in opposition to standard practice, extended the fairly deep discounts by an extra two days within moments of announcing them, rather than waiting until the event was nearly over and then prolonging them on a whim.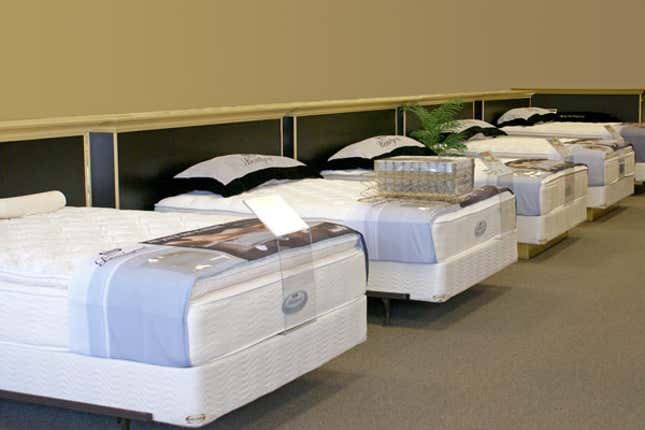 The store also will not stay open until midnight on Saturday.
"It's not like these are once-in-a-lifetime prices on Sealy, Serta, and King Koil matresses," Conklin said. "Don't get me wrong, we've slashed prices. Just not to the bone."
"Bottom line, you'll get a pretty good deal on a brand-name mattress and box spring," Conklin continued. "Not an out-of-this-world, unheard-of deal, granted. But pretty good."
The sale, which will use fewer exclamation points in its advertisements and store banners than any mattress sale in history, will also feature a more relaxed attitude toward being undersold.
"If you can find the same mattress at a lower, publicly advertised price, then God bless," said Conklin, quoting the slogan Northside Mattress has adopted for the sale.
According to store manager Gerald Dufrense, the decor of the showroom will further reflect the more restrained tone of this year's sale. Employees will not dress as cavemen, as was the case for last year's "Bed-Rock-Bottom Blowout," nor will there be clowns present to entertain the customers' children.
"I'm not saying that there won't be balloons, because there will definitely be some balloons," Dufrense said. "We're not trying to completely alienate our customers."
Advertising for the sale—groundbreaking in its own right—has followed suit. A 30-second TV spot for the one-time savings event features Conklin walking leisurely around the store, talking at a reasonable volume while calmly pointing out some of the items that will be available for purchase.
A sober black chyron simply reading "mattress sale" appears at the very end of the commercial and, remarkably, does not flash incessantly throughout.
Though the Northside Mattress Warehouse has taken a great risk by challenging the paradigm for selling quality mattresses at reduced prices, the management remains cautious concerning the outcome of the experiment.
"We hope people respond to the non-blowout sale, but we're hedging our bets," senior sales associate Gary Foster said. "If it doesn't work, we'll just go back to the tried-and-true methods and blow the doors off this place next weekend with a conventional, all-out, super sales spectacular."
While it is not yet clear whether the new tactics will be able to draw customers away from the larger, more established mattress stores in the Richmond area, Northside's competitors have already expressed concern that this subtler form of sale will be an unqualified success.
"A non-blowout sale is the craziest thing I've ever heard, and crazy moves mattresses," said "King" Larry Everdyke, owner of King Cole Mattresses in downtown Richmond. "It's going to blow the blowout right out of the water."