DALLAS—In what the Dallas Mavericks hope will be an effective variation on the "Hack-A-Shaq" defense, the traditional method of stopping Shaquille O'Neal by committing repeated hard fouls against the Miami Heat's dominant 7'1", 325-pound center, the Mavericks will equip their players with custom-made, razor-sharp machetes for this year's NBA Finals.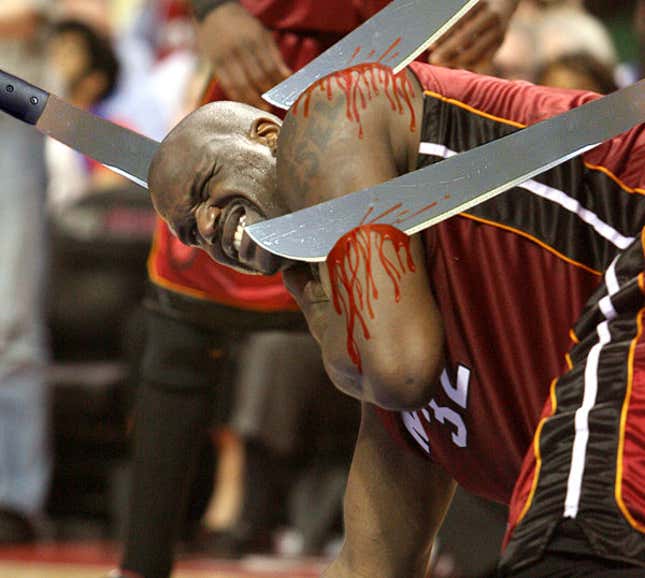 This Week's Most Viral News: June 2, 2023
"I'm tired of everyone saying that Shaquille is unstoppable, that he's the most dominant player in the game, that he can just impose his will on any type of defense, and that he thrives on contact," Dallas coach Avery Johnson said, brandishing his own machete as he addressed his players before their first pre-finals practice. "Let's see how much he thrives when he comes in contact with one of these!"
The players then raised their machetes and stormed the practice court, maniacally hacking and slashing the practice-squad players while chanting "Defense!"
Enthusiastic team owner Mark Cuban said that, when he was presented with the idea of purchasing machetes for his "boys," he was immediately behind it.
"I thought, 'Great! Avery is finally thinking outside the box!'" Cuban said. "And since then, machetes have been the only things on my mind. Thinking about machetes has taken up every second of every day. Machetes! Machetes, man."
Cuban then purchased a case of machetes, and had each one custom-made to fit his players' size and frame, and engraved them with his players' names, numbers, the Mavericks' logo, the 2006 NBA Finals logo, and the credo "Defense Wins Championships."
Johnson, while noting that the admittedly impressive machetes were "just another tool in the box" and "an addition to, not a substitute for, solid defensive fundamentals," said early practice with the 20-inch blades has allowed him to demonstrate his flair for aggressive, innovative coaching.
"The X's and O's of it are pretty simple," Johnson said, drawing up the play on his dry-erase board. "Once Dwayne Wade passes the ball to Shaq down low, [point guard] Jason [Terry] will drop down to double-team him and chop the backs of Shaq's legs, especially the femoral artery and the Achilles tendon, with his lighter machete. Dirk [Nowitzki], while he's doing that, you will curl off your man and go for O'Neal's collarbones with an overhand chopping motion of your Latin machete. By the third quarter, Shaq will have lost a significant amount of blood, and that's when Keith [Van Horn] and [Josh] Howard will be stabbing at O'Neal's kidneys and the sensitive insides of his elbows with their respective weapons—Van Horn with his Bolo Machete and Josh with his Double-Edge Machete. Meanwhile, [center] DeSagana [Diop], who I understand brought his own Panga Machete from home, will be carving O'Neal's ribs."
"If we do this right and concentrate on rebounding to clean up our trash on offense, we can hold Shaq to 10 points a game," Johnson added. "But let's not underestimate this guy. He can still be a force on the court, even with five machetes sticking out of him."
Although players are being tight-lipped about their learning curve on this complex defense, Johnson said that his team is committed to carrying the machetes a full seven games and are willing to sacrifice a little agility for full defensive supremacy. Dirk Nowitzki has said that, by Game 6, the most dominant player in the world should be reduced to nothing more than "300 pounds of hamburger in a Miami Heat jersey." And Mavericks third-string center and O'Neal practice stand-in Erick Dampier came out of his morphine-induced coma long enough to assure everyone that the defense works.
After being informed of Dallas' new strategy, commissioner David Stern issued a written statement in which he expressed some concern about its effect on both player safety and the rules of the game.
"I always encourage coaches and players to continually strive to find new ways to play our beloved game," Stern said. "My only worry is that the unorthodox nature of this defense may cause some players—and one player in particular—actual physical harm. Furthermore, I would like to reiterate that balls shot towards the basket may not be knocked out of the air or destroyed by handheld objects, a rule which certainly includes machetes."
Veteran Miami Heat coach Pat Riley, who seems unfazed by the possibility of losing his star center, said the key to playoff basketball is making adjustments. Riley hinted that he was working on a new "Berserk-A-Dirk" defense and, while not offering specifics, hinted that the strategy involved unleashing a rabid, meth-crazed Gary Payton on the Mavericks' star player.