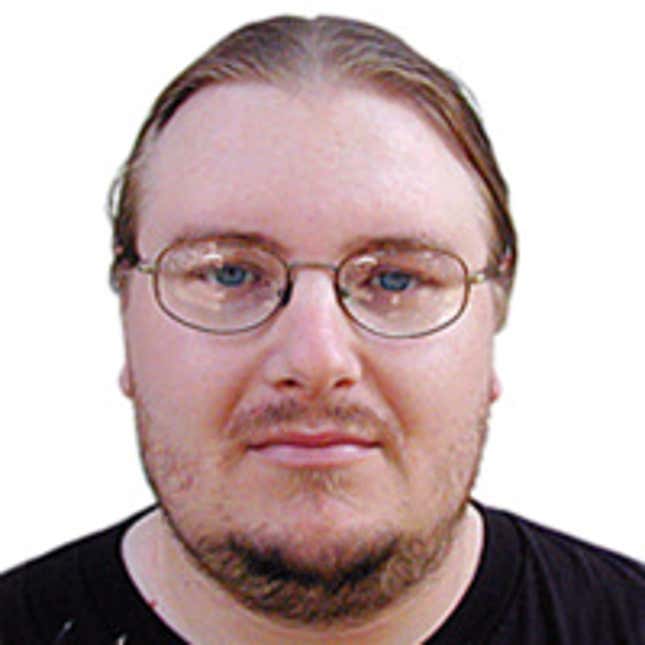 Ah, Aimee Porter. How often I have gazed at you from across the coffee shop, longing to smell your hair, to feel your sympathetic cheek against mine.
This Week's Most Viral News: September 22, 2023
Thus far, I have failed to catch Aimee's eye. I have waited for the perfect moment to make my approach, but it has not yet come. But when it does, I believe my trump card shall spell love for us both. For Aimee Porter, I sense, is a woman of considerable intelligence and discernment—a woman who cannot help but appreciate some of the finest wit and cinematic brilliance ever produced, the immortal Monty Python And The Holy Grail.
Even now, I can see that fateful conversation in which we finally connect as soulmates. While engaging her in superficial conversation on such trivial matters as the weather or her interests, I shall cunningly seek my chance to insert a brilliant Grail quote.
Perhaps the presidential election will come up, affording me the opportunity to say, "Supreme executive power derives from a mandate from the masses, not from some farcical aquatic ceremony!" Or maybe, while talking about the unusual cold spell of the past week, she will make some sophisticated meteorological observation, rendering it appropriate for me to blurt out, "Who are you who are so wise in the ways of science?" Or perchance, after all these months, she will finally ask what my name is, and I will be able to come back with, "There are some who call me… Tim." I would then laugh and tell my fair Aimee that, joking aside, I'm really called Larry. In that moment, I will have won her.
After all, what more could a fetching lass want than to be wooed with perfectly memorized dialogue from the funniest film ever made? I should like to meet the maiden so arrogant that even a spot-on rendition of "The Ballad Of Sir Robin" is insufficient to melt her stony heart.
It's funny, isn't it? How you can go through life, seeing a certain someone as no more than a fringe player in your existence and then, one magical day, you find out they can recite the Holy Grail script from memory, and you're not such a stuck-up princess toward them anymore?
That shall be a glorious day, my dear Aimee. Taller than a Knight Of Ni will I stand on that day when your heart is won. I shall quote entire scenes to your lovely and impressed face, be they the Bring Out Your Dead scene, the Killer Rabbit scene, or the Witch Trial.
I shall woo you with the dulcet tones of the Camelot song, flawlessly singing even its most inscrutable lyrics, including, "Between our quests we sequin vests and impersonate Clark Gable." What man in this coffee shop but I can lay claim to knowing these words?
Once you have been won over, I will bring you back to my parents' luxuriously appointed basement, where I shall show you all of the edited Grail footage from the 7th Level CD-ROM game. And, rest assured, I will show you the rare, never-before-seen King Brian The Wild scene featured at the end of the game. Yes, I realize it is a rather uninspired rendition of a decades-old script by the five surviving Pythons—and inexplicably truncated in ways that remove the original jokes from their context—but let us not lose sight of that fact that it is, after all, a scene deleted from Holy Grail.
If this were not enough, I shall also show you my VHS dub of the extras from the Criterion laserdisc of the film. The original theatrical trailer, the scene from the Japanese dub, the little extra bit of footage in The Tale Of Sir Galahad… whatever you wish shall be thine.
Ah, Galahad! How much like Michael Palin as Sir Galahad am I, longing for the touch of a fair maiden, only to be dragged unceremoniously from the Castle Anthrax by unsympathetic Knights or that guy who's always hanging around Aimee and may or may not be her boyfriend. But I will prevail in the end. I will find my moment, look Aimee more or less in the eye, and dazzle her with my arcane knowledge of Grail.
Oh, to hell with this beating about the proverbial bush! This eternal strategizing and conniving! I should simply get up, walk right over to Aimee, drop to one knee, and say, "Oh, fair one, behold your humble servant Sir Launcelot of Camelot, I have come to take y— Oh, I'm terribly sorry." And then stand up and look all confused, just like in the Swamp Castle scene. That is what a real man would do!
No, no–patience is the watchword here. A creature as desirable as Aimee has no doubt seen that approach a hundred times over. More is required of me. Even more than the Swamp Castle scene.
But wait! What if, beneath her delightful countenance, Aimee is a hated Brianist? That all-too-common breed of boorish philistine who actually prefers Life Of Brian to the obviously superior Grail? Let it not be, my fair Aimee. Say that you can see past Brian's flat sex jokes and speech-impediment-driven farce.
Well, we shall cross that bridge when we come to it. (As long as we can answer The Three Questions, that is!) If true love is at stake, she will surely be willing to convert.
Yes, Aimee Porter, it may take an eternity. And fire, flood, and bickering, gay, three-headed knights may stand between us. But one day, we will find our way to each other's arms, and there forever stay.
And there will be much rejoicing.
Larry Groznic is a noted fan-community luminary and sought-after expert on the topics of British television, spy-fi memorabilia, cosplay, RPG adventuring, and limited-edition collectible maquettes. He lives in Cedar Rapids, IA, and is single.