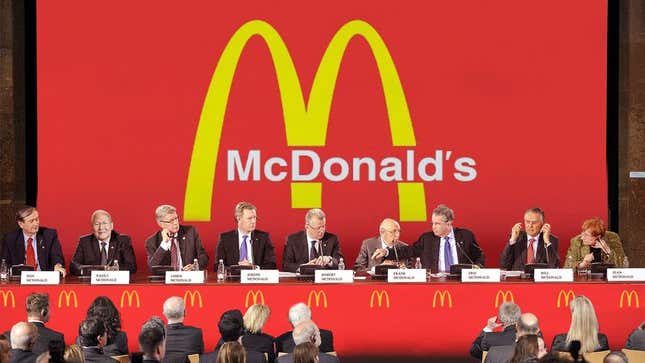 OAK BROOK, IL—More than 70 years after the opening of the first McDonald's, the world's largest fast food hamburger chain announced Thursday it may soon begin franchising its restaurants, which until now have always been wholly owned and operated by the McDonald family.
This Week's Most Viral News: September 22, 2023
Allowing outside franchisees to start up their own McDonald's restaurants would reportedly mark a sharp departure for the company, which since its founding has exclusively employed blood relatives and in-laws of the McDonald family, both at its corporate offices and at each of its 34,000 locations worldwide.
"For nearly three quarters of a century, every time someone has walked into one of our restaurants, their order has been rung up by a McDonald," said company spokesman Doug McDonald, noting that he, along with each of his siblings and cousins, grew up in the family business and has remained with it ever since. "We can guarantee that every burger ever flipped at a McDonald's was flipped by a McDonald."
He added, "While we're proud of what our family members do—personally serving 69 million customers in 118 countries every day—we believe a different business model may be worth considering as we attempt to take our restaurant to the next level."
According to company records, McDonald's was founded in 1940 by brothers Maurice and Richard McDonald, who worked with their wives and children preparing and serving food at the chain's first 500 U.S. locations. As business boomed, they soon turned to an extended family of uncles, aunts, cousins, and grandparents to fill the thousands of jobs being created each year.
Today, the massive food-service retailer employs 1.8 million family members around the globe, including 500,000 McDonalds in the United States, 90,000 McDonalds in China, and 10,000 McDonalds in the Middle East.
As the fast food chain expands—the company added an estimated 62,000 brothers-in-law to its workforce in 2012—numerous McDonalds have said that the current growth rate is unsustainable without permitting franchisees to open new locations and hire non-McDonalds as workers.
"The world is changing, and frankly we're running out of family members who speak Mandarin," said Xaoili McDonald, a shift manager at a location in Beijing. "There just aren't enough McDonalds living in China to staff all our restaurants, and trying to get our relatives to move over here and learn the language is next to impossible. Especially when you consider we pay people a lot less in developing nations."
"Just ask my cousin Juan McDonald in Guadalajara," she added.
But many family members have said the idea of franchising McDonald's locations to outsiders is simply unthinkable.
Jessica McDonald, a 63-year-old drive-thru attendant from Massachusetts, told reporters she wants to keep things the way they were when she was young and all McDonald children accompanied their parents—whether they were board members, marketing directors, fry cooks, or dishwashers—to work to learn the family business firsthand.
A final decision is expected to be made next month at a meeting of the company's top executives, a group including CEO James McDonald, president Ken McDonald, executive vice president Ross T. McDonald, human resources chief Janet McDonald-Harris, president of Latin American operations Maria Isabel Arroyo y Ramírez de McDonald, and retiring chairman Milt McDonald.
"Whatever the outcome, McDonald's always has and always will be a family-oriented business," James McDonald wrote in his annual letter to the 483,970 shareholding members of the McDonald family. "Though we're not used to seeing a person we're not related to behind the counter, rest assured that whoever is there will always greet us in a uniform bearing those same golden arches our grandparents wore."
"That's the McDonald's way," he continued. "And I should add that if the recent runaway success of the Chili family is any indication, franchising could really be a huge thing for us."