RICHMOND, VA—After decades of only offering ruled notebook paper suitable for college-level education and below, school-supply giant Mead introduced its new grad-school-ruled notebook Monday, which features lines twice as narrow as college-ruled paper.
"We here at Mead understand that as students get older and wiser, they need notebooks with increasingly narrow lines," Mead CEO John A. Luke told reporters. "In college, people are at a stage in their education where they require 9/32nds of an inch between each line, which is why we make college-ruled notebooks. But I think we can all agree that grad school is a completely different world than college—a world where 9/32nds of an inch is simply too much room."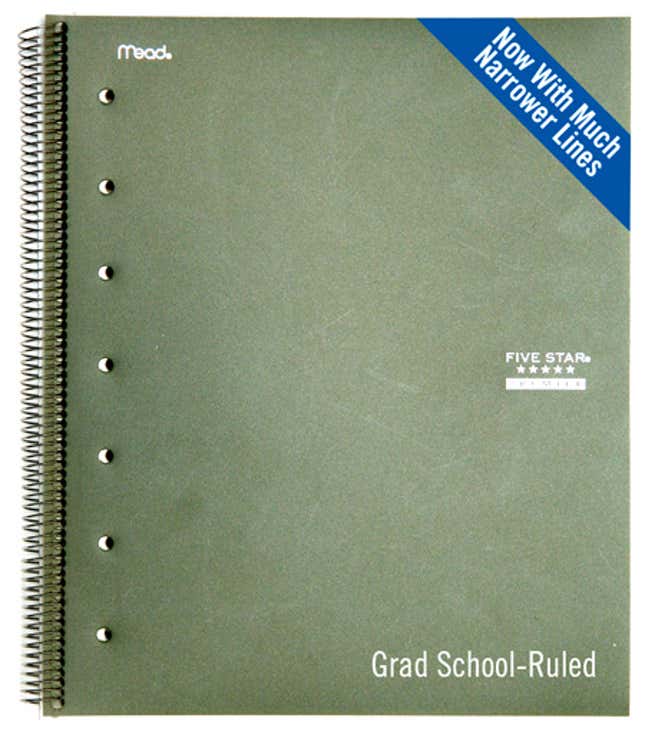 "How can we expect graduate students to learn to gather information and construct knowledge independently within their specialized field of study using college-ruled notebooks?" he added. "These students need a narrower-lined notebook, and at long last, they have it."
According to Mead's website, the ruling lines in the grad-school-ruled notebooks will be placed 3.55 millimeters apart, making them "infinitely more practical" for postgraduate work than the 7.1 millimeter college-ruled notebooks. In addition, the standard 1.5-inch top margin normally provided for dates and headers will be halved, and the left-hand margin will be eliminated entirely.
"Just think: If you are writing a dissertation on elements of thanatopsis and necromimesis as they relate to cacaesthesian themes of mid-20th-century Irish literature, do you really want your notebook lines to be more than seven millimeters apart?" Luke said. "Of course not."
"When you're in grad school, every millimeter counts," he added.
A recent Mead press release claimed that the streamlined 3.55-millimeter spaces between lines are perfect for contemplating Curry's Paradox, solving quantum chromodynamics formulas based on the Yang-Mills theory of color-charged fermions, or even just doing sophisticated grad-school doodles.
"Gone are the days of graduate students having to tediously pencil in new lines between each existing college-ruled line just to make the notebooks usable," the press release read in part. "And with the time you'll save by not having to flip a page every 33 lines, you could earn your Ph.D. a year early."
The new notebook also features a helpful page on its inside back cover that includes not only the traditional metric-conversion charts and world time zone map, but also handy guides such as the periodic table of elements, the Hertzsprung-Russell star-luminosity diagram, steel wire tension strengths, a list of the lattice phenomena of crystalline solids, and the entirety of Willa Cather's 1918 novel My Ántonia.
In addition, each page will be triple-perforated and seven-hole-punched, which Mead representative Kurt Fleming said is "essential for the 21st-century graduate student." The notebook will also have more spirals. Asked to explain why this particular change was made, Fleming responded, "This notebook was designed with graduate students in mind."
The notebooks are currently available in several special grad-school-edition colors, including alabaster, saffron, vermilion, and, for girl graduate students, periwinkle.
Student response to the new product has thus far been positive. "I remember in my first year of grad school, I would always think to myself, 'I wish that every line in my notebook could be as narrow as the one on the bottom of the page that gets cut off,'" said Milo Aylsworth, a master's candidate in English at Harvard. "I'm going to write the name of each class on the covers!"
Mead has also announced that, in 2009, the company plans to release a line of real-world-ruled notebooks, in which the spaces between the lines will be so microscopic that they will not be visible to the naked eye.