ZACKENBERG RESEARCH STATION, GREENLAND—Claiming it to be one of the most dramatic and visible signs of climate change to date, researchers said Monday that receding polar ice caps have revealed nearly 200 clandestine lairs once buried deep beneath hundreds of feet of Arctic ice.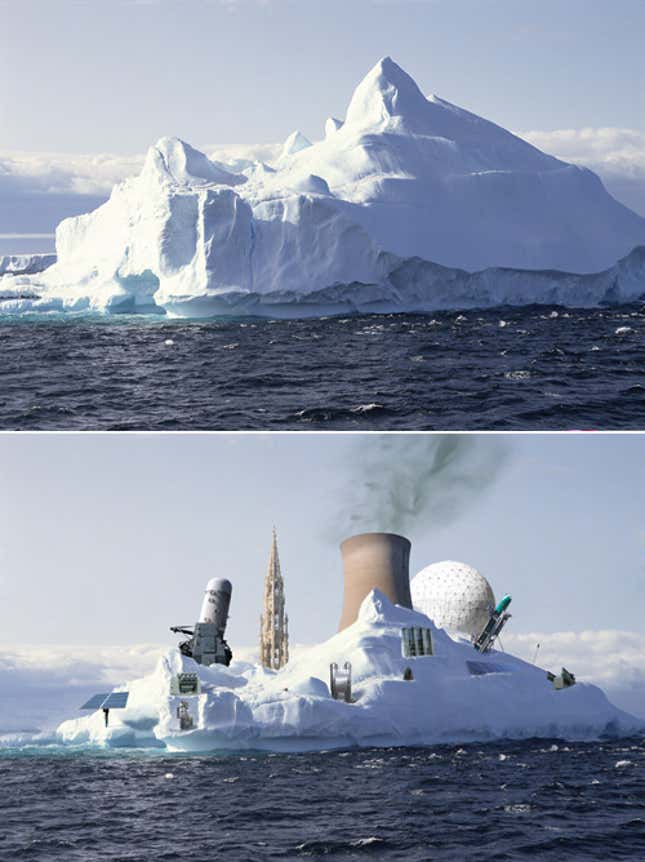 CDC Issues Dire Warning That Nick Cannon Is Feeling Horny
"We always assumed there would be some secret lairs here and there, but the sheer number now being exposed is indeed troubling," said noted climatologist Anders Lorenzen, who claimed that the Arctic ice caps have shrunk at the alarming rate of 41,000 square miles per year. "In August alone we discovered 44 mad scientist laboratories, three highly classified military compounds, and seven reanimated and very confused cavemen. That's more than twice the number we had found in the previous three decades combined."
"This is no longer conjecture," Lorenzen added. "This is a full-blown crisis."
According to oceanographers, the Arctic Circle has been devastated by the effects of global warming in recent years, threatening hundreds of men and women who use the frozen tundra as a place to conduct bizarre experiments in human-animal grafting, carry out massive government cover-ups, or simply as a hidden headquarters from which to battle the forces of evil and fight crime.
"Last week a giant ice sheet broke off and split my prized underground complex nearly in half," said Dr. Raygun, a self-described psychotic mastermind best known for his diabolical thought-control experiments. "Now millions of dollars in state-of-the-art doomsday devices are gone—all because of the environmental carnage wrought by the human race."
"You spend your whole career concocting a brilliant scheme to wipe out all of mankind, and what happens?" Dr. Raygun continued. "They bring about a major global catastrophe completely on their own, those fools!"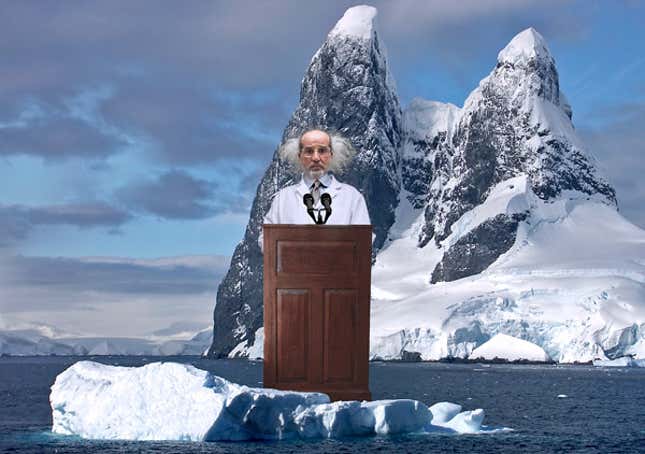 Scientists predict the problem will only get worse as rising temperatures release methane trapped in Arctic permafrost, perpetuating the warming cycle and threatening the habitats of those who depend on the ice caps for safety from the prying, meddling public.
Earlier this week a flying saucer surfaced and is reportedly still pulsating with increasingly intense, unearthly colors. And late last month, a mystical order of Nazi occultists emerged from an underground bunker where they had spent decades communing with the Hyperborean gods and attempting to breed a new Aryan super-species destined to destroy Homo sapiens and rule the earth for untold millennia.
The 12 elderly Germans were detained by local law enforcement in Wainwright, AK.
According to a Natural Resources Defense Council survey, 78 percent of sinister one-eyed industrialists based in the Arctic have been forced to relocate their powerful underworld shadow governments, with many now secretly orchestrating world affairs from dormant volcanoes on remote islands.
Many villains have also been forced to change their entire way of life.
Zawallah, the super-intelligent ape whose gold-teleporter crippled the global economy during the 1980s, recently ceased operation of his orbital heat cannon. Others, meanwhile, are genuinely concerned about the effect that increased temperatures may have on the future of humanity.
"Gwaahhhhrrr-huaawwwrr-gwaahhhrrrr," cried test subject PR-433809-21, the ghastly result of a human cloning experiment gone horribly awry. "Pwwwuuuagharrgh!"
But not all inhabitants of the polar ice caps are upset by global warming. Last month saw the thawing out of a team of British explorers frozen in 1848. Expedition members told reporters they were confident that, if more ice melts, they can finally complete their original mission of discovering a Northwest Passage.
For the time being, most researchers have shifted their attention away from the ice caps and toward finding a way to contain the giant reptile monster Bizarricus, who was trapped in an ice floe by Japanese scientists in the 1950s and has now returned to teach the world a lesson about the folly of man.