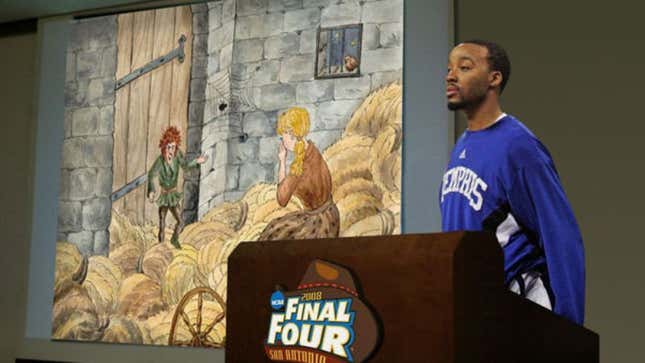 SAN ANTONIO—Although no Cinderella teams made it to this year's Final Four, the Memphis Tigers held an extended press conference Wednesday to explain to the press and public that they are in fact the "Rumpelstiltzkin" of this year's NCAA basketball tournament.
"Okay, now, pay attention, because this is pretty complicated," point guard Derrick Rose said upon opening what was to be a three-hour marathon of explanations, questions, and folkloric interpretation held in a conference room at the at the team's hotel. "Okay, we can't be Cinderella, because we're a No. 1 seed, right? But of all the No. 1 seeds, we were the one people expected to lose. So we're like the girl in the story who starts out as a miller's daughter but right away she becomes a princess. And she—we—only got this far because we can spin straw into gold, but it really isn't us, it's this magic dwarf. Okay, then, is everybody following so far?"
Rose, talented but undersized at 6'0", then proceeded to explain to reporters that he was not, in fact, either calling himself or comparing himself to a magic dwarf.
It is unknown how Rumpelstiltzkin, the Germanic folk tale in which the mysterious title character agrees to help a commoner-made-princess by turning ordinary straw into gold in exchange for her firstborn son but is undone when the princess guesses his secret name, was adopted by Memphis as a symbol for their tournament appearance. However, the players and head coach John Calipari all took turns attempting to explain what they insisted were close similarities.
"In a way, you see, having a game plan is like having a secret name," a visibly exasperated Calipari said midway through the second hour of the press conference, his suit jacket long since abandoned, his tie loosened, and his shirtsleeves rolled up. "Now, if we can guess the other team's secret name, then we'll be victorious, and we'll get to keep the gold—be the champion. Right? Everyone got it?"
Calipari then attempted to explain exactly who the prince would be, why he had lied about being able to spin straw into gold in the first place, whether the fans or the media were the firstborn son, and if he was claiming he had spied on other teams to steal their game plan.
"Okay, let's get this straight," said defense-minded power forward Joey Dorsey, who spent most of the day denying that he was a friendly troll, a brave knight, or even an evil ogre. "The point is, there's this thing that's hard to do and there's more than one part to it, like spinning straw into gold while trying to outwit evil magic gnomes or like trying to win the basketball tournament while everyone says you're not good enough. So you have to be crafty, like saying you can do something you can't while someone who can do the things you can't does them until you outfox them and then you're a princess… or the champion… Wait. No, you're both. Right?"
"I've got to pull down as many rebounds as possible, anyway," Dorsey concluded. "Rebounds are important."
"I can see what Memphis is trying to do here," said Washington Post sportswriter Adam Kilgore, who said the press conference was the most baffling basketball-related event he had ever witnessed. "But I don't think it works. What does the straw represent? Why did they lie about making gold in the first place? When Memphis lost to Bill Walton's UCLA team back in 1973, was Bill Walton an angry giant? Is there a moral to this story?"
"I guess it's something to think about," Kilgore added. "I just wish they'd gone with the metaphor of The Big Dance."