MINNEAPOLIS—The National Weather Service is reporting that the clouds over Minneapolis have parted, the sun is shining, and the sky is just a little bluer today—and it's all because 38-year-old Doug Bramowski is in love, folks.
NWS meteorologists predict that since Bramowski's head over heels for Abby Feldman and, by golly, she's crazy about him, too, Twin Cities residents will be enjoying particularly beautiful weather this weekend with highs in the mid-to-upper 70s, unusually low humidity, and crystal-clear skies as far as the eye can see.
"We have St. Paul at 81 degrees, Montevideo holding steady at 83, Grand Forks, you're looking gorgeous, and ladies and gentlemen, that's all thanks to the fact that our own local Romeo is sitting pretty with a new lady love who's put a pep in his step and a twinkle in his eye," said local news station KSTP TV's chief meteorologist Steven Meola. "Yes sir, Doug Bramowski's heart's soaring and he's bringing our Saturday highs right along with him. And we're expecting these perfect conditions to hold, folks, because there is no one as fantastic as the one and only Abby Feldman."
"Abby's special, all right," the weatherman continued. "She's perfect, just like our seven-day extended forecast: blue skies for miles and spectacular visibility—just as spectacular as the way Abby makes Doug feel inside. She makes him feel like a man. Like he really matters, you know? All right, Doug!"
G/O Media may get a commission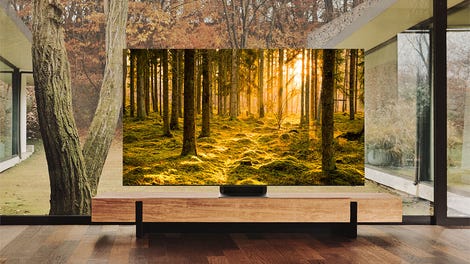 Up to 40% off
Samsung Smart TVs
According to Meola, the birds are chirping and the flowers are in bloom because old Dougie boy—that's right, the very same sourpuss who wondered just three weeks ago if true love was really out there—has a date tonight!
Now that Cupid's making these lovebirds see the world through rose-colored glasses, weather officials confirmed that Minneapolis residents are seeing not just beautiful conditions during the day, but at night the temperatures should be a comfortable 58 degrees, and the stars will come out—beautiful stars, the kind of stars you finally notice when you're in love.
In addition to a high barometric pressure and a low dew point, Meola reported that the air should smell just a little bit sweeter, and if you listen closely, the slight breeze will be whistling a happy tune just for you, because ever since he set eyes on the lovely lady he's thrilled to call his own, Bramowski's been walking on air—dry air that should be expected to linger in the area for quite some time because Abby's the real deal, yesiree.
Don't tell anyone, meteorologists warned, but old Doug's thinking about inviting her home to meet his parents.
"After a couple of years of near constant gloomy conditions, The Love Doug is back, so the Twin Cities can expect that summer sun to shine, shine, shine on!" Meola said. "After all, Hurricane Sara was nearly eight months ago, so it's about time the one and only Mr. Douglas James Bramowski opened up those shades and let the sunlight back into his heart."
Meola went on to say that the warmer air pushing into the region is encouraging, given the unseasonably cold temperatures that characterized the past few months while Bramowski was getting over his ex. However, the sparks flying between him and Abby are expected to brighten up the sky from here on out because he's nuts about her, she's looney-tunes for the lucky dog, and they've got that once-in-a-lifetime connection that most people only dream about.
"As you're making your weekend picnicking plans, just keep in mind that a mere 8 percent chance of precipitation is nothing to worry about considering our loverboy Doug is 100 percent head over heels for Abby, ladies and gentlemen," Meola said. "As long as he doesn't lose his sense of self in the relationship like he did last time, these two lovebirds will be enjoying their new romance and we'll be enjoying clear, dry, and pleasant weather right through the weekend and into the middle of next week."
"The 10-day—hell—the 50-year forecast is looking perfect!" he added.
While conditions in Minneapolis are absolutely gorgeous, NWS officials are keeping an eye on a possible disturbance in the Northwest region where the potential for heavy winds or even a tornado isn't out of the question, as things are looking increasingly bad for Duluth area resident Barbara McKean.