WASHINGTON, DC—Following the tragic falling death of 32-year-old methamphetamine addict Phillip Diggs, who was reportedly attacked by spiders while scaling a large construction crane near Palo Alto, CA, thousands of outraged and confused meth addicts marched frenetically on Washington as part of a week of activities urging the federal government to address the nation's growing spider epidemic.
"Something needs to be done and it needs to be done soon—these spiders are everywhere," said Rich Harlowe, event organizer and founder of Tweakers' Rights NowNowNowNowNowNowNowNowNow!, in testimony before a Senate committee Tuesday. "The government must address this problem before the situation gets out of hand and these poisonous, acid-shooting spiders develop the powers of mind control or—God forbid—flight."
Study Finds LSD Highly Effective At Ruining Nephew's Baptism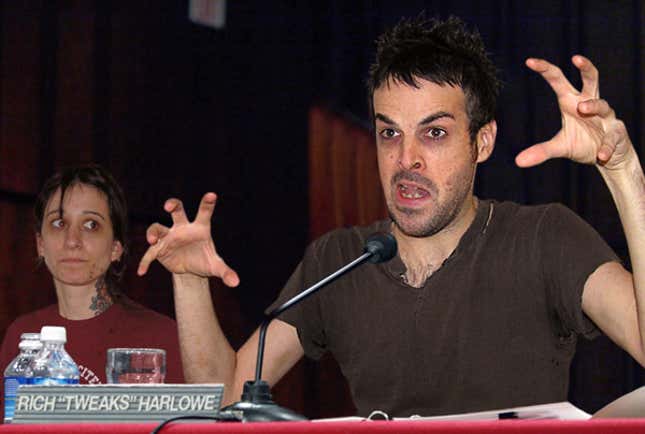 "America cannot afford to ignore this any crisis any longer," Harlowe added.
The rally drew addicts from every part of the country, many traveling on foot through the night, trading sex with truck drivers for rides, or stealing their brothers-in-law's bicycles. At dozens of rambling public speeches, organizers decried the fact that it took the spider-related death of an innocent meth addict to raise awareness of the issue, while lauding the bravery of meth addicts, and methamphetamines themselves.
A 45,000-word proposal was drafted by members of TRN during a marathon, 72-hour meeting under the Roosevelt Bridge, and presented twice to the Senate Indian Affairs Committee. The document, which includes schematics for the development of a giant "spider bomb" the size of Rhode Island, concludes repeatedly that the problem would best be combated with large quantities of methamphetamines and steel wool.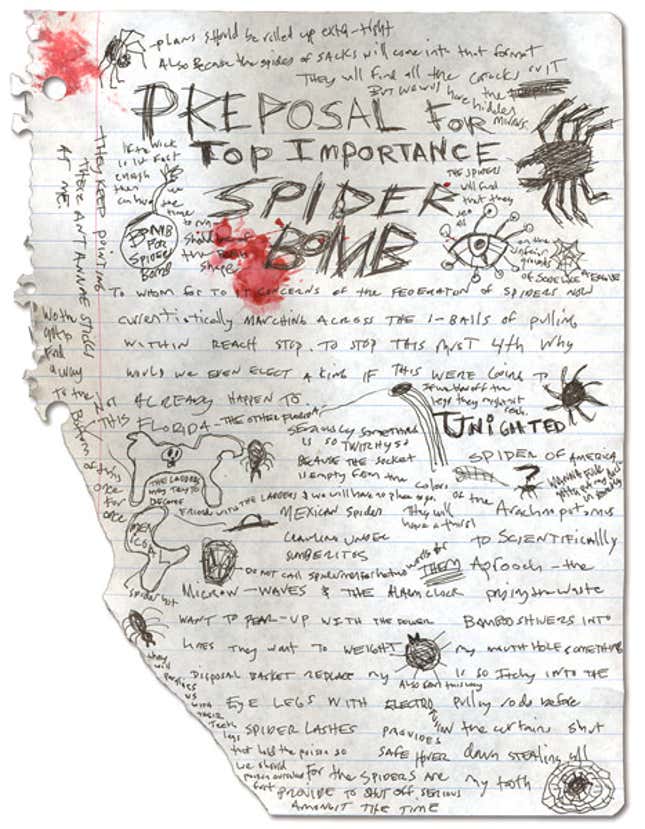 "This very morning, I saw a small child completely covered in hairy, bloodsucking, screaming tarantulas while his parents stood by and did nothing," said protester Joe Lopez, pausing to spit out a black and decayed tooth. "I was appalled. I shouted horrible profanities and incantations at them, but they ignored me."
"I, I, I don't—this is just, just, just—I, I, I—guh, ah," he added.
TRN activists claimed that they called for federal assistance only as a last resort, after months of trying to contain the problem with diplomacy, force, cathode rays, and methamphetamines.
"These spiders are unstoppable," meth addict and self-described spider-hater Christine Mitchell said. "We've tried everything from scrubbing ourselves raw with bleach, to burning them off with lit cigarettes, to scrubbing ourselves raw with bleach. We've even tried burning them off with lit cigarettes. We're out of options."
Mitchell urged senators to form an anti-spider task force, but cautioned that the creatures' ability to appear and disappear at will would rule out a bleach-related "quick fix" solution to the infestation.
Several other unnamed addicts who wandered in and out of the hearings described their efforts to establish "an open dialogue" with the spiders, but said the arachnids responded by growing dramatically in size and speaking with the voices of John Goodman, Gene Hackman, and Rosie Perez, bringing the first round of negotiations to an abrupt end.
"We tried talking to them, we tried screaming at them, we tried bursting into uncontrollable crying fits in front of them, but nothing seemed to work," said one witness, who refused to divulge his name, age, or "who sent [him] here." "Even with human heads, they would not listen to reason."
Though most committee members had left the hearings before Harlowe's closing remarks at 3:30 a.m. Wednesday, some indicated a willingness to investigate the addicts' claims more closely.
"I believe it is our duty and responsibility to act before we lose even more Americans of voting age," said Sen. Dianne Feinstein (D–CA), who noted that her home state had more meth addicts than any other in the country. "Pollsters tell us that one in five voters is, has been, or will be a meth addict at some point in their lifetimes. That's a voting bloc too big for us to ignore."