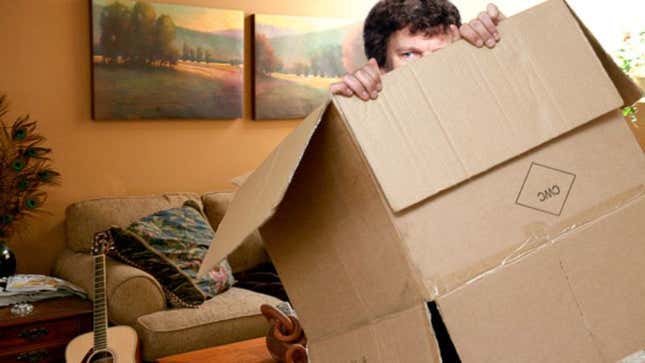 NEW YORK—Director Michel Gondry has spent nearly a week developing his latest flight of artistic fancy by playing make-believe in a large corrugated cardboard box, sources close to the daring filmmaker announced Tuesday.
This Week's Most Viral News: September 29, 2023
The 45-year-old Gondry, who directed the critically acclaimed films Eternal Sunshine Of The Spotless Mind and Be Kind Rewind, reportedly dragged the washing-machine box into the foyer of his $2.1 million Upper West Side apartment after it was discarded by a neighbor Saturday morning. Using only a crayon and his imagination, Gondry was able to effortlessly transform the box into a submarine, a spaceship, and a castle.
He also reportedly turned the box into a super-secret fort.
"This particular medium is wonderful to work in because of its limitless possibility," Gondry said from his curled-up position inside the box. "I'm working at the bubble factory right now, but later I'm going to go bobsledding down a rainbow."
Gondry's latest project has already garnered a great deal of interest among Hollywood insiders. Although the former music-video director has thus far only invited Science Of Sleep actress Charlotte Gainsbourg over to play in the box, a number of A-list actors, including Tim Robbins and Sean Penn, have expressed interest in getting involved in any way Gondry sees fit. Comedian Dave Chappelle, whose documentary film Dave Chappelle's Block Party was directed by Gondry, has also offered to perform a free concert in the box next month.
"Everyone wants to be in that box right now," actor Jim Carrey said. "Whatever he's doing in there, I'm sure it's genius."
According to Gondry's son, Paul, the box has not only engaged the Academy Award–winning screenwriter's whimsy, but has also afforded him a private space where he can nap, eat all of his meals, and store his dress-up clothes.
"I've never seen him so excited about anything before," said the 17-year-old. "His dedication is inspiring. It's cool to see someone spend 20 hours a day doing something they love."
Gondry, who has been praised for using innovative visual effects over two decades of filmmaking, said that by arranging the box in various positions he was able to pretend it was a flying dinosaur's nest, a witch's cauldron, a chariot, a ghost box, a whale's stomach, and a table.
After much anticipation, Gondry held a press conference in his home Monday evening to unveil the box and answer questions from eager entertainment journalists.
"You're standing in hot lava," Gondry said. "That's going to melt you."
Gondry told reporters that immediately upon acquiring the six-sided carton, he abandoned his paper-towel tube, which he had previously used as a spyglass to watch pirates, a horn to turn himself into a unicorn, and a trumpet to make "mouth jazz."
Gondry concluded the press conference by placing the box over his head and declaring that he was a lonely building without a skyline to call home.
Richard Lovett, president of Creative Artists Agency, which represents Gondry, said that where others only see an empty cardboard box, Gondry sees the opportunity for distinct artistic expression with commercial viability.
"Thanks to Michel, cardboard is hot," Lovett said. "Cardboard boxes are in. When you see Michel Gondry with a cardboard box, you want to green-light that."
According to Lovett, CAA is already entertaining an offer from an unnamed studio to purchase domestic and international rights to Gondry's cardboard box for $18.4 million. While Gondry has not yet come out of his box to negotiate the deal, he has reportedly said that the money would cover much of the yarn budget for another upcoming project.