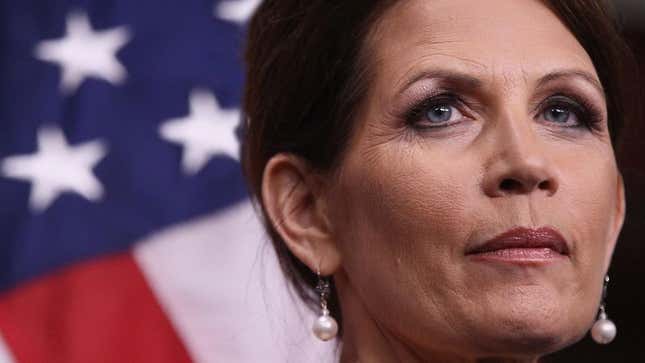 WASHINGTON—Saying that it's the Lord's will, Minnesota Rep. Michele Bachmann announced on her website Wednesday that she has decided not to seek reelection in 2014 because God wants her to earn millions of dollars working for a high-powered lobbying firm.
Americans Describe What It's Like Surviving A Mass Shooting
According to Bachmann, God spoke to her directly after many days of intense prayer and ultimately told the exiting Congresswoman that there is no reason she should only make $174,000 per year when she could easily earn up to eight times that amount in the private sector.
"This was a difficult decision for me, but God said this is a highly lucrative opportunity and I need to capitalize on my fame now before my high media profile diminishes," said Bachmann, adding that the Supreme Being commanded her to "strike while the iron's hot" and work for a conservative lobbying group like FreedomWorks or the John Birch Society or whichever one offers her the most money. "I would love to stay on and represent Minnesota's 6th congressional district, but who am I to ignore God's plan, which He said could earn me over $10 million next year and over $20 million the following year if I invest wisely, which God wants me to do as well."
"God also wants me to make a lot of money on the speaking circuit," Bachmann added.
During the announcement, Bachmann said that in addition to working for a lobbying firm, the Lord and Savior urged her to sign a book deal with a multi-million-dollar advance, become a regular contributor to Fox News, and hire a television agent in case there is money to be made either by producing television shows or being the star of a reality program that centers around her.
Bachmann confirmed that in her numerous conversations with the Lord, she argued that she was most useful fighting for the people of Minnesota, but that God made it clear he wants the congresswoman to be very, very wealthy and to relentlessly leverage her brand for monetary profit. According to Bachmann, at one point God said to her, "If you don't do this now you are shooting yourself in the foot. Because if you lose the upcoming election and are forced out of public service, you will be seen as a liability, and no one is going to pay good money for a liability."
Bachmann said that as much as it hurts her to leave Congress, it would hurt her more to disappoint God.
"When it comes down to it, the Lord said in a vision, 'Madam Congresswoman, I want you to be anti-gay, anti-immigration, and anti-gun control, but I want you to promote those values from a position where you can command seven- or eight-figure sums, preferably while living in a locale with sufficient tax breaks,'" Bachmann said toward the end of her announcement. "Jesus was with Him, too, and He wholeheartedly agreed. Then Jesus said I would be doing a great disservice to myself and the people I love if I don't buy a new Mercedes. The silver one with the convertible top I've had my eye on for some time."