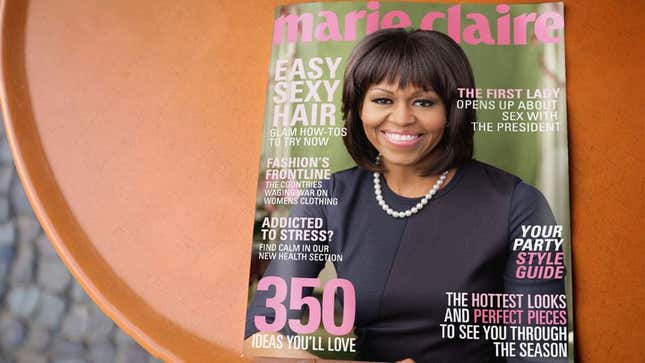 WASHINGTON—Sitting down for a candid interview with Marie Claire magazine last Thursday, First Lady Michelle Obama reportedly opened up about her marriage to President Barack Obama, saying that their sex life "has never been more open, more experimental, or more generous."
FBI Investigating Fourth-Grade Kid Who Said He Has Seen Over 200 Dead Bodies
The first lady spoke at length with Marie Claire about the couple's resurgent love life, revealing that after years of humdrum intimacy, a recent spike in the frequency and intensity of their lovemaking has resulted in the most satisfying and adventurous sex she has ever known.
"We've never been this talkative in bed," the first lady said, adding that the couple has recently enjoyed a "raw hunger for each other" that's amounted to "some of the most intense—desperate, even—sex [she's] ever had." "We'd been treading water for a while there, just going through the motions, but then something clicked. We just started having fun with it. Sometimes I'll leave my heels on, and other times I'll come out of the shower and Barack will be already lying in bed, naked."
"We have this new rule right now—we're not saying 'I love you' during sex," Obama continued, explaining that there's a freedom that comes with treating intercourse not like two lovers, but like two strangers who just want to "have a little fun." "And it doesn't have to be a big production every time. Sometimes we'll just do oral, or we'll only use our hands. Anything that breaks the routine."
G/O Media may get a commission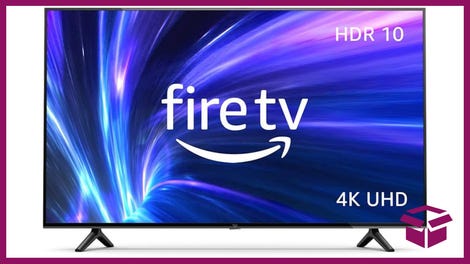 42% Off
Amazon Fire TV 50" 4K Smart TV
The first lady said that prior to attending the G20 Conference in Russia last month, President Obama suggested that they try role playing, an idea that sent the couple into a midlife sexual odyssey that included experimentation with sex toys, domination, submission play, and on one "admittedly boozy occasion," the intimate company of a senior White House staffer.
"We've started playing around with choking," the nation's 51st first lady told Marie Claire. "And if it gets too rough, I just tell him to slow down. Slow can be really good."
According to Obama, the couple fell into a rut during the president's 2008 presidential run, when the stresses of the campaign turned the once passionate couple into roommates rather than lovers.
Obama said that while the two never stopped having sex, intercourse became stale, almost like a chore. And while both the president and the first lady were still having orgasms, the predictability of the sex wasn't giving the first couple the kind of satisfaction they both craved.
"The thing is, Barack was always extremely sexual," said Obama, sharing an anecdote when—while living in Chicago—they once found a private place in Jackson Park and had sex under a blanket. "But it was like we decided that the book was closed. We quit checking in, we let go of trying to make our sexual goals happen. For example, it had been a long time since I had a vaginal orgasm, and that used to be something that was really important to Barack—for me to get there."
"Somewhere along the line we let that dream die, as well as the holy grail of having a simultaneous orgasm," Obama continued. "That was upsetting. I remember I actually stopped masturbating for a while, because I started to feel like a less sexual, less desired person altogether."
Obama noted that as a lover, the president is now 100% available emotionally, physically, and spiritually, and that he's never been more attentive or celebratory of her body. In addition, the first lady confirmed that the president is going down on her more and that she loves it.
"We've been watching a lot of porn together, too, which is also a big turn-on," Obama said. "I really like James Deen's stuff, and fantasizing about my favorite scenes helps me get over the edge when I'm close. I don't come every time, that's just how it's always been with me, but Barack's learning not to take it out on himself when I don't have an orgasm."
Considering their packed schedules and grueling travel itineraries, coupled with raising two teenage daughters, the first lady said "daytime quickies in the Situation Room or the Oval are a lifesaver" and that finding out-of-the-bedroom locations has been a fun, erotic challenge.
"I surprised him on Marine One before he left for Sweden the other day, just to spice things up," Obama said, adding that she gave him a little taste of what he'd be missing while he was gone by slipping her panties into his pocket before takeoff. "We use our time apart to rev up our engines. Barack knows I like to be bossed around, so before he went to Europe for the Transatlantic Trade and Investment Partnership a few months ago, he said I wasn't allowed to touch myself until he got back. That was really hot. And during this government shutdown he's been using me as a release, and sometimes being used in bed—being treated like an object—is really sexy, you know?"
"Marriage is a marathon, not a sprint," Obama added. "We're riding a high right now, and I know it'll dip again. That's okay. That's how it works. But for right now, I'm just enjoying this flood of hot, hungry sex with my husband."