VAVUNIYA, SRI LANKA—In a rare diplomatic trip overseas, first lady Michelle Obama's arms visited the largest refugee camp in Sri Lanka this week, bringing hope and comfort to countless victims of the nation's 26-year civil war.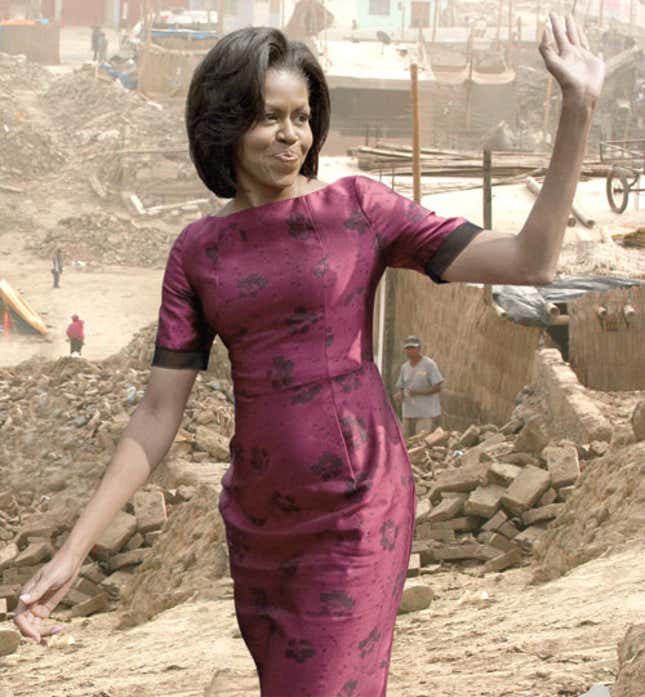 Study Finds LSD Highly Effective At Ruining Nephew's Baptism
Emerging from a military helicopter flanked by Secret Service agents, and looking as sculpted as ever in a J. Crew sleeveless white blouse, Obama's limbs were welcomed by throngs of native Sri Lankans eager to catch a glimpse of their mesmerizing firmness.
The arms, which showed no noticeable flab or unsightly sagging at any point during the trip, received a warm handshake from Sri Lankan human rights minister Mahinda Samarasinghe upon their arrival.
"I would like first to say how proud we are to have Mrs. Obama's arms in our beloved country," said Samarasinghe, who referred to the limbs as both "beautiful" and the "epitome of class." "Hopefully their presence here, with their well-defined biceps and tank-top ready shoulders, will bring strength to the 265,000 citizens who have lost their homes."
"Madam First Lady's arms, welcome to Sri Lanka," Samarasinghe continued. "You are even more impressive in person."
Following the ceremony, the arms were given a tour of the refugee camp at Manik Farm, a 1,400-acre plot of land once used for cultivating crops and now home to more than 200,000 displaced residents. While the arms toured the site, thousands of sick and starving refugees shouted, in Tamil, "Help us, Beautiful Arms," and "Beautiful Arms, we love you."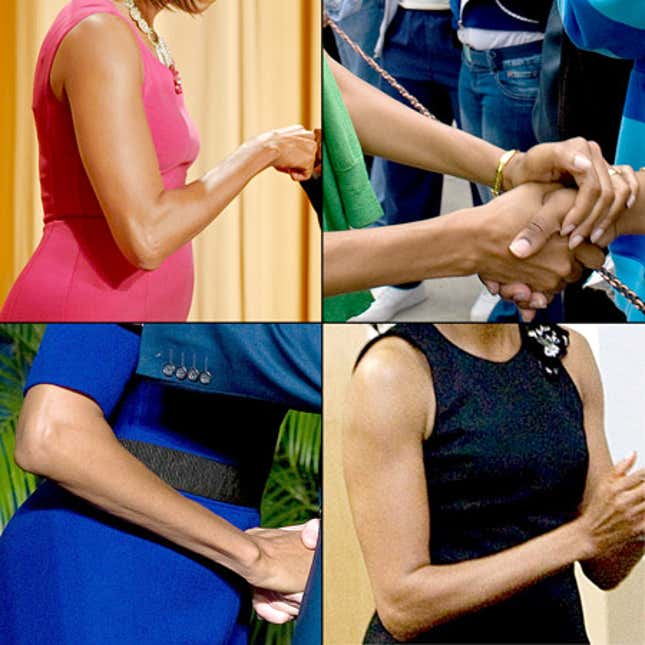 The refugees, still coming to terms with the scars of nearly three decades of civil unrest, later told reporters that they were awed by the dignity and grace of the limbs, most notably because they lacked the so-called "bat-wing fat" that plagues many middle-aged arms.
"What is so impressive is that the arms are muscular, but not too muscular," 17-year-old Nuwan Rasamay, who lost both of his parents in the war, told reporters. "And once the arms see what is happening here, how the government is punishing those who are innocent, and see the chaos, they will surely help bring peace to the region. I know this, for they are incredible arms."
During their daylong tour, Obama's arms visited a field hospital for civilians who had been wounded in the conflict between the Sri Lankan army and the Liberation Tigers of Tamil Eelam. The limbs were visibly moved at the sight of hundreds of severely malnourished children and hung limp after learning that many suffered from cholera and typhoid.
In addition, when desperate refugees complained of overcrowding, lack of supplies, and fear of never seeing their families again, Obama's arms folded, demonstrating both resolve and compassion, and showing a hint of their full bicep muscles.
"When they approached me I was frightened because I am not used to seeing arms so well-defined," refugee Delipia Selvaraj said. "And when I learned that the arms were 45 years of age, I did not believe this. But as I got more comfortable being around them, I saw that they are not only strong, but loving arms. That is why I let them hold my 2-year-old daughter Lakshmi."
Added Selvaraj, "I would give up everything, even our daily ration of bread, to have arms like that."
The Sri Lankan refugee crisis is the largest issue the first lady's arms have taken on so far. Though they made it clear that their primary role in the Administraion would be to stay at home and help raise their two young children, sources close to the limbs said that, after learning about those affected by the tragic war, the arms felt compelled to act.
White House sources said the arms are free to carve out whatever policy niche they wish, be it getting more involved in domestic issues, or taking on the worldwide AIDS pandemic.
"I believe that Michelle Obama's arms can do extraordinary things for my country," said Jaliya Wickramasuriya, Sri Lanka's ambassador to the United States. "These are the kind of arms that can inspire our children to dream, that can inspire our children to believe that—despite all the horrors of the world—they too can someday grow up to have taut but feminine arms. Even if it means doing endless dumbbell curls and tricep push-downs five nights a week."
Wickramasuriya added that the arms' work in Sri Lanka could prove to be as significant as the resolution of the Cuban Missile Crisis by Jackie Kennedy's pillbox hat in 1962.