WASHINGTON—According to an FCC report released Monday, a new $300 million Microsoft ad campaign is responsible for causing televisions all across the country to unexpectedly crash.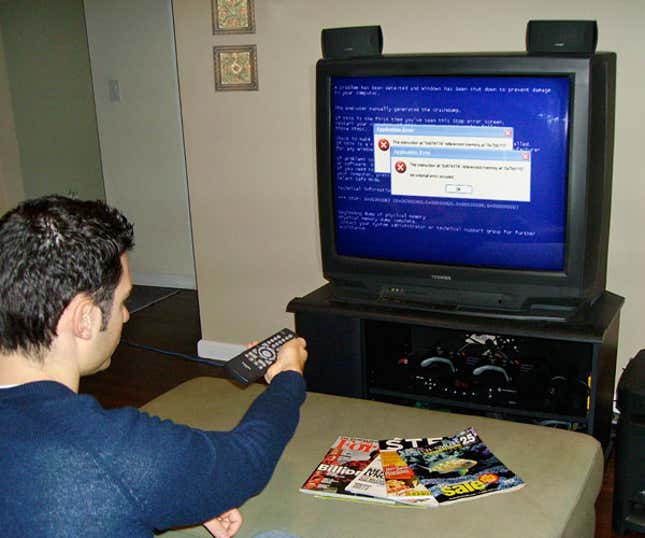 This Week's Most Viral News: September 22, 2023
The Microsoft ads, which began airing earlier this week, are being blamed for generating critical system errors in more than 70 million televisions. In addition, thousands of frustrated Americans said that the ads have caused their TVs to become unresponsive, their screens to turn blue, and a small box with the message "terminal application error" to suddenly appear.
"I was in the middle of watching Monday Night Football when, all of a sudden, that stupid ad comes on and my TV freezes up," said Scottsdale, AZ resident Michael Chaplin, adding that he never wanted to see the commercial in the first place. "The next thing I know, all these numbers and symbols show up and I get an error message saying 'invalid file format' or something. Now my TV is ruined."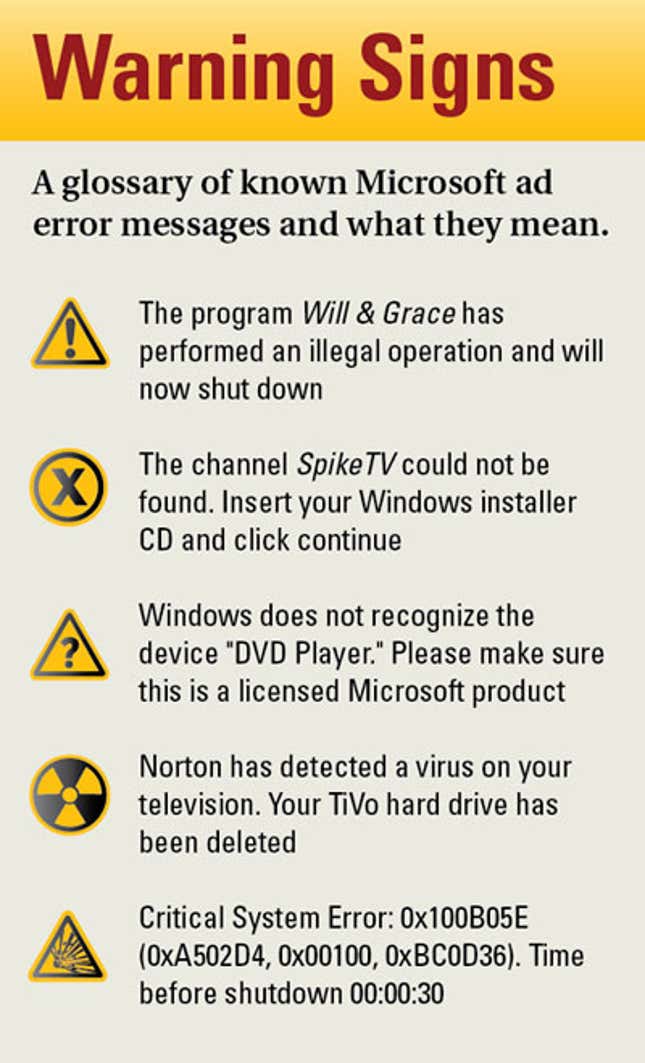 The new ad campaign, which features footage of everyday Americans using PCs, was launched as an upgrade to the poorly performing Jerry Seinfeld and Bill Gates commercials, which suffered unspecified failures in two-thirds of U.S. households. Microsoft pulled the defective ads in mid-September, but the move came too late, as countless televisions had already been infected with viruses and spyware.
So far over a half million television users have complained about the new ads. Some, such as Louisville, KY native Andrew Ryland, said they were instructed by tech support to press and hold the power, mute, and number seven buttons on their remotes in an attempt to shut down their television sets.
When that failed, many television owners said they were left with no other option but to manually restart their devices.
"I tried to push the power button, but nothing happened," said Andover, CT resident David Lax, who claimed that his television has never had any compatibility issues with commercials in the past. "Luckily I called my buddy Todd, who's pretty good with televisions, and he told me that you just have to unplug it and plug it back in."
Although the commercials crashed nearly every available brand of plasma and LCD television, as well as afflicting older cathode-ray models, Microsoft spokesperson Sarah Machen insisted that the problem was not her company's fault, and that it likely resulted from low memory, a fragmented disk, or perhaps an outdated video card. A press release issued by the software giant also advised televisions users to avoid quickly switching back and forth between programs to prevent any future crashes.
"Our engineers have repeatedly tested this commercial to work out all the bugs, and we proudly stand behind this advertisement," Machen said. "We've heard numerous complaints about a virus, so we urge all users to remember that there are untrustworthy cable channels out there that they should never visit."
Chicago resident Rick Yoder, 33, said he brought the 36-inch Sony Trinitron he purchased in 1999 into a licensed Microsoft dealer and paid well over $1,000 to add a graphic accelerator card and new motherboard that his television lacked.
"I took my TV into the store and they added a bunch of cards and stuff so I can watch it again," Yoder said. "But the shows run really slow. Now it takes me an hour and a half to get through an episode of Scrubs. And sometimes this hourglass thing comes on the screen right at a good part and, by the time it finally goes away, the show is over."
In some cases, the frequent crashes have caused more than just temporary hassles, with some Americans losing months of important shows they had saved on their TiVos.
"I was watching Cold Case and it said 'show not found,'" Tim Honnermann of Oakland said. "But I was watching the show. How is that even possible?"
Recent frustrations with Microsoft have not been limited to its television ads, however. Earlier this week, a billboard promoting the company's latest Windows platform angered hundreds in Detroit when it fell onto three cars, instantly killing all passengers.