JERUSALEM—The Mideast peace process was once again derailed Monday, when U.S.-brokered talks between Israeli and Palestinian leaders careened off their tracks into an embankment and burst into flames, burning with intensity for nearly an hour until the smoking remains were shoveled over with dirt.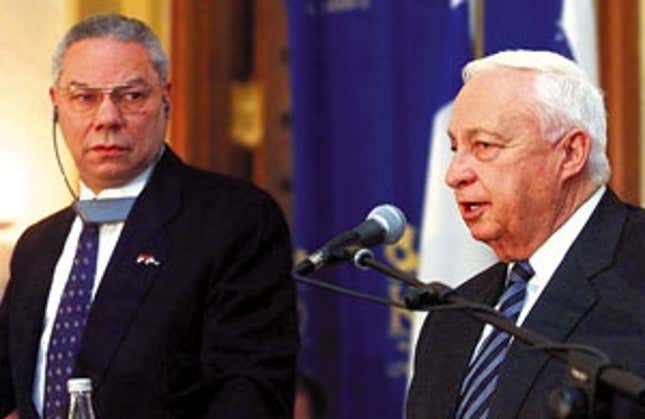 This Week's Most Viral News: September 29, 2023
"The goal was to establish a substantive, mutually respectful dialogue between the two sides that would lay the foundation for a lasting settlement," said Secretary of State Colin Powell upon returning from his failed diplomatic mission. "Unfortunately, at an early stage of the negotiation process, these efforts ran into obstacles. More specifically, they violently slammed into the obstacles at 190 mph, bursting into flames upon impact."
Powell expressed disappointment over his inability to bring together Palestinian leader Yasser Arafat and Israeli Prime Minister Ariel Sharon at the same table.
"When the two leaders refused to meet, the negotiation process was suddenly halted, causing any hopes of a productive dialogue to slam into the back of it, crushing the fragile peace efforts in a twisted pile of crumpled metal," Powell said. "As a result, Arab-Israeli tension rose higher and higher, spinning off into the sky with an ear-splitting whine before exploding several miles above the Dead Sea."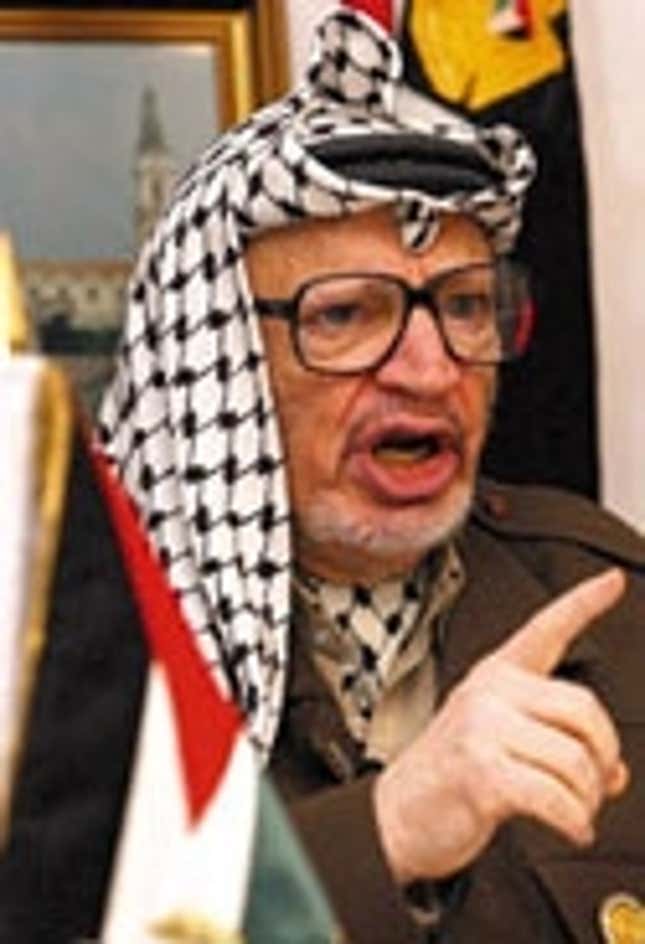 Meetings between Powell and various Arab leaders were similarly unsuccessful.
"Syrian President Bashar al-Assad called for a full Israeli withdrawal from the West Bank before he would agree to negotiate with Israel," Powell said. "He also refused to condemn the use of suicide bombings, essentially blocking himself out of the peace process with a 10-foot-thick wall strung with razor wire."
Unable to make any headway with al-Assad and other Arab leaders, Powell returned to Israel, where he met with Sharon.
"Prime Minister Sharon promised that Israel would pull back from Jenin, Nablus, and other areas, but this is far from the pull-out requested by the U.S.," Powell said. "When Sharon announced that Israeli forces would not leave Bethlehem until the current standoff in the Church of the Nativity ends, a massive blow was dealt to this peace mission, catapulting it through a nearby building and causing it to shatter into countless pieces, covering all surfaces with a fine powder of broken glass."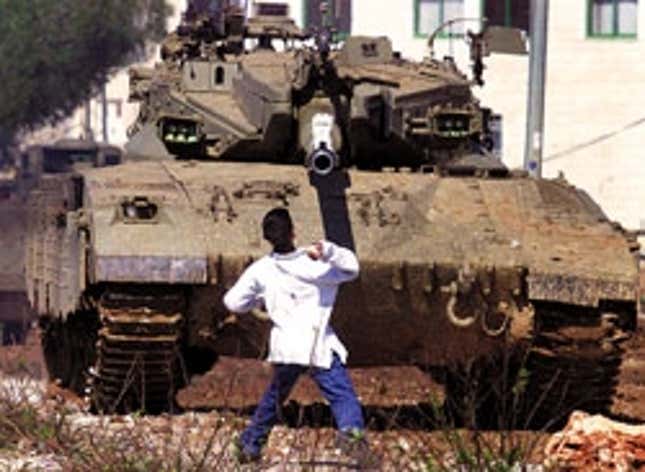 Approximately 1,300 Palestinians and nearly 500 Israelis have been killed since the Palestinian uprising began in September 2000, when peace talks stalled, shuddered to a halt, and belched thick plumes of black smoke.
According to Mideast experts, prospects for peace in the region are dimmer than they have been in years.
"Arab-Israeli relations are quite possibly at their lowest point since 1973," said Anthony Zinni, U.S. special envoy to the Middle East. "I fear that any remaining scrap of goodwill between Arafat and Sharon has been damaged irreparably, torn out in hunks of debris from the noxious fumes wafting from the burning wreckage of the Camp David Accords."
"Once again, peace talks have broken down, having lurched and chugged forward a few inches before collapsing in a smoldering heap," Zinni continued. "Personally, my faith in a possible resolution has been shaken, thrown to the ground, and run over by a thousand tanks."