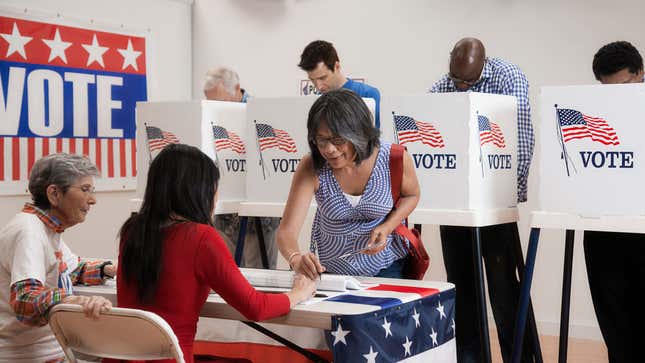 There are 36 governor seats up for election in the 2018 midterms, as Democrats seek to make up ground against the Republicans, who currently control two-thirds of the posts nationwide. The Onion presents a guide to the most important gubernatorial races in 2018.
This Week's Most Viral News: September 29, 2023
---
Scott Walker vs. Tony Evers (Wisconsin):
Despite his lack of charisma and unpopular policies, Walker has managed to connect with Wisconsinites by spending millions of dollars on television ads.

---
Brian Kemp vs. Stacey Abrams (Georgia):
The Republican candidate happens to be in charge of voting in the state, and there's nothing unusual or suspicious about that, so just stop worrying, okay?

---
Marc Molinaro vs. Andrew Cuomo (New York):
After a bruising primary, Republican Molinaro faces incumbent Republican Governor Cuomo.
---
Kim Reynolds vs. Fred Hubbell (Iowa):
The amount of time both candidates have spent in Iowa has led many pundits to speculate they may each be plotting a future presidential run.
---
Bruce Rauner vs. J.B. Pritzker (Illinois):
Democrat Pritzker is leading in the polls over incumbent Rauner, paving the way for Illinois' governorship to get upgraded from a millionaire to a billionaire.
---
Shawn Moody vs. Janet Mills (Maine):
The country is keeping a close eye on this race in the hopes of discovering how many sexist and racist things a candidate can say before Maine elects a woman.
---
Kristi Noem vs. Billie Sutton (South Dakota):
Sutton is a former professional bronco rider, which may not have anything to do with governing but is nonetheless pretty badass.
---
Mike DeWine vs. Richard Cordray (Ohio):
As the campaign for the top spot in Ohio government heats up, the race for Ohio governor is absolutely pitting two Ohioans against each other.
---
Ron DeSantis vs. Andrew Gillum (Florida):
In some ways, it's coastal Florida versus the panhandle, but in one major way, it's a white racist versus a black guy.