BELVIDERE, IL–Hopes for a Midwest peace accord were dealt a severe blow Monday, when a bomb ripped through a toll booth on the I-90 Illinois Tollway. The attack, which killed six and delayed westbound traffic for hours, is believed to be the work of Iowa-based militant Lutheran extremists.
The explosion is the deadliest in the troubled region since Oct. 4, 1997, when a bomb went off in a crowded Kankakee flea market, killing 22.
Illinois governor-elect George Ryan denounced the attack as "the work of cowards."
"If there is to be any hope of a lasting peace in the Middle West, these sorts of despicable acts of violence must not be tolerated," said Ryan, speaking before an emergency session of the Illinois legislature. "All sides in the Midwest crisis must demonstrate a genuine commitment to honoring the terms of the Lake Geneva Convention."
The bombing, which reopened deep historical wounds in the unstable, strife-torn Midwest, sparked mass outrage and protest among Illinoisans.
G/O Media may get a commission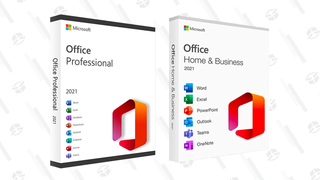 89% off
Microsoft Office Professional 2021 Lifetime License
"I can't stand those stupid Cornheads," said Galesburg, IL, resident Marty Lemke, burning an Iowa state flag at a massive anti-Iowa rally in Peoria hours after the bombing. "They're all fat and lazy, and they can't even drive. All summer long, we have to put up with them and their huge RVs messing up our parks. And now this."
Doug Boehm, who lives in the Illinois border settlement of Rock Island, was equally fervent in his anti-Iowa sentiment. "Last month, when the Illinois Lottery jackpot hit $85 million, thousands of Iowans crossed the border to buy tickets," Boehm said. "I had to wait in line for hours because of these jerks. And then, of course, the winner was some guy from Cedar Rapids."
Added Boehm: "Hawkeyes suck."
In a follow-up to Monday's attack, the Iowa-based group FIB is stepping up demands that Illinois withdraw all shoppers from the occupied Plaza Strip Mall.
"Unless Illinois pulls out of the Plaza Strip, the violence will only escalate," a press statement from the militant group read. "Illinoisans have shopped in the Plaza Strip territory for dozens of years, attracted to the lower sales tax here in Iowa. Meanwhile, they have driven countless Iowans from their rightful shopping grounds with their loud, rude, pushy, obnoxious ways. From now on, Illinoisans are not permitted in the Plaza Strip."
FIB is also demanding that control of disputed Mississippi River border settlements revert to the ethnic Scandinavians who occupy them, claiming squatters' rights.
Reacting angrily to the demands, Ryan renewed his hardline stance against tourism.
"Our people have been subjected to increasingly hostile assaults from our neighbors to the west," Ryan said. "They come into our territory with their minivans and portable barbecue grills and leave a trail of trash in their wake. For too long, we have placated these belligerent foreigners, offering them reduced admissions to our waterparks and 'kids stay free' deals at our hotels. From this day forward, the state of Illinois will not negotiate with tourists."
Following Ryan's speech, the Illinois government took steps to beef up its Iowa border presence, approving funding for a $60 million riverboat to be deployed in heavily disputed Mississippi River waters off the coast of Moline. Iowa leaders condemned the plan, calling it "a direct challenge to our sovereignty in the Iowa corridor of the Quad City region."
The toll-booth bombing ended nearly three months of relative calm in the troubled Midwest region. On Aug. 20, South Dakota governor James Cleamons was assassinated by a Missouri Synod extremist during a speech at the Corn Palace. The slaying touched off a 24-hour period of rioting, during which rival Wisconsin Synod, Episcopalian and Presbyterian factions clashed violently, leaving four dead and dozens injured.
According to witnesses, Monday's explosion occurred when a blue Geo Metro pulled up to an eastbound 40-cent exact-change-only lane at approximately 3 p.m. CST. A witness at an eastbound EZ-Pass lane said the Geo filled with smoke before the driver rammed it into the coin-drop basket, causing the car to burst into a ball of flames.
"It was horrible," said New Yorker Jessica Habisch, who has lived in the Midwest for the past three years while working on a soybean farm near Cairo, IL. "There were bodies and quarters everywhere."
Nathan Sorensen, 29, was making his annual pilgrimage to visit his mother in his ancestral city of Rockford when he was caught in the blast.
"There was this massive explosion, and the next thing I knew, I was pinned underneath a 400-pound man in a Chicago Bears sweatshirt and matching sweatpants," said Sorensen, recovering in a nearby hospital. "The doctors say I'm lucky to be alive."
U.S. officials, who have gone to great lengths to promote peace in the region, urged Midwest leaders not to let the latest act of violence drive them further apart. Richard Wilson, President Clinton's special envoy to the Middle West, flew to Camp Snoopy in suburban Minneapolis late Monday night for a closed-door session with leaders of the rival groups.
"This is an extremely volatile time here, but I have confidence that a settlement can be reached," Wilson said. "There must be peace in the Middle West."