SAN CARLOS, TX—A family of Mexican migrant workers was thrilled to find its picture on the cover of the Jan. 25 issue of The Economist, vegetable farmhand, factory laborer, and fruit picker Luis Moreno reported Monday.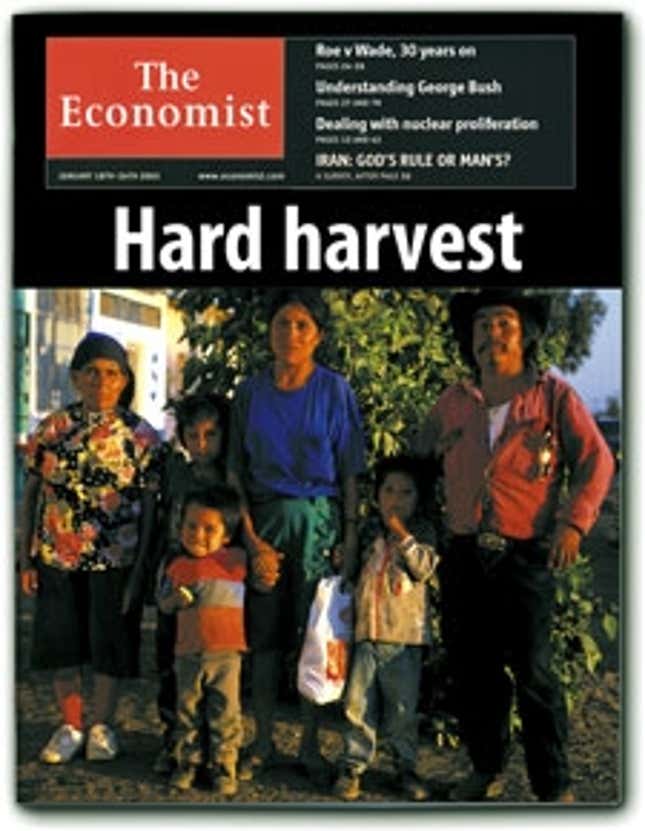 This Week's Most Viral News: September 29, 2023
"Imagine my surprise when I walked past the newsstand and saw my own face on the cover of a magazine—a very respected international publication, no less," said Moreno, 34, speaking with the aid of a translator. "I couldn't believe it. I opened the magazine and there we were again, right there under the headline, 'Hard Harvest: The Enduring Plight Of Migrant Workers In America.' I ran to my wife with a copy of the issue as fast as I could and said, 'Hey, Rosa, we're famous!"
Ever since losing his job as a mechanic's assistant in Mexico City four years ago, Moreno, his wife Rosa, and their three young sons have roamed the American South and Midwest in search of seasonal labor.
"Judging by the scenery and the size of little Esteban, I am guessing the photo was taken in north Texas, shortly after the October harvest," Moreno said. "We were relocating from the lower Rio Grande valley to Iowa, where I can usually find winter work in the slaughterhouses or the pork-processing plants. How lucky we were to be on that particular road that day!"
Continued Moreno: "I do not specifically remember anyone taking my picture, but that is not surprising if we were in the middle of traveling. It gets very tiring, of course, and sometimes you do not pay attention to distractions."
Moreno praised The Economist's photo editor for choosing the cover image.
"The clothes we were wearing created a very interesting pastiche of colors, which is probably why he chose that particular shot," Moreno said. "Also, the photographer caught us at a moment when our expressions powerfully conveyed the great weariness we were feeling."
The seven-page cover story, which featured a second photo of the Moreno family inside the magazine, focused on George W. Bush and Mexican president Vicente Fox's long-running dispute over migrant workers and the legalization of undocumented Mexicans in the U.S.
"I was so excited," Moreno said. "I had a little money saved, enough for three copies. I sent one home to Mexico to my grandmother, I put one away to keep nice, and the other I used to show all of my friends."
Within hours of the issue hitting newsstands, Moreno said he began hearing from friends, coworkers, and relatives.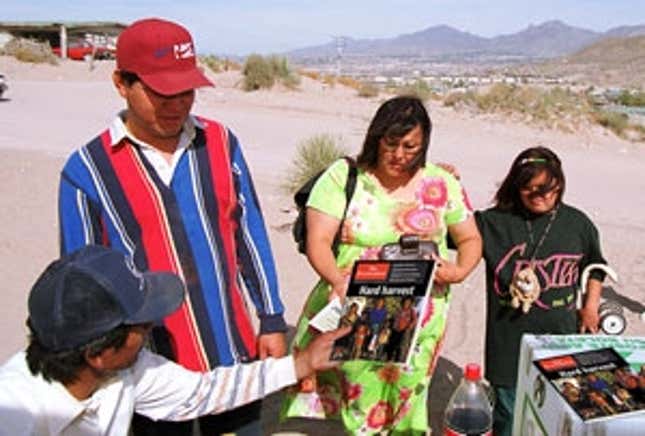 "I call home to my mother in Oaxaca whenever I can, just to make sure everyone is okay, especially our little Juanita, who is too young to travel," Moreno said. "The first thing she says to me is, 'Your cousin Carlos called to say he saw you in The Economist. He says to call him right away. My son, the celebrity!'"
Rosa said the cover story has made her and the rest of the Moreno clan the talk of the migrant-worker community.
"It's amazing how many people have seen it," Rosa said. "We were passing through Sebastian on the way to Progreso, and we stopped to visit some old friends from Mexico City who found work in a tannery. The first thing out of everyone's mouth was, 'Here comes the cover girl!' You should have seen me blush."
"Our friend Miguel and his wife were teasing us, calling us 'undocumented migrants' like they did in the story," Rosa added, "but it was all in good fun."
Moreno, who read the article with the help of a translator, said he felt The Economist's assessment of migrant workers and their plight was "evenhanded and intelligent."
"Basically, the author of the article said migrant workers are net contributors to the economy of a country because they are disproportionately of working age, and the receiving country has not had to pay for their education," Moreno said. "And they pointed out that migration does not seem to increase unemployment among the native-born."
"To be fair, it did say it may reduce their pay," Rosa said. "But I agree with Luis that it certainly was a fairer look at the subject than I have come to expect."
"I've been treated badly by many people throughout my life," added Rosa, lowering her eyes to the floor.
Though he does not expect to appear on another magazine cover any time soon, Moreno expressed hope that one day his family will have the luck to be interviewed by a Ph.D candidate conducting research in one of the seasonal worker camps.
"It's amazing what a complex system of social ties we itinerant workers maintain, considering that we are always in motion and have only limited access to modern communications," Moreno said. "Don't you think that would make a fascinating subject for a dissertation?"